Axopar 28 Wins Best In Show Here In Vancouver!
1st February 2017
Our Axopar line has won awards the world over since its launch in 2015 and it's continuing to prove its strength right here in the Pacific Northwest. Today at BC Place, the Axopar 28 won the coveted Best in Show Award presented each year by Pacific Yachting Magazine.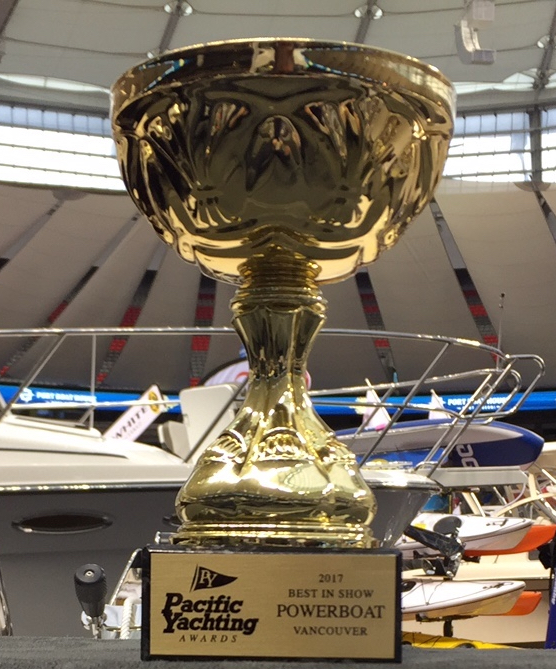 Of course this means our Axopar 28s are the coolest thing going on at the show this weekend so don't miss seeing them. We have an Axopar 28 Cabin and an Axopar 28 Aft-Cabin at BC Place and an Axopar 28 Cabin at the Granville Island floating show!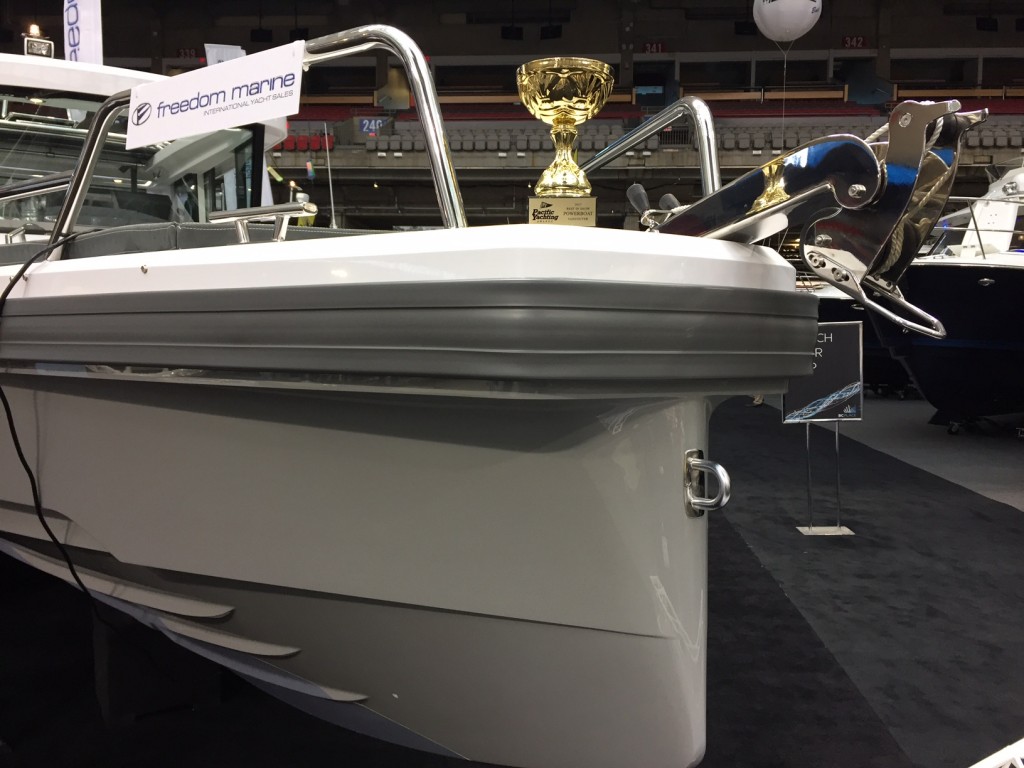 "The Axopar 28 was by far the most striking boat at the show this year," reports veteran boat reviewer and former editor of Pacific Yachting Magazine Peter Robson, one of a three-judge panel to award the Axopar 28 Vancouver Boat Show's 2017 "Best in Show" in the Powerboat category.
This prestigious title is awarded each year by Pacific Yachting Magazine, Canada's largest marine publication, and is not awarded strictly on newness or flashiness of a model, but instead the winning boat must also be "the most impressive boat as far as cost, design, construction and performance."
"The Axopar 28 hits all these marks," say Robson. "Its performance and fuel economy are both outstanding, fit and finish are first-rate and it's a pleasure to drive in a variety of conditions."
Robson, along with Roger McAfee, industry columnist for Pacific Yachting Magazine and reviewer for numerous international boating publications, as well as Zuzana Prochazka, one of the most well-respected boat reviewers in North America, reportedly had no trouble choosing the Axopar 28 as Best in Show. Additionally, both Robson and McAfee had previously performance tested the Axopar 28 and were extremely impressed by its comfort and capabilities in a variety of conditions.
As Robson stated in his June, 2016 Pacific Yachting cover story review of the boat, "The sleek, clean and sharp lines of the Axopar 28 are striking – and that's just the start. From bow to stern this new offering is a refreshing departure from the norm."
Freedom Marine is very proud to be Western Canada's exclusive dealer for this award-winning line of fishing/commuting/adventure boats out of Finland. Both our Axopar 28 Cabin and 28 Aft-Cabin on display at BC Place during the Vancouver boat show sold quickly, and yes, since the company's launch in 2015 all Axopar models are so in demand they are consistently on backorder status around the world. Luckily, Freedom Marine placed multiple stock orders last spring, so we will have fresh units arriving regularly.
Email freedom@boatingfreedom.com
Coal Harbour: 604.609.0985
Vancouver Island: 250-940-9060
中文或粤语 604.235.1000.