For Klaus and Mary Priebe buying a new Axopar 37 Cabin was one of life's better decisions..
Having owned a Nordhavn 62, an Ocean Alexander 55, Sabre 48 and a Grady White 36 in the past, Klaus and Mary Priebe wanted something faster with lower maintenance needs, something that in Klaus's words 'required no more crawling around in engine rooms any longer!'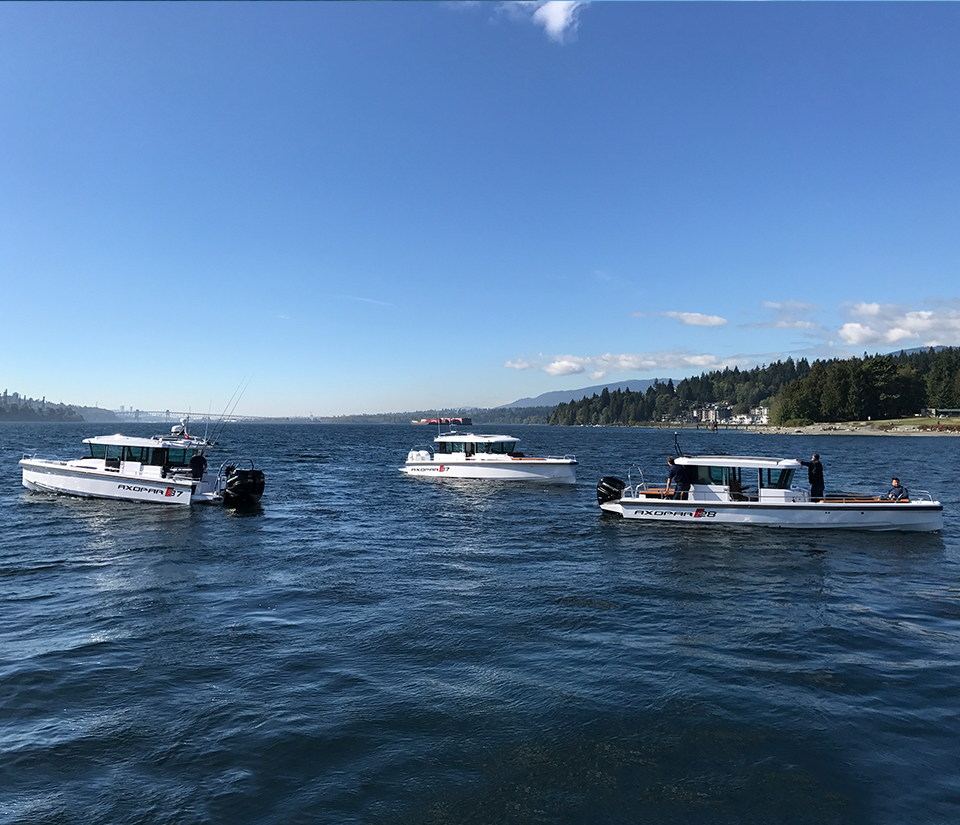 Now retired from accountancy and law, Klaus and Mary still love boating, but felt their cruising habits had changed. They wanted something they could jump on, start the outboards and go explore the wonders of the north, east and southern waters surrounding Vancouver, with the least amount of inconvenience possible.
Klaus told us: "Several US produced premium motor boats with outboards were on our original shopping list, then Mary and I tried an Axopar 37 Cabin and the design of the hull meant we could slice through water so smoothly, it felt like it had a suspension system we had never experienced before.
"We were hooked and bought a new 37 Cabin with twin 350hp Mercury Verado outboards from Freedom Marine, whose after sales service and customer care have been superb. We named our new Axopar 'SOCHAR' after our first two granddaughters, Sophia and Charlotte."
Having taken delivery of their Axopar, the couple spent time in the most beautiful cruising grounds British Columbia has to offer. The landscapes are wild, rugged and untouched, with numerous islands and inlets to discover.
Based on Saltspring Island, the largest and most populated of the Southern Gulf Islands, you can visit a new island every day, with the Priebe's criteria being that it had to have a winery and, thankfully, many destinations in this vicinity do!
Leaving in the morning, touring a winery, having lunch there, then going back to the boat for a short nap, then going for a long walk and back to Saltspring Hotel for a wonderful and relaxing dinner. That was the kind of typical daily routine favoured by Klaus and Mary.
Having covered 1,500 nautical miles in just two months, we asked these dynamic grandparents what were some of the more personal aspects about the boat they particularly liked:
"Both Mary and I can run a boat, so the side by side helm seats mean that we can both be engaged in navigation, running and trimming. But most importantly in British Columbia you have a lot of log and other wood & debris in the water, and to have a second helm seat, with a second pair of eyes, is a great safety feature for BC cruising.
Klaus and Mary Priebe .
"You just can't get enough of days like that, and with an Axopar 37's typical 30 mph cruising speed, in the Gulf islands you can be on any other surrounding island easily within less than an hour."

"Our guests like the interior rear seats, which are raised a bit, and make you feel like you are riding in a limousine with fantastic views. Best guest seats we've ever had..!
"We don't have a lot of warm sunny days in BC, so to be able to close the doors, have it very quiet, with great visibility all around in a dry, warm interior is another terrific feature.
"Finally, when docking at a floating dock, there's no jumping down onto the dock to take the lines – you can easily just step off and tie the boat up, simple as that."
"Meeting up with friends and family is what life is all about. Each day spent whale watching, spotting magnificent eagles, and seeing salmon jumping and experiencing the majesty of the wildest waterfalls imaginable. It's all there just waiting to be discovered with a new Axopar…!