Boat Cards
10th October 2023
Boating provides the opportunity to meet different and interesting people. Boaters like to get together. It can be difficult to keep everyone straight. Writing down their email and/or blog address, boat names and names of everyone you meet isn't practical, so boaters simply exchange boat cards. Many cruisers carry boat cards to trade with one another. Briefly, they're basically business cards where your boat is the subject rather than a company.
All the information you need is neatly printed on a handy card. What you put on your boat card is completely up to you, and each card varies as much as the people who hand them out. You can make your own or have them made by a local print shop. You can even make a QR code with your information for fellow boaters to scan. One of the advantages of doing it yourself is as information changes the card can be easily modified and print new cards. The advantage of using a print shop is you receive some professional design help, and it is inexpensive. The price is not much more than if you do it yourself when considering the cost of the card stock, ink, and not to mention the time it takes.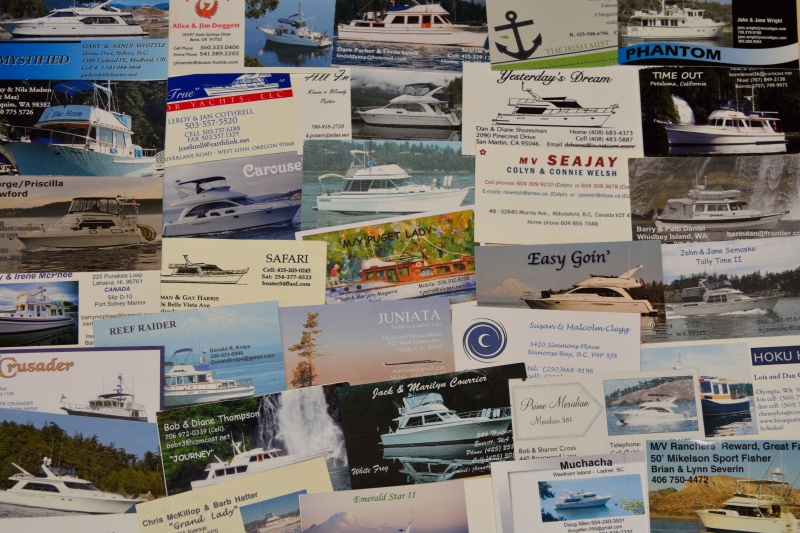 Design Considerations
Some general rules to follow when designing your boat card to ensure you end up with a quality card:
Use large enough fonts so people can read your information easily.
Use plain fonts and group information in a single spot so it is easier for an Optical Character Reader (OCR) to understand.
Less information and larger type, rather than vice versa.
If you have a lot of information, consider using the back of the card instead of squishing it all on the front.
If you use a photo of you and the crew, make it large enough that faces are identifiable.
Cards can be printed with a mat or glossy finish.
Consider going paperless – use one of many online platforms to create a QR code with your information. Save the QR code on your phone or print & laminate it to place somewhere on your vessel for other boaters to scan!
What to Include
Every boat card should include some basic information:
Boat name
Your names – use the name people call you, such as a nickname.
Homeport
Contact information – radio call signs, cell phone, email.
Additional Inclusions
Other information you might consider including on you boat card:
A photo of the boat as the background on the card.
Boat manufacture, model, and length.
Some boaters use both sides of the card and include a photo of themselves on the back.
Some boaters include the name of the pet onboard.
Facebook – if you have a boat page or want to friend them on Facebook.
Blog if you have one.
Satellite phone number.
Crew credentials – Captain, boson, rigger, electrician.
Don't Include
There is information that it would be prudent to leave off you boat card for security reasons:
Home address – don't want to broadcast that you spend weekends, vacations, or months at a time away from home.
Home phone number – don't want to provide away for seedy individuals to check if you're home.
Storing Your Collection
Think about what you are going to do with the cards that you collect from other boaters. Some store them in their phone contacts using one of the apps available. Although some OCRs have trouble recognizing fancy fonts. Some boaters simply keep their collected boat cards with a rubber band around them. Others use three ring binders with plastic business card holder pages. Cards are stored in the order received.
As a boater once said while exchanging boat cards, "It's easy to come and go. The challenging thing is to remember."