Boating with Guests
9th June 2023
For a successful experience boating with guests, whether for a short tour of local waters or for an extended multiple-night excursion, managing expectations and fostering communication are important factors. It's important to be clear with guests about the limitations of boat travel, and to keep expectations reasonable. Share the itinerary and activities with guests well ahead of time. 
There is a spectrum of topics that should be discussed beforehand: soft roll-up luggage; appropriate clothing, weather-appropriate gear, and even what you supply such as lifejackets, towels, linens, sun and insect protection. Plus make clear what daily crew duties and responsibilities will be.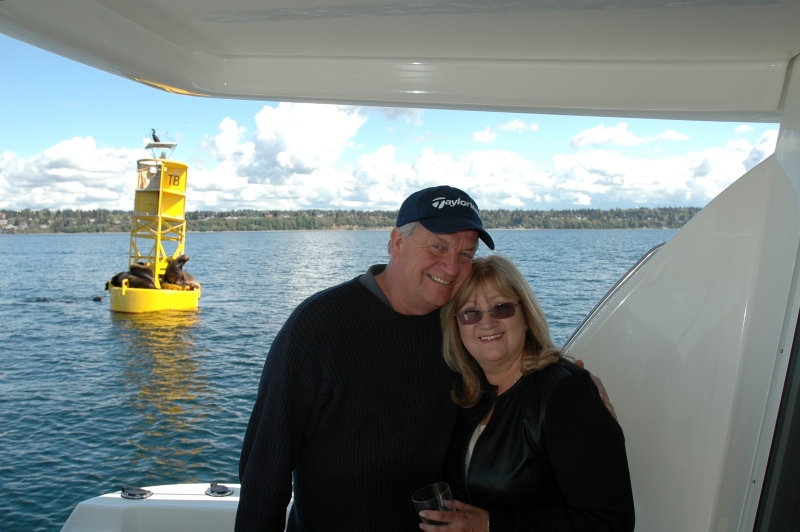 Need and Don't Need 
Space is limited on board when boating with guests. They need to bring their personal items in a soft-sided bag, such as a sports bag or day pack. On most boats each berth will have at least a drawer or two, or possibly some hanging locker space available for guests. Once the contents of the duffle bag are stowed away, the soft sided bag can be rolled up and stuffed into any nook or cranny to get out of the way. 
Because of the limited space aboard, let guests know what to bring and what to leave behind, don't bring unnecessary items. 
Clothing 
The temperature tends to be several degrees cooler on a boat. It would be wise to bring a warm jacket especially one that's waterproof, even if it's the middle of summer. Suggest dressing with layers. Non-marking soft soled shoes are a must and deck shoes for safety reasons are preferred. 
Expenses 
When travelling by boat, there are many more costs than when living at home. On extended trips, although happy to share their boat, and all the toys that go with it, boaters appreciate their crew sharing in the expenses, such as provisions, fuel, moorage and so on. Discuss money issues prior to visitations so your crew understands fully their fiscal responsibilities. 
Float Plan 
Guest's arrival and departure should be clarified before they leave home to meet you. Flexibility is key because plans can and do change. Keeping guests busy is also key. Most guests aren't happy to spend lazy days aboard doing next to nothing. Visit anchorages with plenty to do and rediscover some of your favorite places through their eyes. 
On Arrival 
Once your guest arrives, make sure they have a chance to stow their gear, before giving them a quick tour of your boat and provide a thorough safety briefing before leaving the dock. Even seasoned boaters need to know about hazards and operations on a "new-to-them" boat. Walk guests through the boat pointing out the location of safety equipment like fire extinguishers, flares, lifejackets, EPIPs, VHF radio, first-aid kit and ensure they know how to use them. Go over sensitive systems – Lifejacket fitting and operation, EPIPs, mayday call on the VHF. Explain what's off limits, GPS, chart plotter or radar so there's not risk of deleting or reprograming routs, waypoints, or settings. 
Head Operations 
Demonstrate the proper operation of the head, even if they are seasoned boaters. There are many different marine toilet systems and they each have their idiosyncrasies. A good basic rule to share with guests is never flush anything that you haven't first eaten unless it's marine system approved toilet paper. This is also a good time to explain the tankage limitations for the black-water and freshwater. 
Water is Precious 
Explain it's appropriate to shower in "instalments" to both reduce the quantity of water used and conserve the hot water supply so the rest of the crew can get a hot shower, too. This just means they get wet first, then turn off the water while they shampoo and lather themselves, then turn the water back on to rinse off. 
Power Conservation 
If the cruise is planned for longer than an afternoon, skippers need to explain the need for power conservation. Avoid opening the refrigerator and freezer unnecessarily, they draw power. Turn on lights only when you need them and turn them off when not needed. Remind guests that charging cellphones, and computers use power. Any small appliances are not to be used if the boat is not plugged into shore power or the generator is running. 
Departure and Arrival 
When it's time to push-off the dock the guests are usually anxious to toss lines or lift fenders but leaving the slip is not as easy as pulling the car out of the garage and heading down the road. Many skippers will ask their visitors to sit and relax while they work through various steps, sometimes in a specific order, to ensure the safety of the vessel and crew. The same holds true when docking or anchoring. 
These easy to implement tips should make boating with guests an absolute delight!