CONTINUALLY SUCCESSFUL – THE REFRESHED AXOPAR 28
21st September 2020

CONTINUALLY SUCCESSFUL
– THE REFRESHED AXOPAR 28 JUST GETS BETTER AND BETTER
Having epitomized Axopar's brand values since day one, the Axopar 28 remains pivotal to the ongoing success of the company.
This accomplished and well established concept still sells extremely well in all corners of the world, with customers buying the Cabin, T-Top or Open versions as they continue to adore the 28's multifunctional use, its stunning performance, intuitive handling, cool looks, and unbeatable value for money across the entire range.
Such is the enduring popularity of the Axopar 28, that a series of carefully orchestrated, customer-led improvements and an updated options list for the 2021 Model Year are intended to bring the 28 more in-line with the look and feel of the all new Axopar 37 range.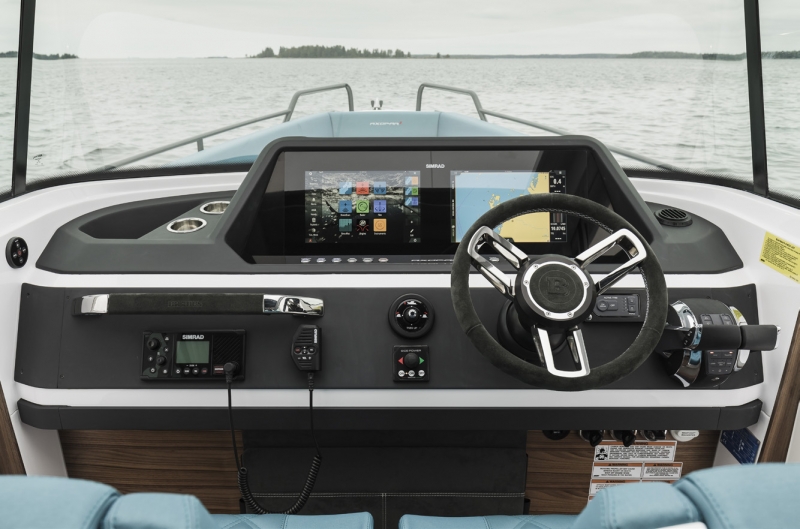 SLEEK AND INTUITIVE
HELM DESIGN 
Foremost amongst these changes is a new driver's console, with associated navigation and driver aids. In a quest to unify electronic systems across all Axopar models, Simrad® technology will replace the Axopar 28's previously used Garmin instrumentation.
The best of these new instrumentation options for the Axopar 28 is a marginally wider and more expansive, full width 'Glass Helm Information Display.'
The multi-functional display avoids the need for fragmented instrumentation and randomly located switch gear, by replacing this with a clean and modern looking, full glass, bespoke graphic user-interface screen.
The Simrad® IDS system (Dual 12") with custom glass screen, is an integral aspect of the boat's overall design. Driver focused and OEM brand specific, it offers integrated vessel start-up check, eco/sport driving modes with active driving-assist features, entertainment and media control and monitoring via a simple touch-screen display. The system integration incorporates Mercury Marine outboard engines as well.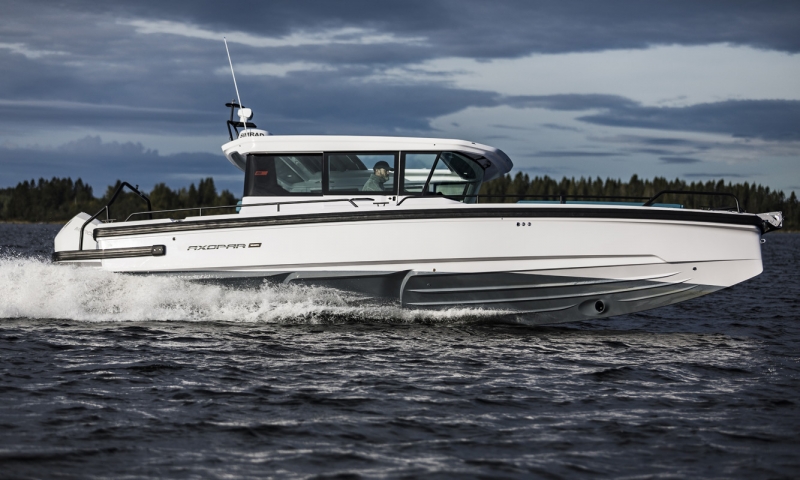 ENCHANTED WITH STRIKING
EXTERIOR UPDATES
Externally, the Axopar 28 Cabin roof will feature a new design with integrated gunwales, and further incentivised by the strong, outdoors 'adventure' theme, an optional roof rack to bring along customers' outdoors equipment, like bicycles, kayaks and SUP boards to mention but a few.
The 28's rub rail protection around the outside of the hull has been improved. Similar to the Axopar 37, protection now includes an additional rub rail around the edge of the revised swim platforms, as standard. The standard colour for this will be grey, or black on boats with 'BRABUS Line trim package' visual upgrades.
The swim platforms have increased in size, and boarding from the water is now significantly easier, courtesy of a new (optional), high-handle ladder, when added to the starboard side.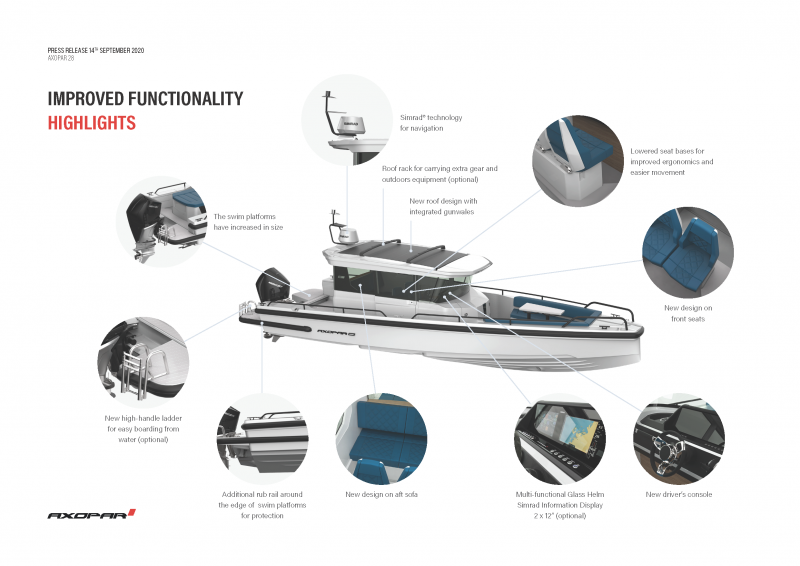 IMPROVED FUNCTIONALITY HIGHLIGHTS
PRESS RELEASE 14TH SEPTEMBER 2020 | AXOPAR 28
To learn more about Axopar Boats, please visit https://boatingfreedom.com/power/axopar/