DESTINATION: Tie Up in Port Moody Rocky Point
28th June 2019
If you haven't experienced Port Moody's emerging craft beer scene that's reason enough to stop at Rocky Point next time you're out on the water, but if a hand-crafted cold one isn't your thing, this oft-overlooked public dock and park at the end of the Burrard Inlet also offers an upscale seafood restaurant, a famous fish-and-chips stand, an award-winning ice cream parlor and a great summer concert series to boot.

The developing beer scene in Port Moody has arrived in step with SkyTrain's new Millennium Line, bringing a fresh new pulse to the otherwise quiet suburb. With popularity booming, parking is nearly impossible on summer evenings and weekends, making travel to Rocky Point via boat – only 20 minutes from Coal Harbour – ideal. The boat launch offers two docks with three hours of free moorage. To date, we haven't seen these docks overcrowded even during the free concerts. Adjacent from the launch is anchorage for larger yachts or those wanting to overnight (make reservations here for $12.25 plus GST per day).
Once moored, the first thing you'll see just off the dock is a large Boathouse Restaurant, a terrific stop for lunch or weekend brunch. To the east lies spacious Rocky Point Park and Pajo's Fish & Chips, which you can spot by the ever-present line-up. The park itself is fairly spacious with lots of benches, places for kids to play and a neat trail along the marshes. Rocky Point Ice Cream is another hotspot here, famous for its unusual flavors (think black licorice and Earl Gray and Honey).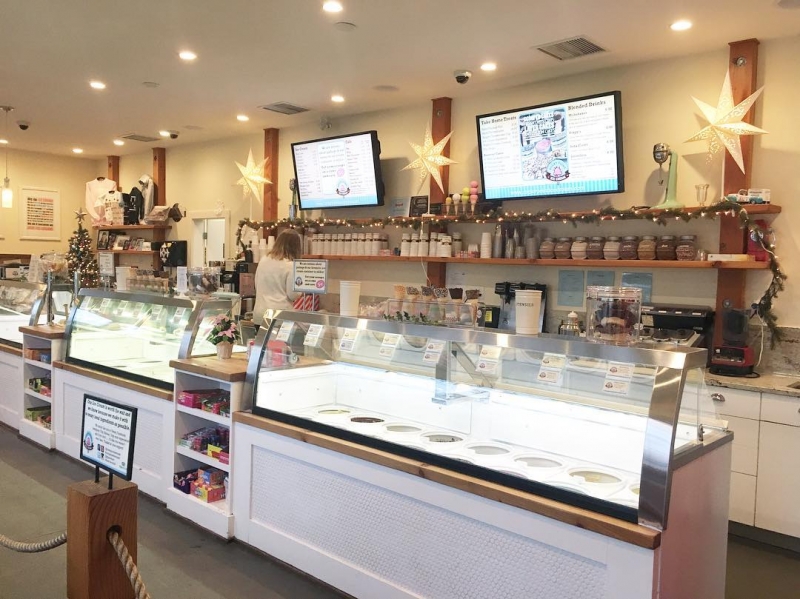 This is the only time you will see Rocky Point Ice Cream empty. When you see the line, persevere, it's worth the wait.
But we all know you're not going to Rocky Point just for an ice cream sandwich or milkshake, so here's the scoop on the beer.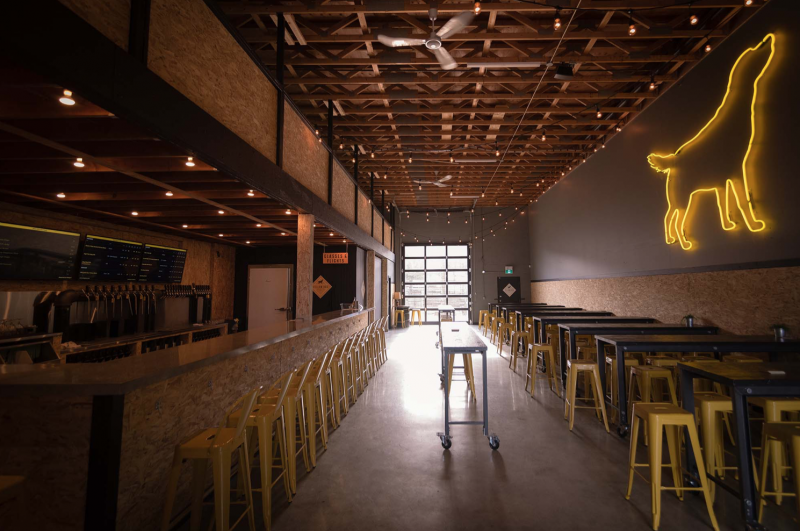 Yellow Dog's tasting room has an industrial vibe
Yellow Dog Brewing was the first Port Moody crafter to open its doors in 2015 and it has a dedicated following coming in regularly to refill their growlers and enjoy a cold one in a cozy tasting room. Twin Sails opened right next door to Yellow Dog later that same year, the passion project of identical twin brothers. Twin Sails focuses on progressive American IPAs and stouts though it also pushes the boundaries with unique offerings like milkshake IPAs and brews that incorporate exotic fruit flavors and even osmanthus flowers.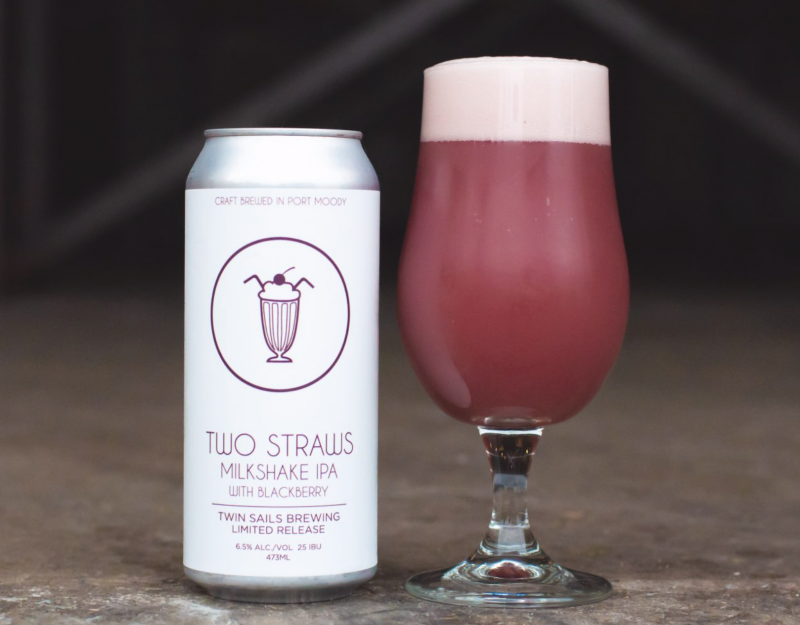 If you didn't get your milkshake at Rocky Point Ice Cream try it as beer at Twin Sails Brewery
Just up "Brewer's Row," a.k.a. Murray Street, Moody Ales is known for its unexpected flavors, like Lusty Chocolate Oatmeal Stout, Sublime Hefeweizen Pineapple and Lavender Sour. Like the other breweries Moody Ales has a tasting room and growler service.
But it's the Parkside Brewery that so far dominates the Port Moody brew scene with its big, hip branding and welcoming outdoor patio. Parkside's digs are huge compared to other nearby crafters, making it a great place to hang out rain or shine. Like bees to flowers, food trucks of every flavor sidle up to the breweries and feed hungry tasters late into the evenings. To see the food truck schedule for Parkside click here.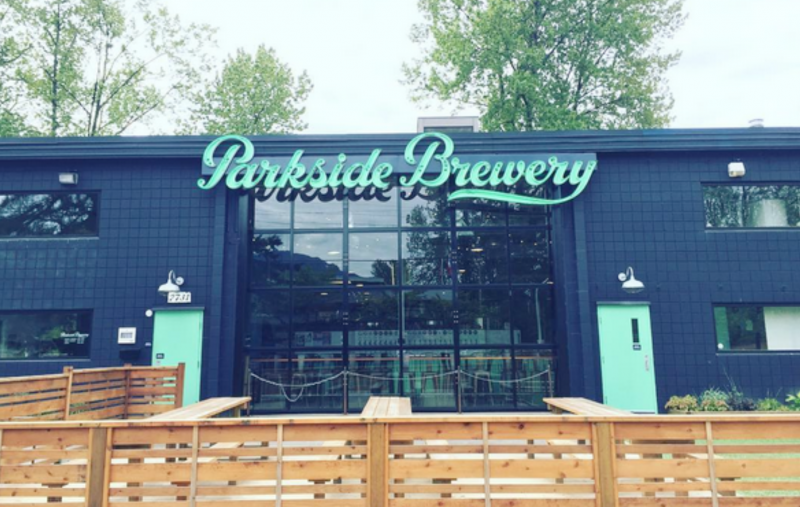 Parkside Brewery is the biggest and boldest Brewer in Murray Street
If you time your visit to Rocky Point for Sunday afternoon, you'll be able to take in one of the Summer Sundays concerts, held each weekend through September 1st. The events begin at 2 p.m. and last until around 6 p.m. and feature multiple bands playing everything from Rhythm & Blues to Rock, Cournty and Golden Oldies. You can check out the lineup ahead of time by visiting the Summer Sundays website. All concerts are free though donations are accepted and 100-percent of proceeds goes to Crossroads Hospice Society.
And if you're really on the ball you'll boat to Rocky Point Park for the 5th Annual Port Moody RibFest held from July 19-21. Famous "Ribbers" from all over Canada will be dishing out delicious BBQ all weekend in hopes of being named People's Choice for Best Ribs on Sunday. The participants this year will be Boss Hoss, Gator BBQ, Misty Mountain BBQ, Smoke & Bone and last year's winner, Prairie Smoke & Spice.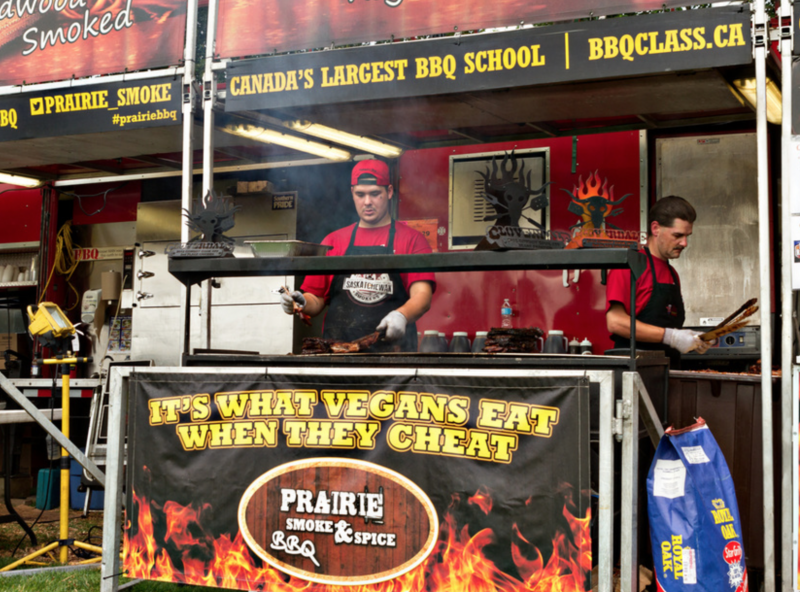 Last Year's People's Choice for Best Ribs Prairie Smoke & Spice
Because what goes better than craft beer than ribs? Or fish & chips and food truck tacos? And ice cream? Well okay, maybe not the ice cream.
Watch this cool video for a closer look at Port Moody's new Brewery Row.