Enjoying Thanksgiving on Your Boat – Tips and suggested fail safe recipes
7th October 2021
There's nothing quite like Thanksgiving on a boat. With fewer boats on the water, vivid fall foliage and crisp air temperature, the boat is a relaxing way to spend a Thanksgiving.
Preparing Thanksgiving dinner aboard can be tricky in a small galley, but with planning, and preparation, you can have a delicious feast. A key to success is to keep the recipes simple.
Tips for success:
Plan your meals ahead of time.
Make meals in advance onshore that you can freeze or chill and reheat later.
Focus on space management—storage is limited within a boat's galley.
Ensure your galley is fully stocked with the proper kitchen tools and equipment.
Adjust your expectations and be realistic when meal planning.
Galleys aboard boats are notoriously small, without full size appliances and all the cooking gadgets of your home kitchen, but this should not defer you from whipping up delectable meal. There is no excuse for not preparing a wonderful Thanksgiving dinner on a boat.
Meal prep ahead more complex items at home and refrigerate or freeze them. Desserts are good candidates. This rescues the cook from extended time in the galley and a stress free celebration.
Keep things simple and do what works with what you have, a boat oven, microwave, toaster oven, barbeque etc. Don't stress out over multiple dishes, keep it simple and have mash potatoes and another vegetable. Green beans, carrots or brussel sprouts are fast and easy on the stove.
To get your meal started here is a simple and quick Stuffed Artichoke Appetizer:
Ingredients
1 can Artichoke Hearts or Bottoms rinsed, drained, and patted dry
1 cup grated Parmesan
½ cup Mayonnaise
1 tbsp. Lemon Juice
Instructions
Preheat oven or BBQ to 375-degrees
Use parchment paper or non-stick spray on the pan
Place artichoke hearts on the pan and squish with a spoon to create a small indentation to hold the ingredients
Combine other ingredients in a bowl and mix
Mound the mixture into the artichokes
Bake 20 minutes or until lightly golden brown
Here are a few proven traditional and simple Thanksgiving recipes from epicurious.com that work well aboard a boat: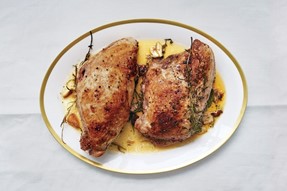 PHOTO BY MARCUS NILSSON
Thyme Honey Glazed Ham for those who prefer ham.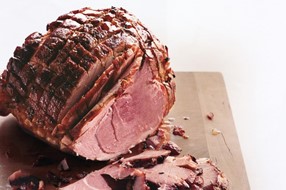 PHOTO BY JONNY VALIANT
If It Ain't Broke, Don't Fix It Stuffing recipe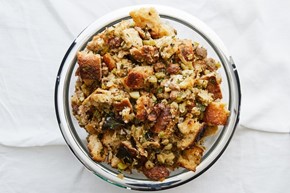 PHOTO BY MICHAEL GRAYDON & NIKOLE HERRIOTT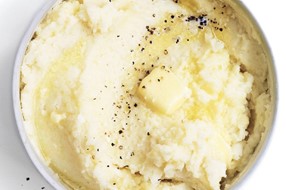 PHOTO BY MARCUS NILSSON
Roasted Brussels Sprouts with Garlic and Pancetta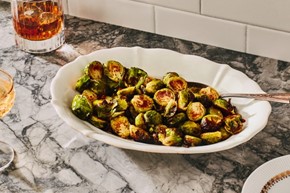 PHOTO BY CHELSEA KYLE
Slow-Cooked Green Beans With Harissa and Cumin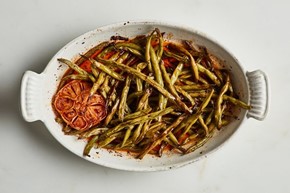 PHOTO BY CHELSIE CRAIG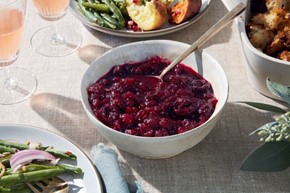 PHOTO BY JOSEPH DE LEO
Whether you responsibly drink a few adult beverages or prefer other refreshments, having a plethora of drink options will keep things feeling festive. Hot cocoa with marshmallows or hot cider with cinnamon stick are great options for children.
Celebrating Thanksgiving on your boat is something worth giving thanks for!
(Deane Hislop in partnership with Freedom Marine)