Falling In Love With Fall Cruising
8th September 2022
A harvest moon rose large and bright in the cool crisp evening air, its track shimmered across the water into the vacant anchorage. Golden lights winked on one by one in the cottages around the cove, reminding you that you are not completely alone. Oh, the delights of fall cruising!
If you are new to fall cruising, or thinking about trying it, this piece is intended to nudge you out there!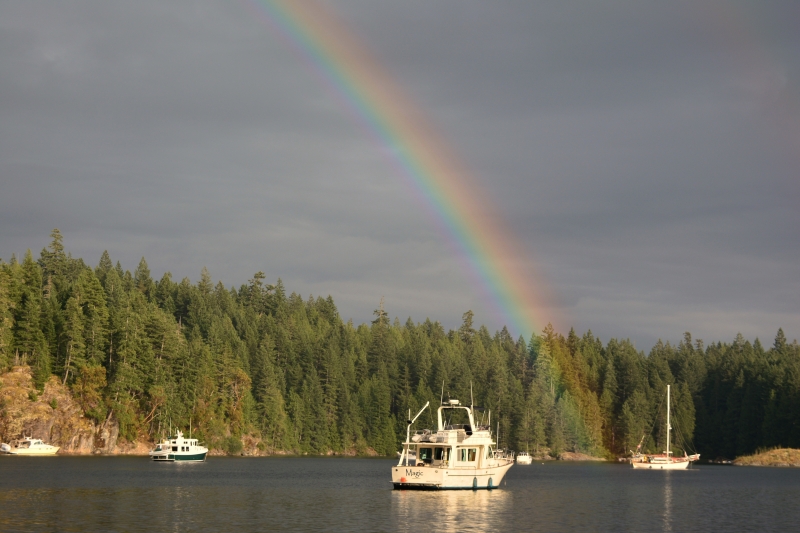 Boaters cruising after Labour Day and into fall, get to enjoy the slower pace, solitude and surprisingly mild weather in destinations such as the Gulf and San Juan Islands, and Desolation Sound. Late-summer weather often continues well into October, long after the crowds have gone home. Anchorages and marinas are usually quiet on all but the warmest autumn weekends, and pretty much empty on weekdays.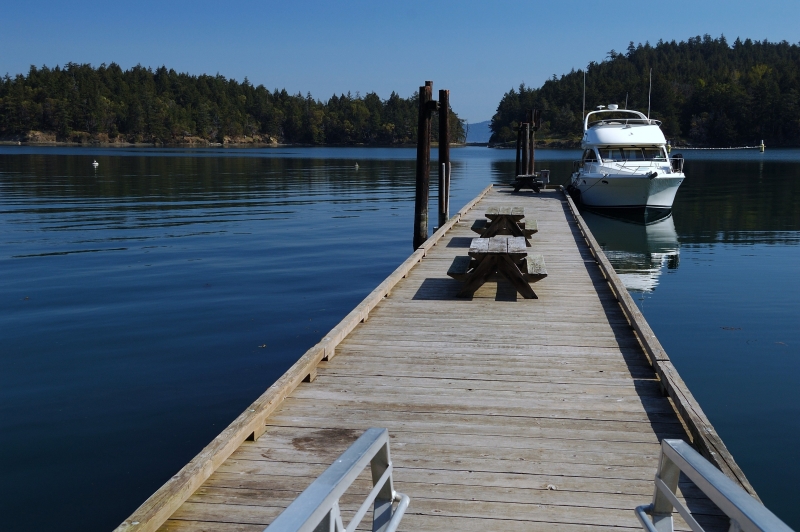 Marine park docks become your own
Coastal weather does change with the seasons, but if you are prepared for the challenges of fall boating, you may enjoy some of your most memorable days on the water and experience familiar destinations in an entirely a new way. Fall colors flow down the surrounding hillsides all the way to the water's edge. Island Farmers Markets are filled with beautiful and delicious local fruits and veggies. Returning salmon fill small streams to complete their life cycle.
Oh the fall colors!
Here are some things you should consider when cruising in the fall:
Weather
Before tossing the lines and pushing off the dock, be sure to check the weather forecast. The mixing of warm and cool air can spawn winds and waves. Monitor the weather report while on the water so not to be caught off guard.
Fog may also develop around this time of year. Should you find yourself in a fog bank, be sure to proceed slowly and sound your horn at regular intervals to alert other boaters of presence.
Float Plan
Be sure to leave a float plan with a responsible person on shore who will know what to do if you are overdue. A marine radio will allow you to call for assistance should the need arise.
Clothing
In October, daytime temperatures can occasionally be warm, but resist the urge to bring only your shorts and T-shirts. Dress for varied temperatures and weather, including rain. Layering is the way to go for staying warm and dry.
Heat Source
Safe, reliable heat is essential to enjoy cruising at this time of the year. Choose a heating system that suits the size of the boat and ensure it's installed and operates properly. No unventilated portable heaters on the cabin floor!
Comfort Food
No matter the season, keep cruising menus simple. During cooler weather months, one-pot meals, hearty stews, soups, pasta, rice dishes and an endless supply of java and coco hit the spot. Root vegetables such as potatoes, and carrots, and fruit such as apples and citrus travel well in any season.
Done safely, fall cruising offers experiences that can be hard to find on lazy summer days. Watch out, you just might get hooked!
(Deane Hislop – In Partnership with Freedom Marine)