Freedom Marine Expands Reach in Premium Yachting with Addition of Galeon Yachts
6th May 2021

Freedom Marine is excited to announce the newest member of our line-up of premium power boats – Galeon. Established in 1982, Galeon has nearly 40 years of boat building experience, with numerous awards under their belt. Every Galeon yacht is a piece of handcrafted excellence and thanks to the unparalleled attention to detail, cutting edge technology and innovative designs, the company has become one of the premier European boat builders.
The dynamic fleet features sleek Hardtop models, high-performance Sport Cruisers, a stylish Skydeck line, and a functional Flybridge series. With unique features and highlights for each series, Galeon is known for pushing yacht design to another dimension with the world-famous Beach Mode configuration.
Galeon 410 HTC
Based on the ever-popular Galeon 400 HTC, the all-new 410 HTC has the features of a super-yacht, packed into a 41ft hull. Featuring panoramic glass windows and an electric sunroof, the 410 HTC is designed to bring you and your guests closer to nature. The spacious salon features a hidden electric pull-out TV, U-shaped seating, and a convertible sofa that can easily be moved into the cockpit to reimagine in-outdoor living. A large glass sunroof allows natural light to fill the salon and is easily opened at the touch of a button.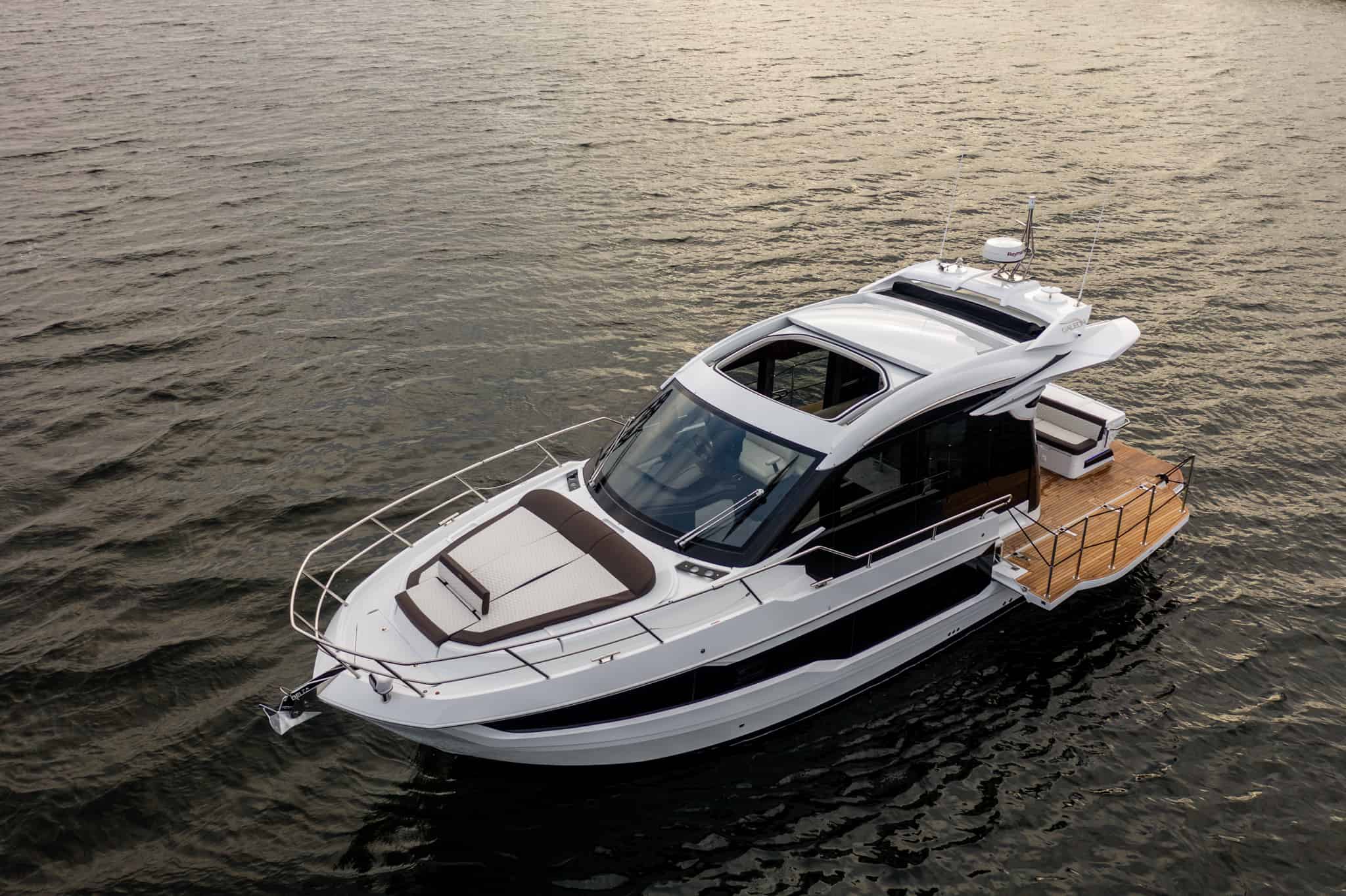 The 410 HTC is one of the smallest yachts in the market with an aft master cabin, featuring a full-size bed and ensuite bathroom. The forward VIP cabin has an option of a sliding bed, making it possible to create separate single berths on each side of the stateroom.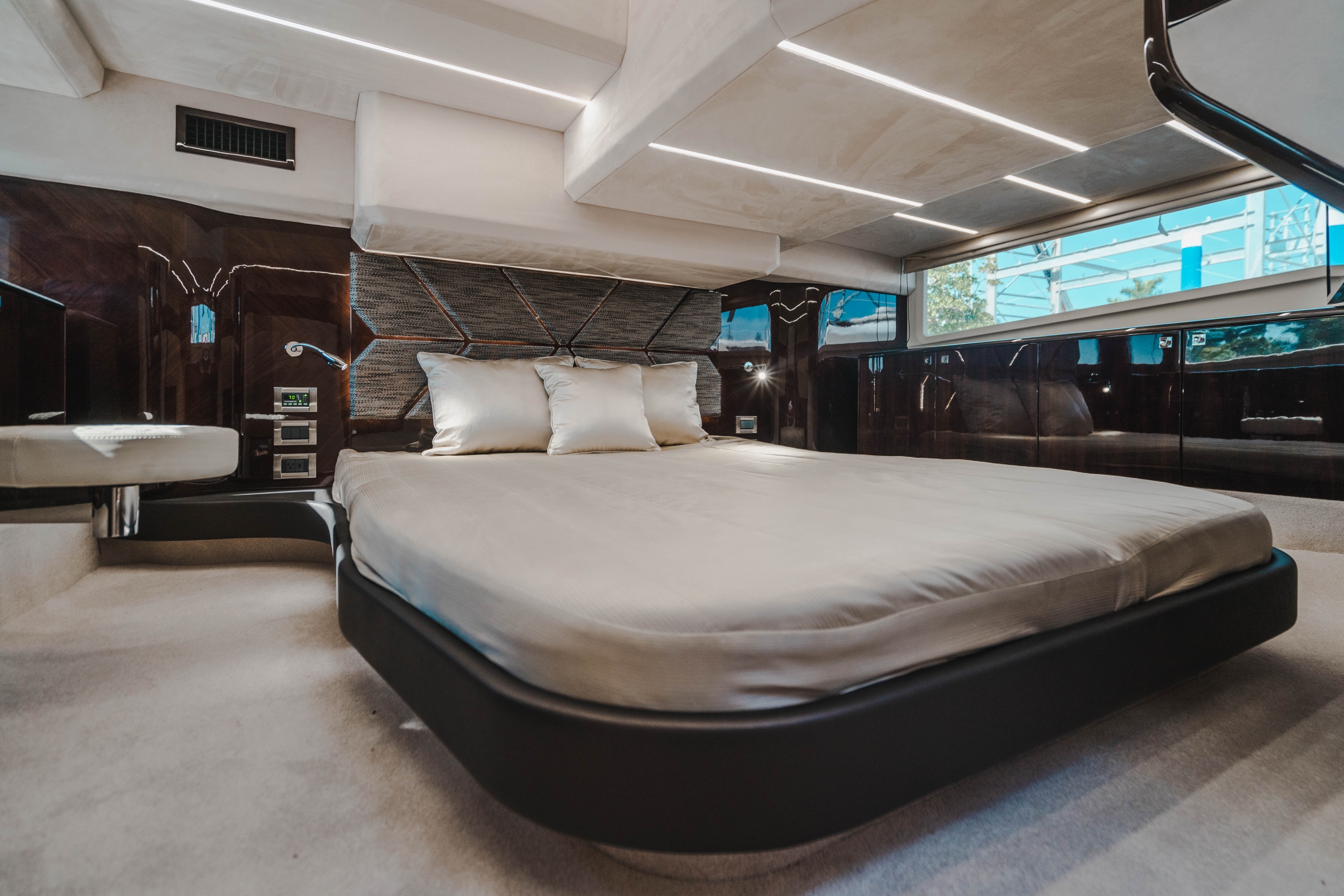 The highlight of the Skydeck series is in the design. With its sleek lines, the Galeon 470 Skydeck offers a top deck with a complete helm station and entertainment area neatly hidden away with a soft roof.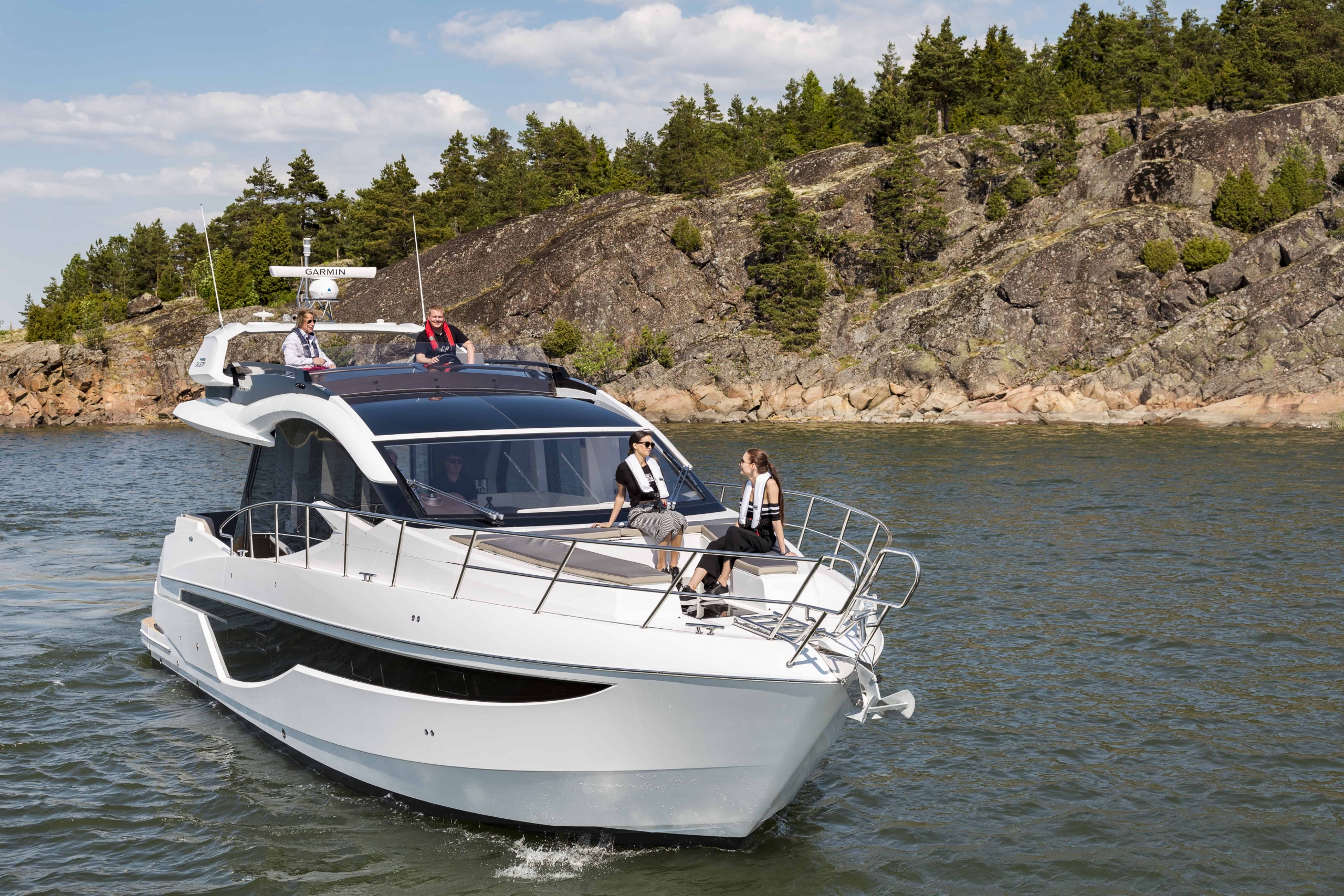 The main deck is fitted with a galley, dinette and plenty of storage areas to stow away items. The optional Beach Mode allows to drop down both sides and create a vast area near the cockpit, perfect for entertaining guests. Meanwhile, three staterooms and two bathrooms await guests below deck, with the owner's ensuite midship, VIP cabin at the brow, and a starboard cabin featuring two bunk beds.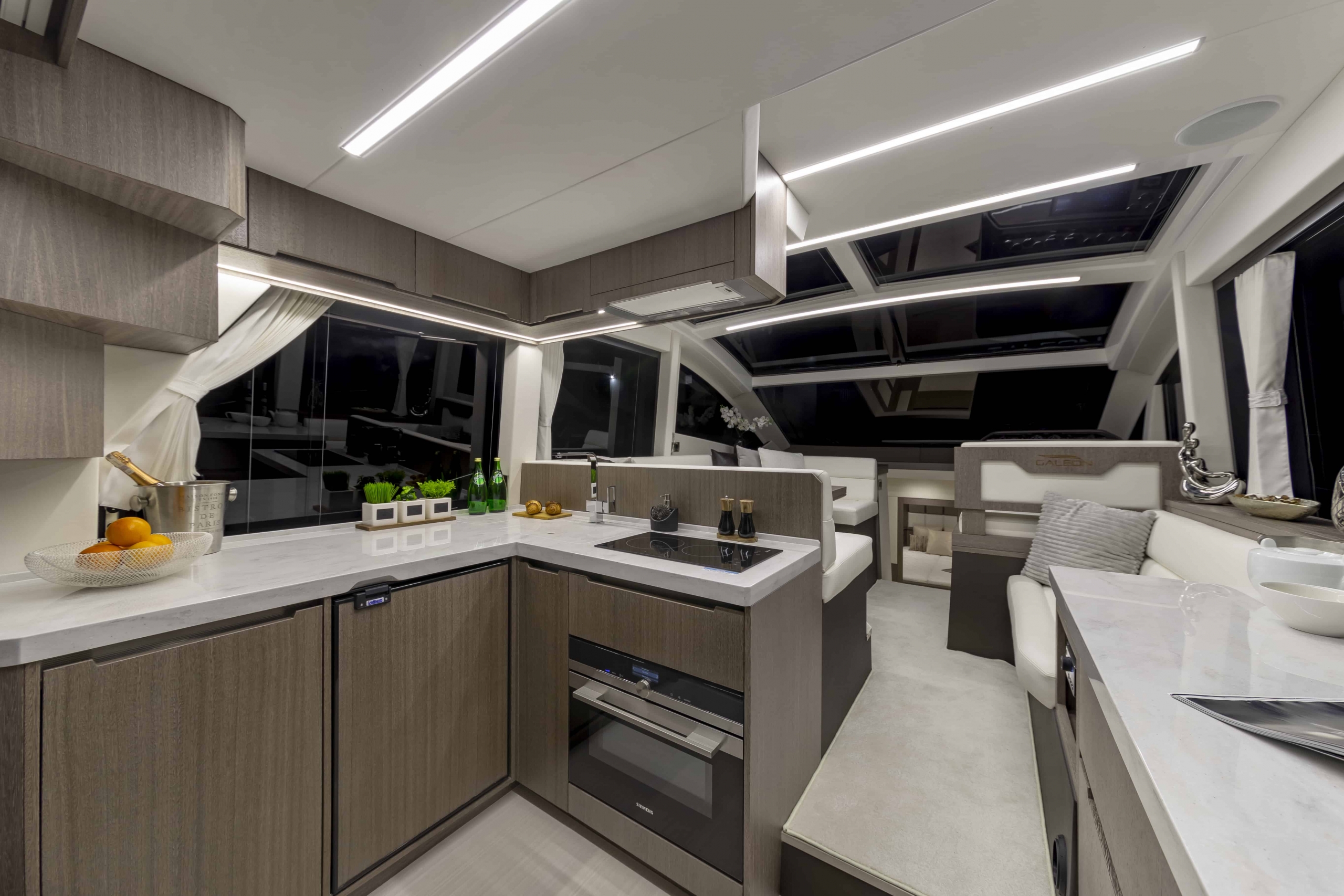 Click here for more information on the Galeon 470 SKY
Galeon 500 FLY
With three distinct aft configurations to choose from, the 500 FLY is one of the most stunning and innovative models of the decade. This beauty has an extensive list of innovative highlights, including the transformable bow, rotating cockpit, and not to mention, the drop-down sides that expand the cockpit to a stunning 6 meters wide – wider than the average 80ft. superyacht!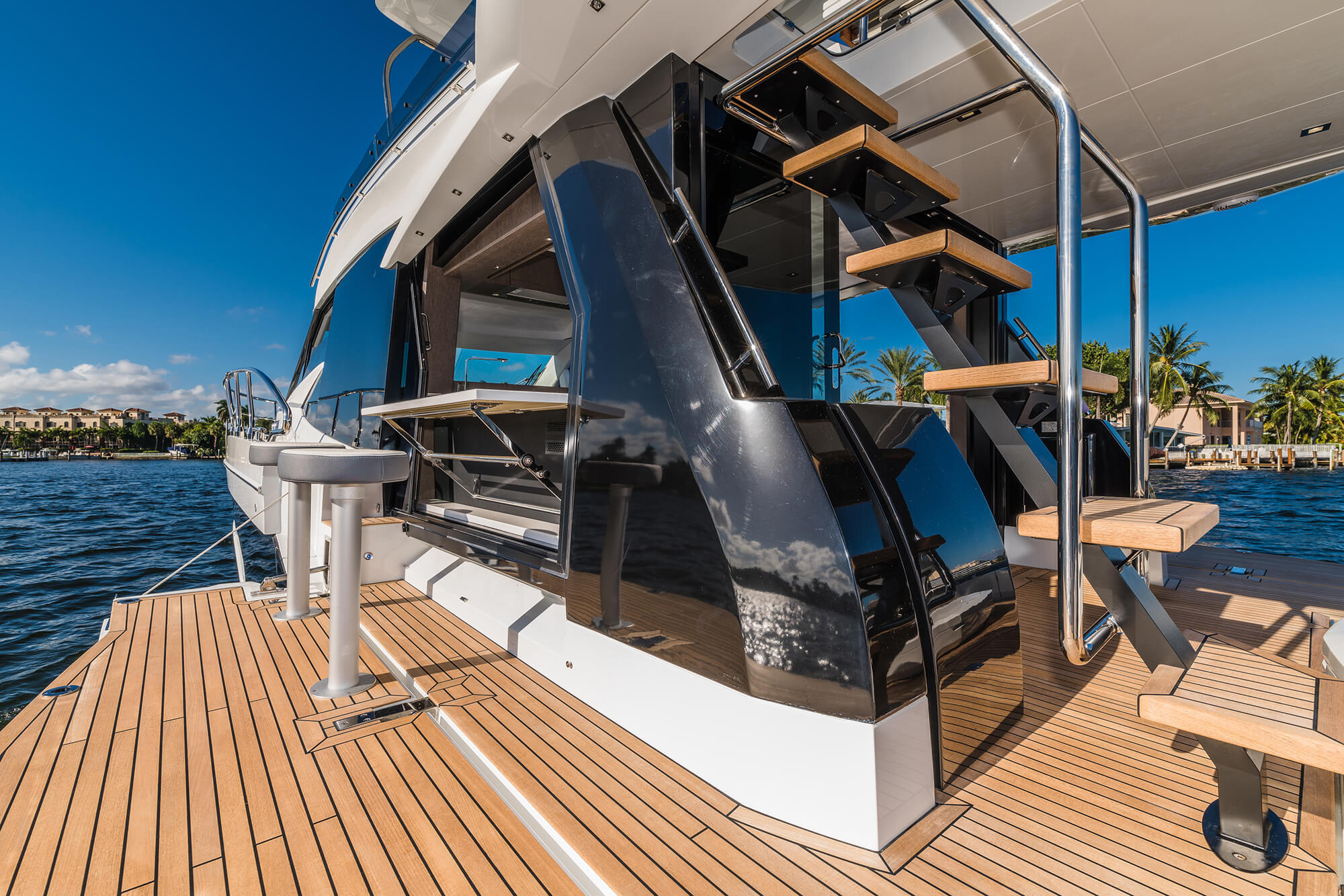 The customisable options are extended down below, with 3 sizable cabins and 2 bathrooms, of which the guest cabin can be turned into a study, wardrobe, or additional leisure area.