Gulf Islands National Park Reserve – Mosaic of land, water, and history.
19th July 2021
Gulf Islands National Park Reserve located in the southern Gulf Islands is magnificent park is popular area for boaters, offering plentiful wildlife, scenic views, and historic sites. Prior to the park's establishment in 2003, many of the islands and marine ecosystems were in danger of being lost to development and unmanaged use.
The Park is comprised of a patchwork of small preserves, undeveloped islands, and donated properties. It's spread across 15 islands, numerous islets, and reefs totaling 14 square miles of land and 10 square miles of underwater preserves.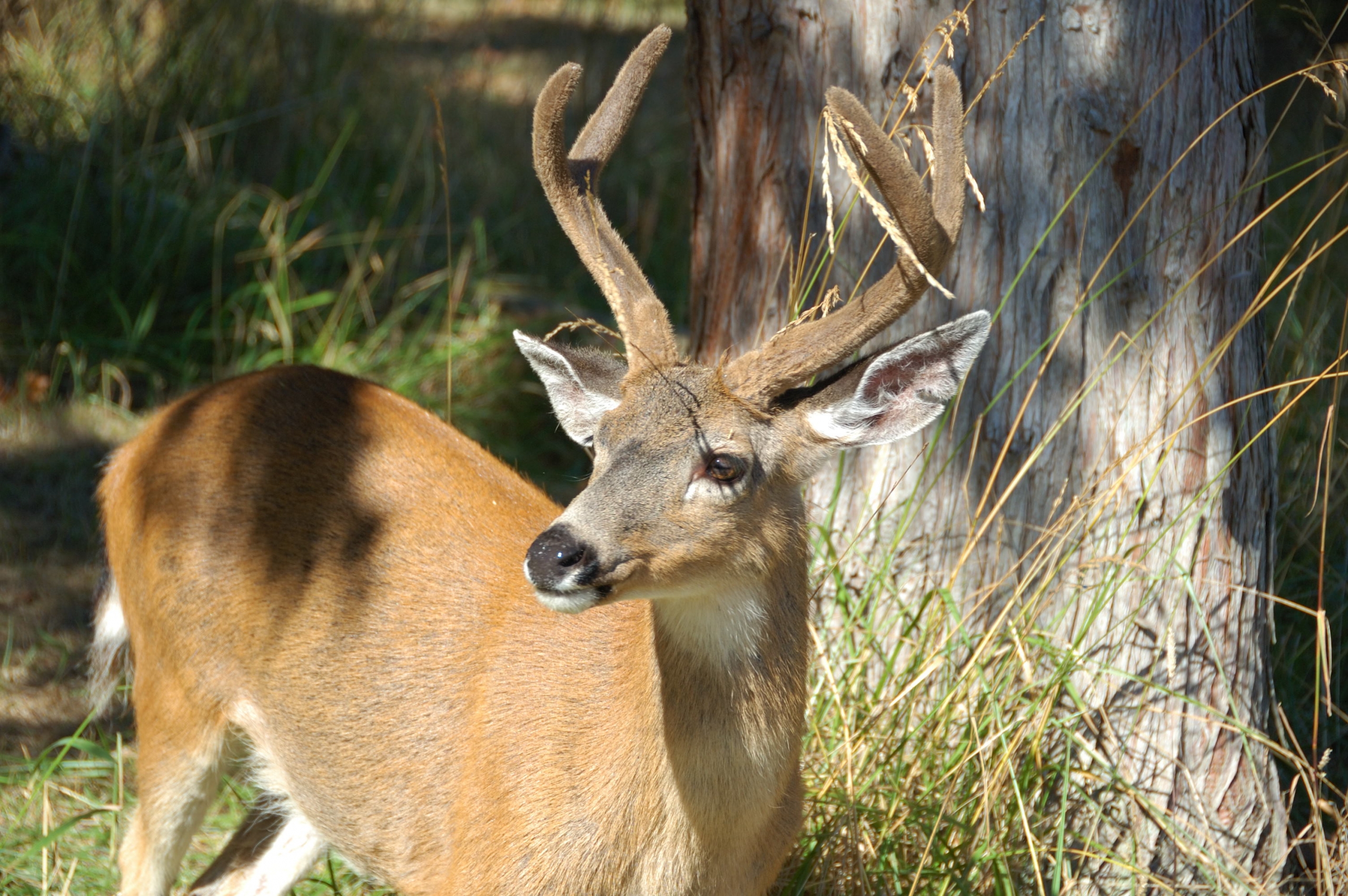 Park Wildlife – Blacktail Deer
Fragmented as the park may be, it's easy to experience much of it by boat. Here is a half dozen favorite stops:
 Sidney Island sand bluffs, tidal flats and salt marshes teem with birds and marine life provides lots to explore. Roaming the trails of the island and discovered the remnants of various settlements, sites of First Nation cultural and spiritual significance and evidence of abandoned brick factory. Anchor, hang off a buoy or tie to the dock.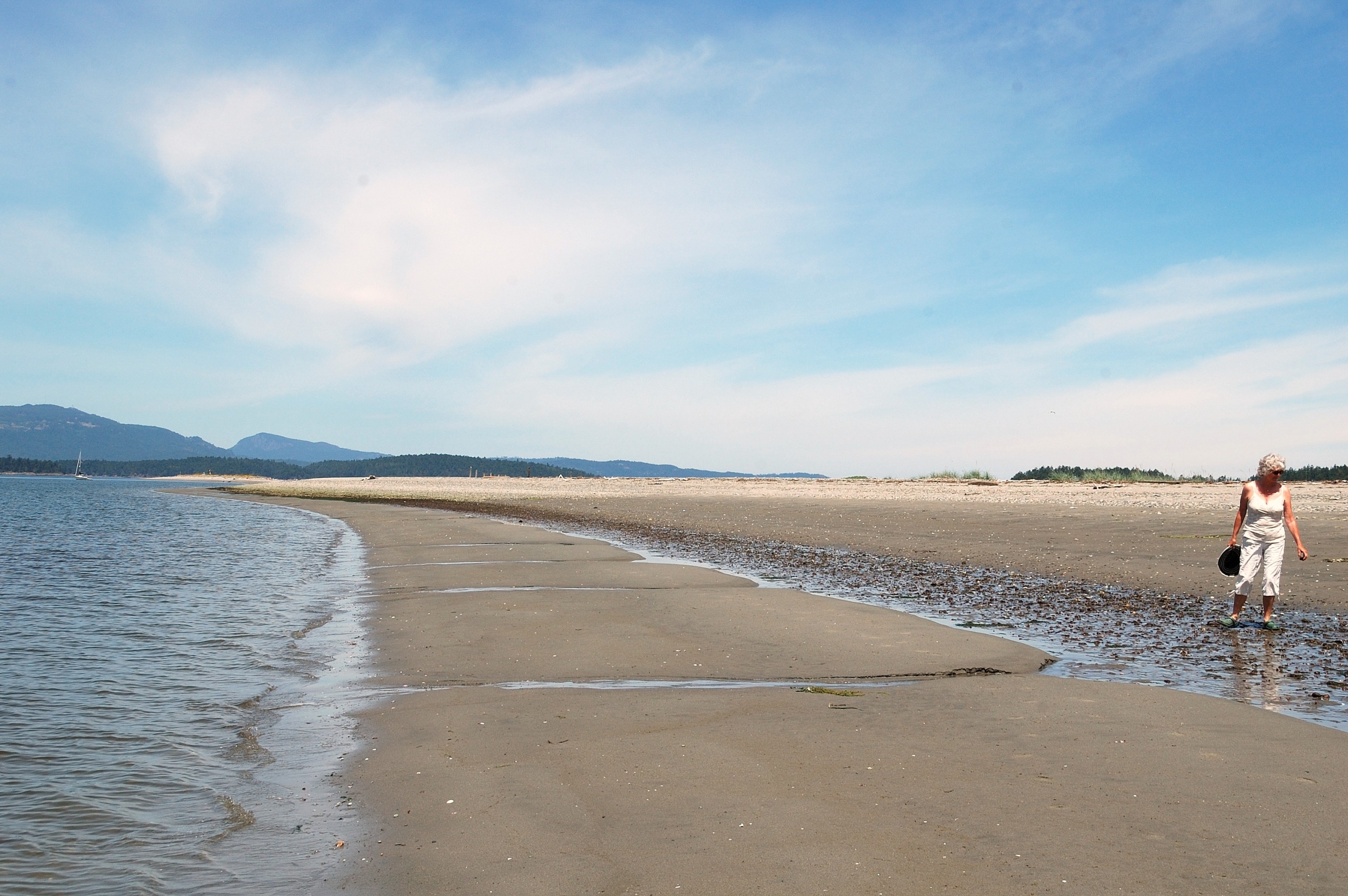 Long sandy beach at Sidney Spit
Portland Island, also known as Princes Margaret Island was presented as a gift to Princess Margaret in 1959. She returned the island to British Columbia in 1967. The island features abundance of wildlife, trails, protected coves and sand beaches. The island offers two anchorage, Princess Bay and Royal Cove.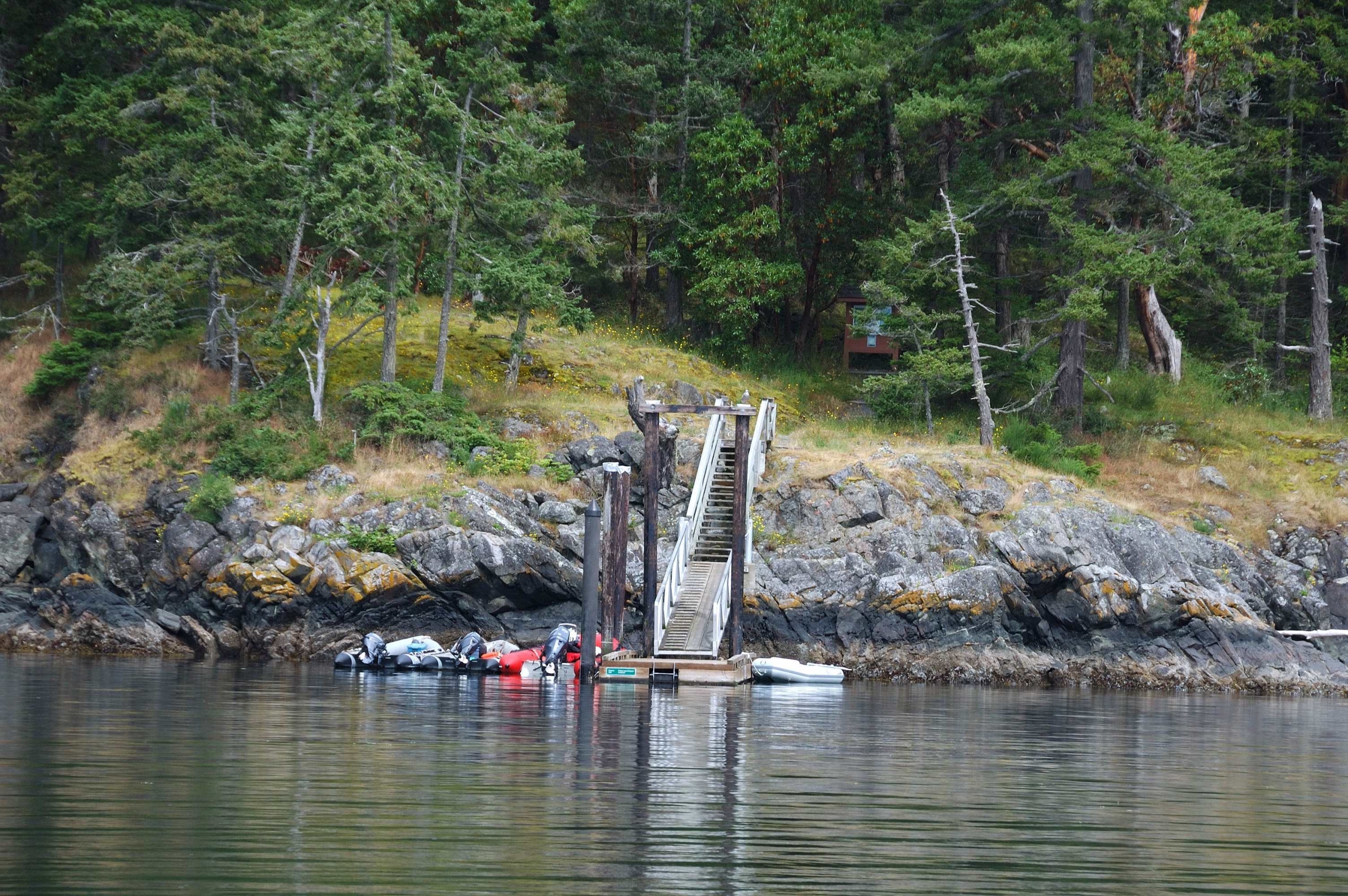 Dingy dock at Portland Island, Princess Cove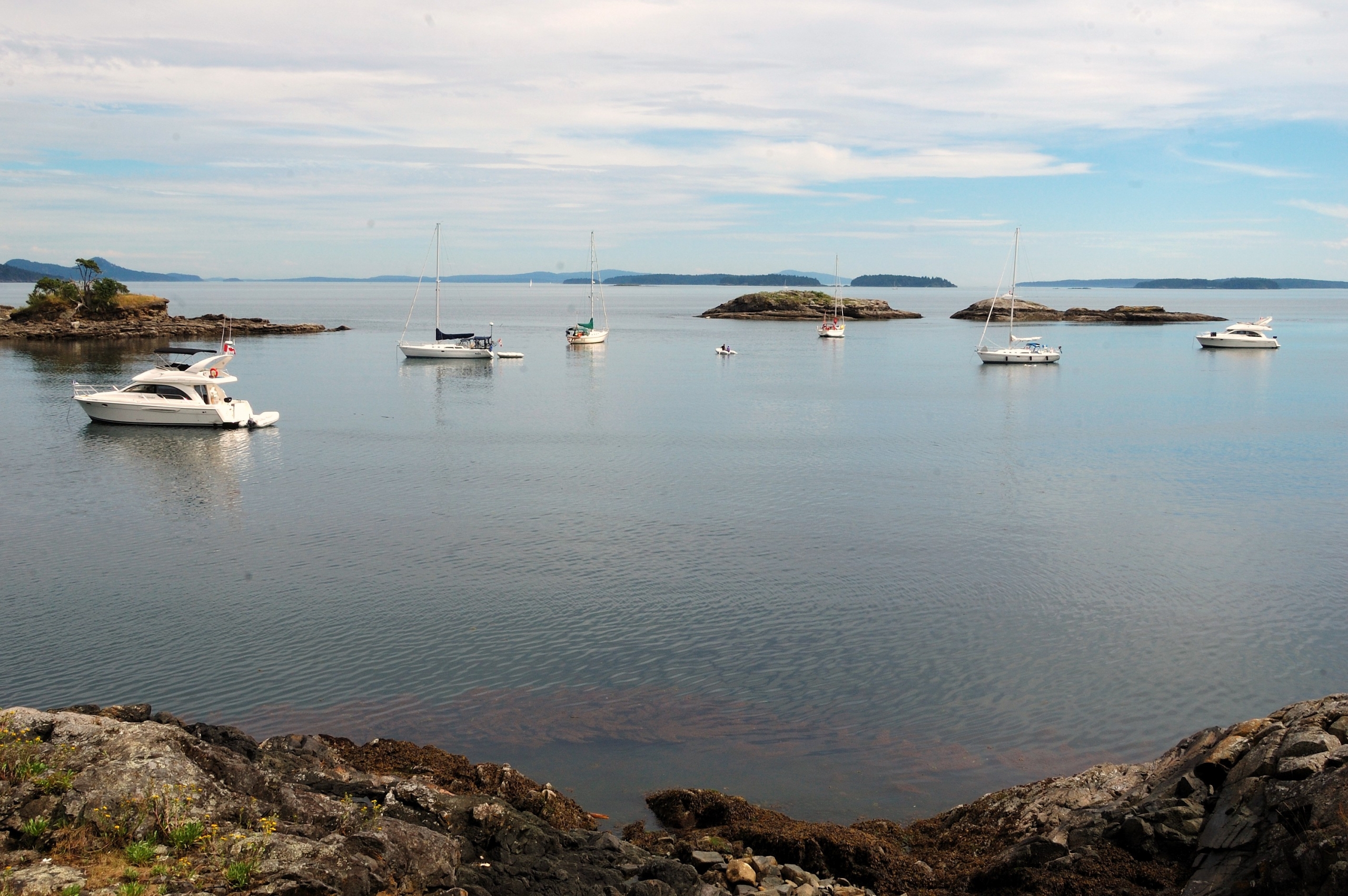 Princess Cove, Portland Island, offers plenty of moorage
Russell Island  is blessed with many natural features typical of the southern Gulf Islands. Open meadows of native grasses host yearly bursts of camas lilies and a variety of other wildflowers. The shell midden beaches are testaments to its first inhabitants, the First Nations people who date back 3,000 years. A forested trail takes you to the homestead of Hawaiian settlers. Anchor on the northwest side of the island with fair holding over a thin and seaweed bottom.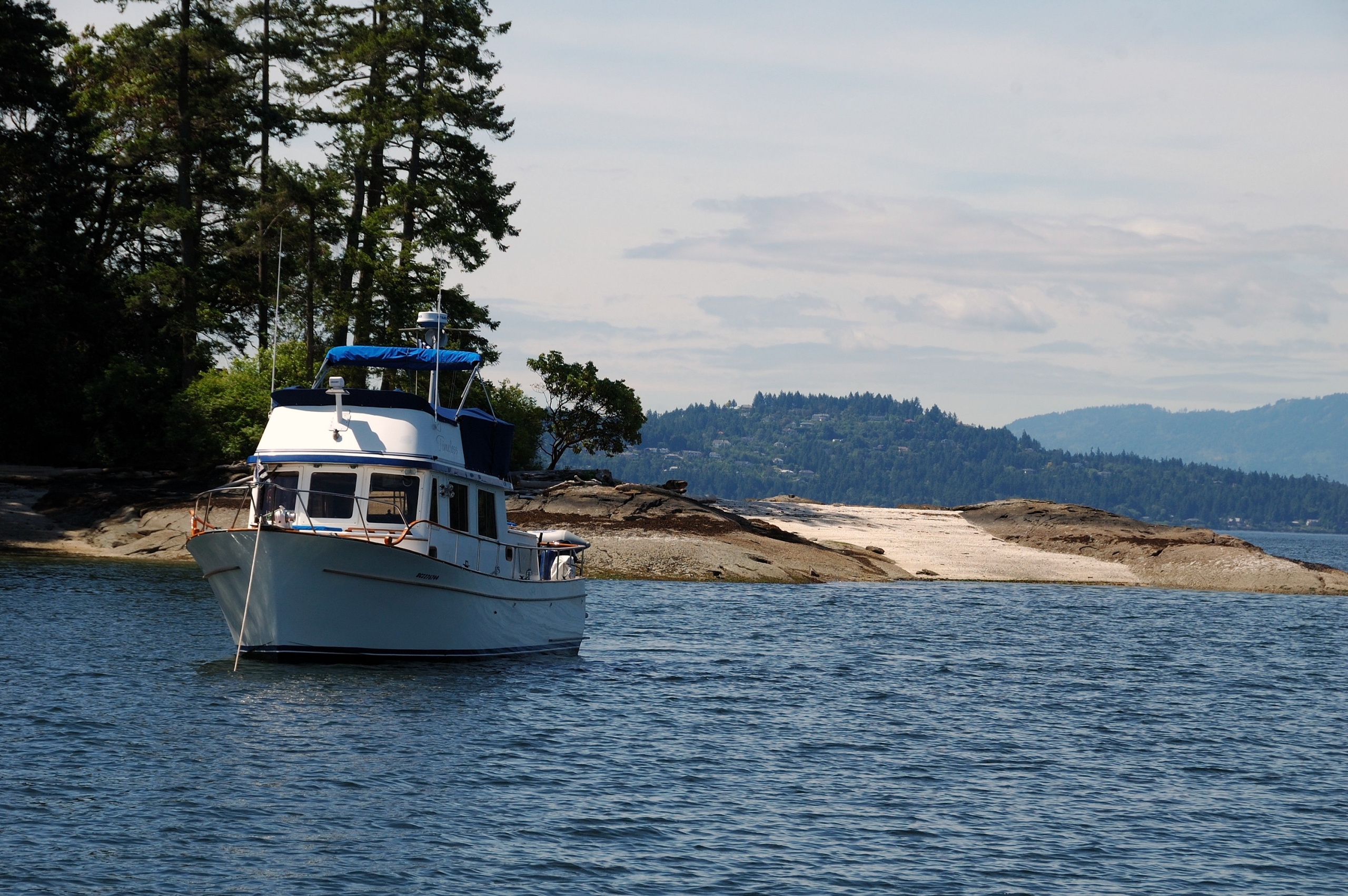 Anchored at Russell Island, Midden in background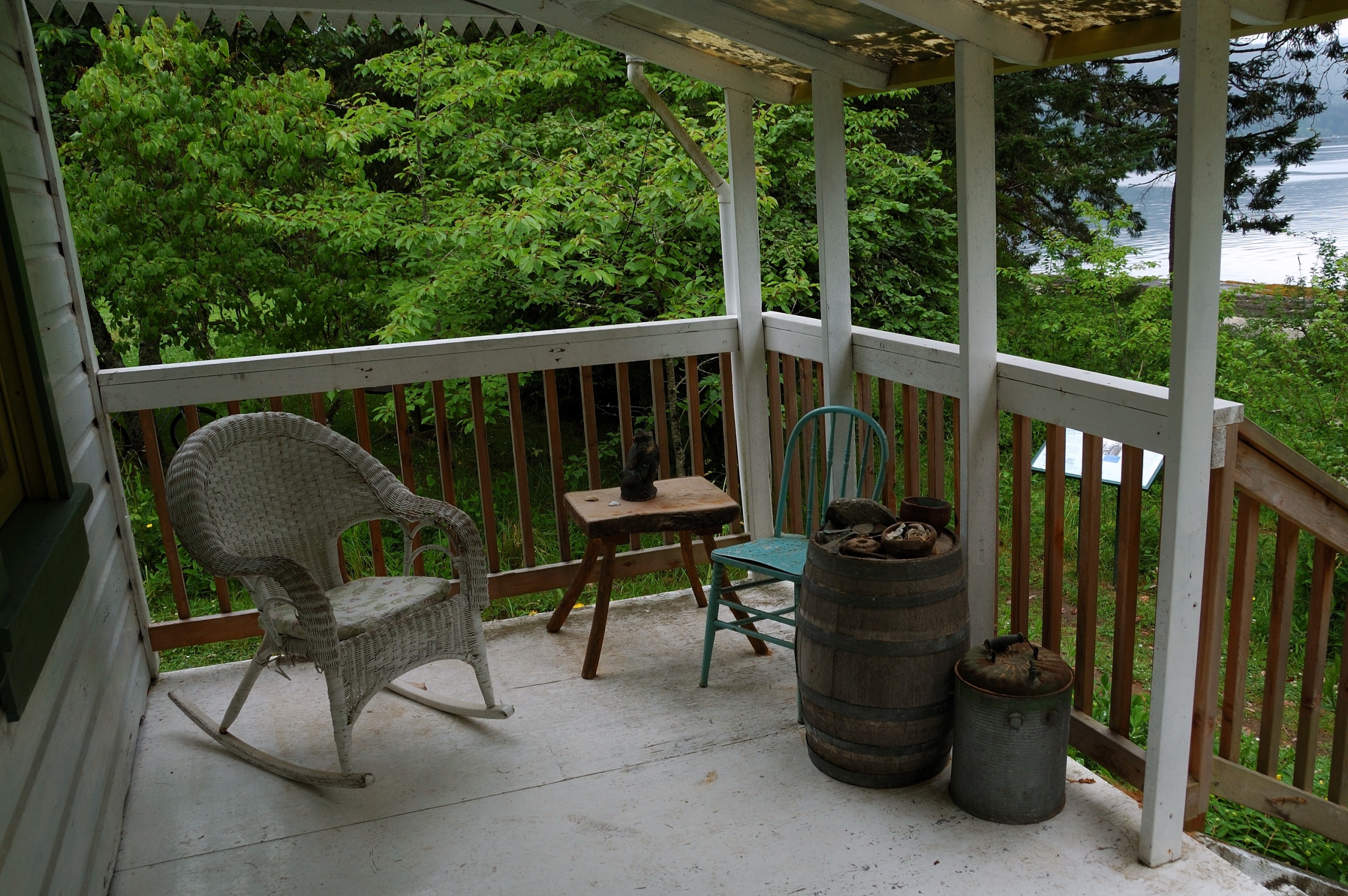 The settler's home on Russell Island is part of the park
Beaumont Marine Park South Pender Island  offers park mooring buoys and room to anchor for visiting boaters. Visitors can beach their dinghies or kayaks to enjoy this popular picnic, camping and hiking spot. A one hour hike up a switchback tail leads to the top of the 800-foot Mount Norman revealing sensational vistas of the San Juan, Gulf and Vancouver Islands. It's well worth the effort.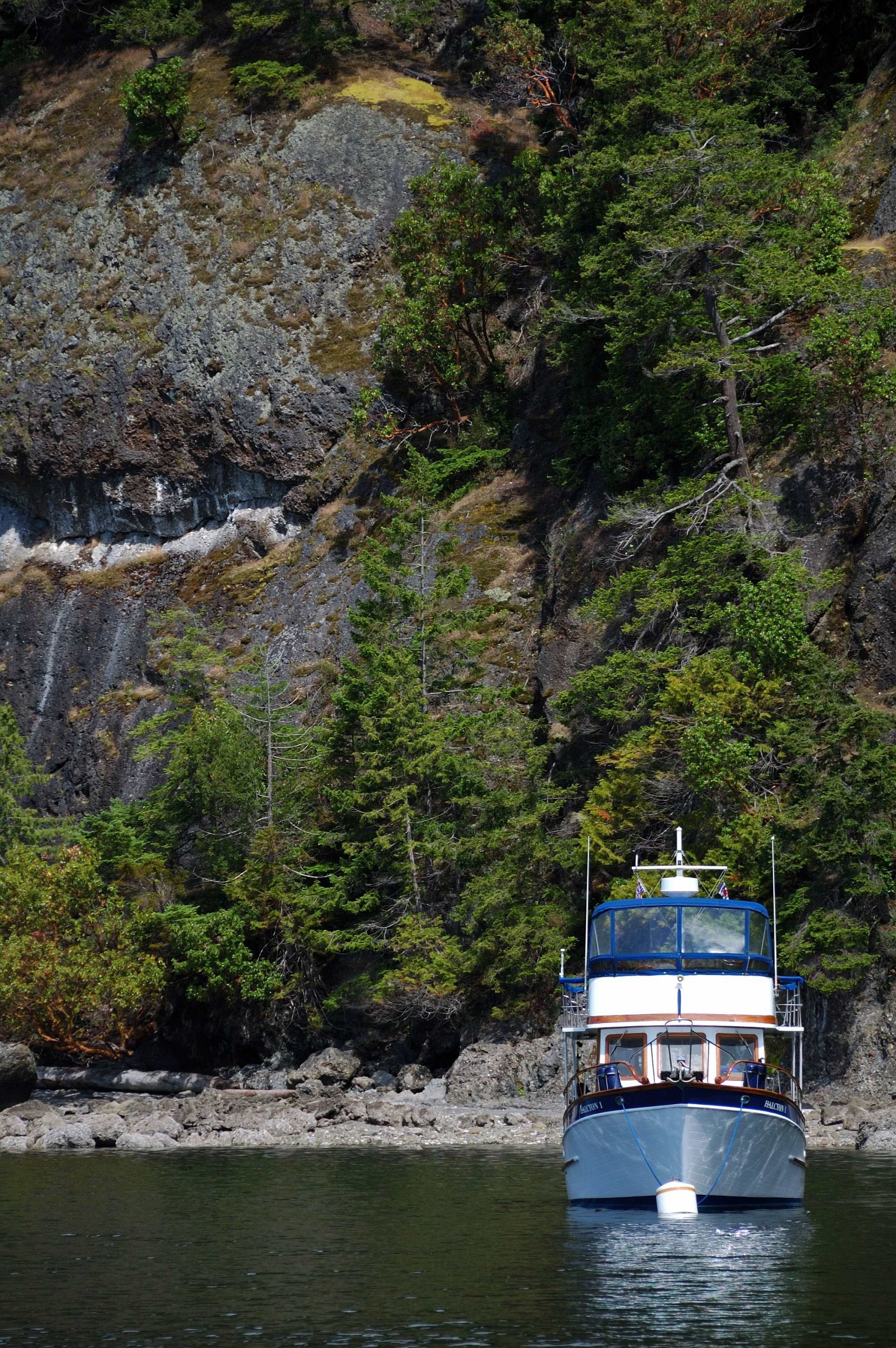 Moored on Beaumont Park buoy at the base of Mt Norman
Cabbage Island and is a nesting site for Oystercatchers and Bald Eagles and provide some of the most magnificent sunsets in the Gulf Islands. Interesting geological formations showcase the Cabbage Islands' glacial past. Mooring buoys are located between the islands, where there's also room for anchoring. Fishing and crabbing can be good around the island.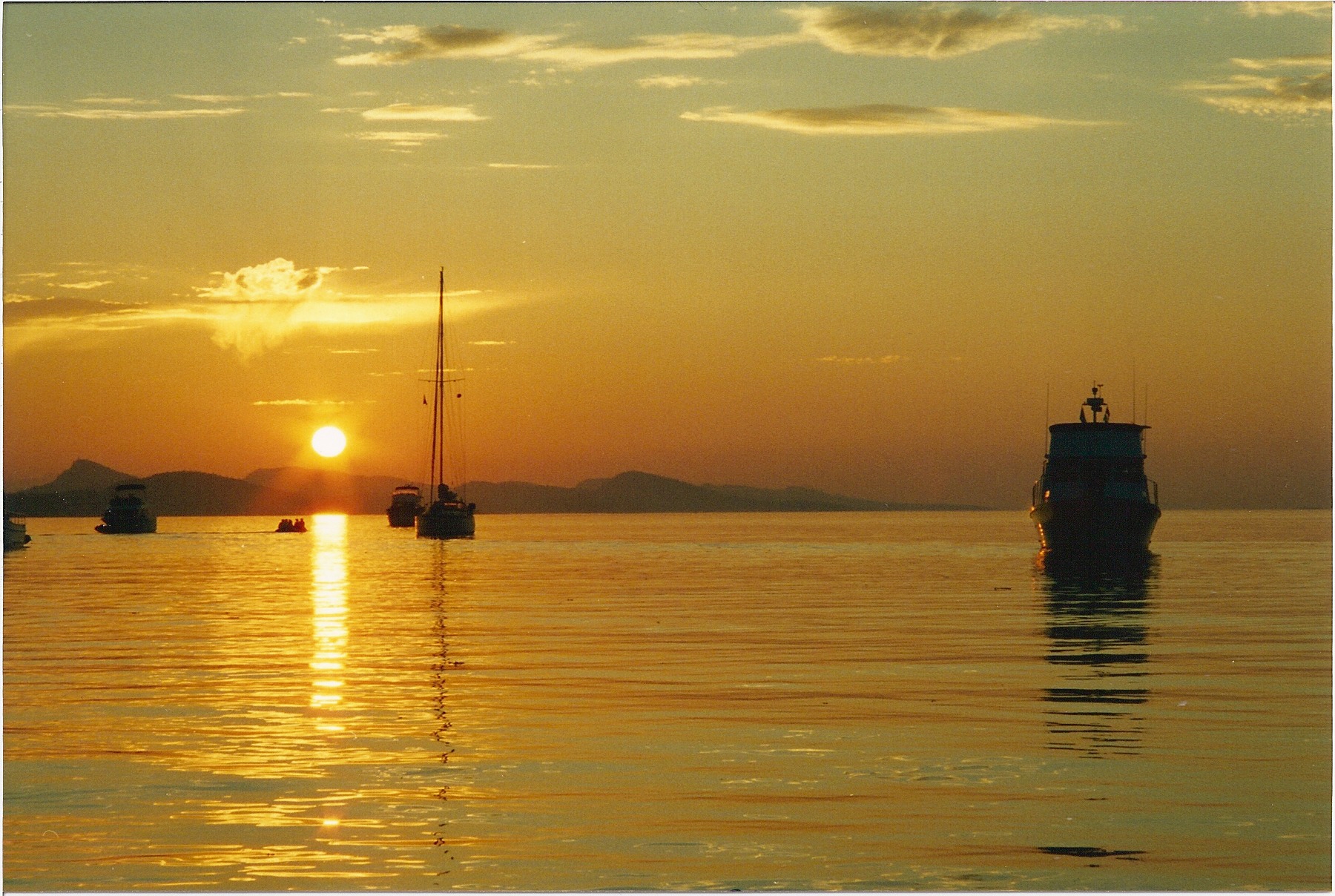 Cabbage Island has some stunning sunsets
At  Prevost Island visiting boaters tend to favor anchoring in James Bay and Selby Cove located at the north side of the island where park lands form a narrow point adjacent to a deep cove with a shoreline that varies including steep rock faces, gentle rising rock shelves and gravel beaches. It's easy to spend a day wondering the shoreline and uplands where there is evidence of old homesteads including split cedar fences and remains of fruit orchards.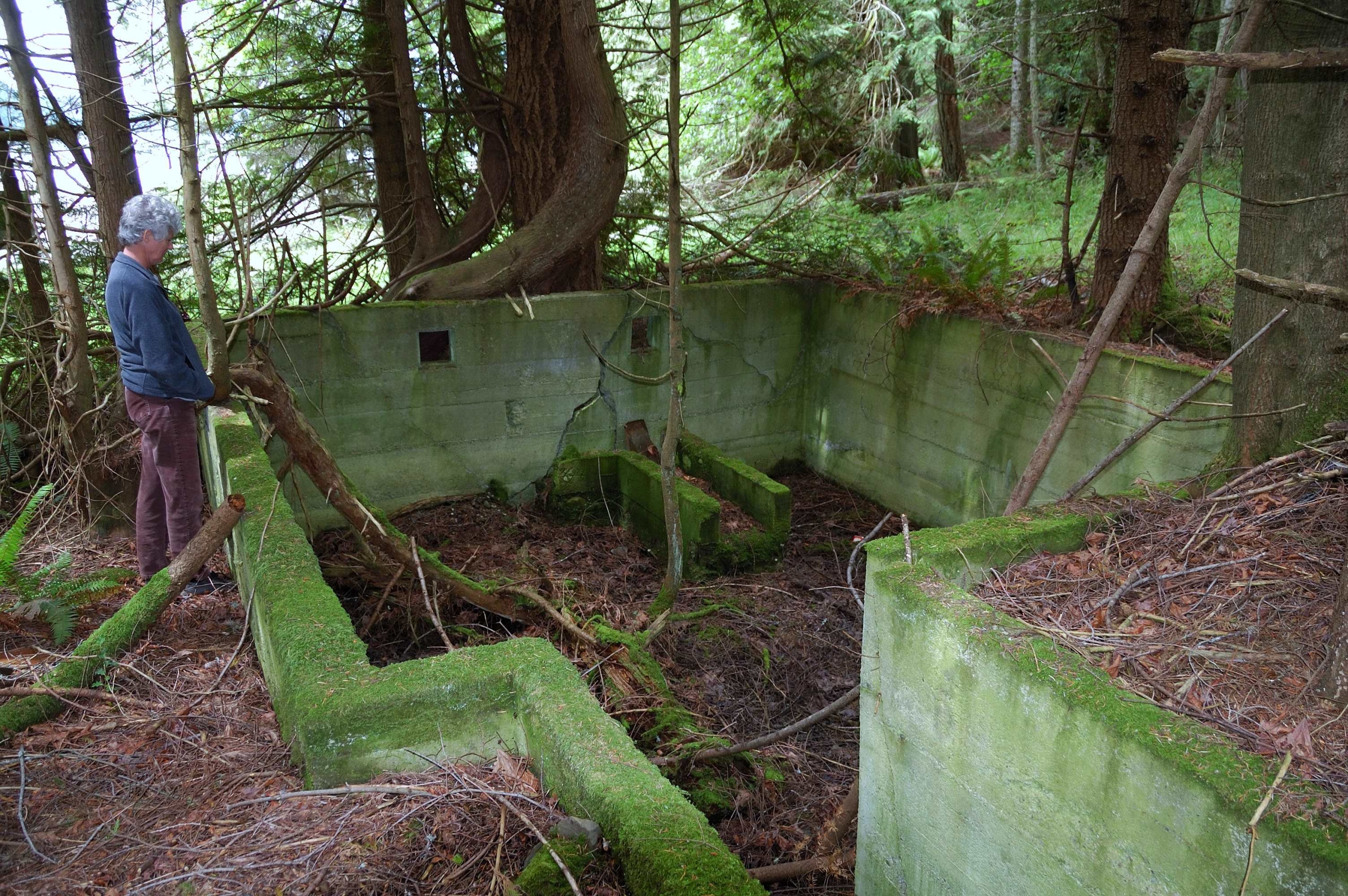 Remnants of an old homestead in James Bay, Prevost Island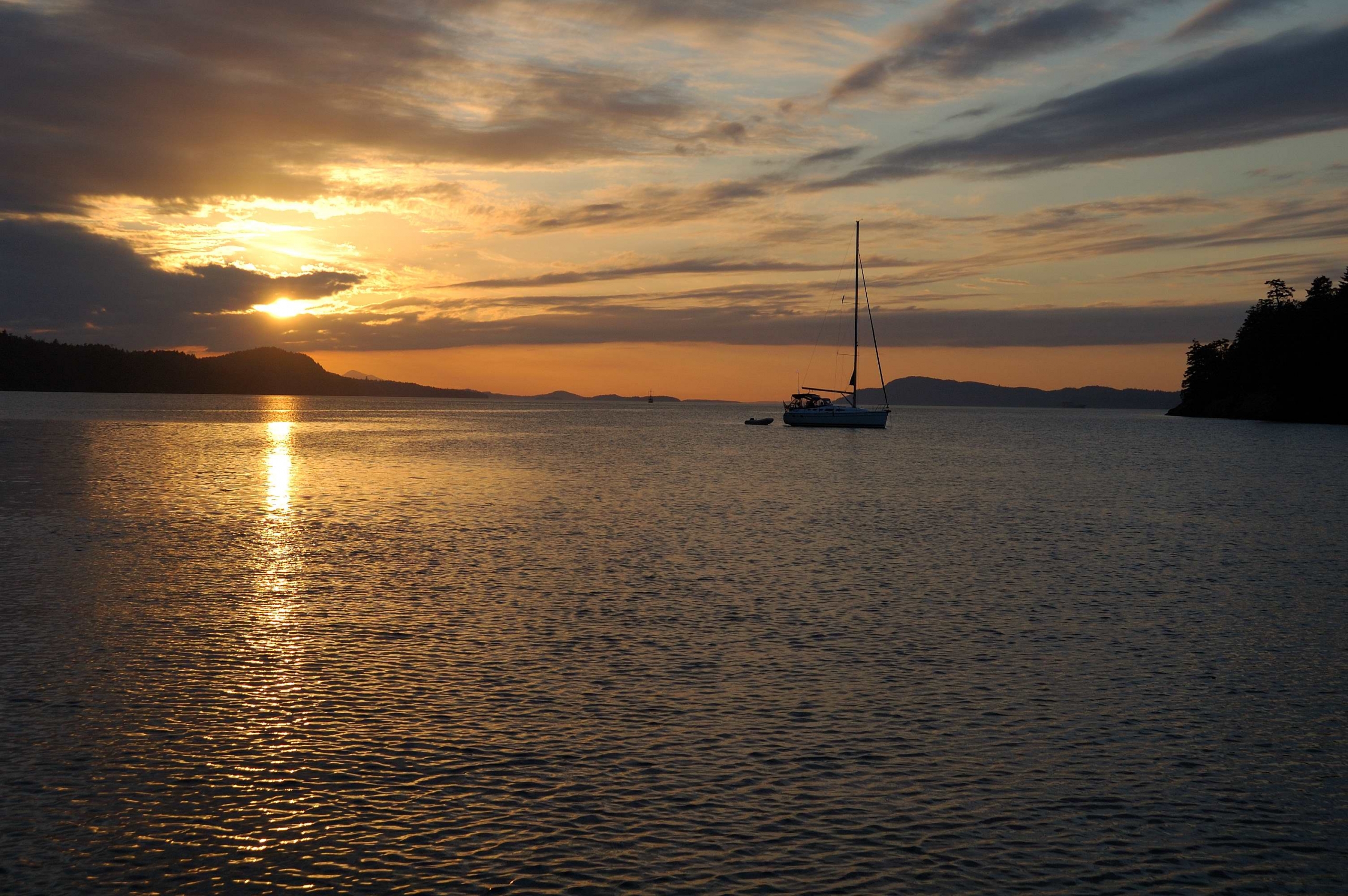 Sunset at James Bay, Prevost Island
(Deane Hislop in partnership with Freedom Marine)