Lund Harbour, British Columbia – Cinnamon buns at the end of the road.
13th September 2021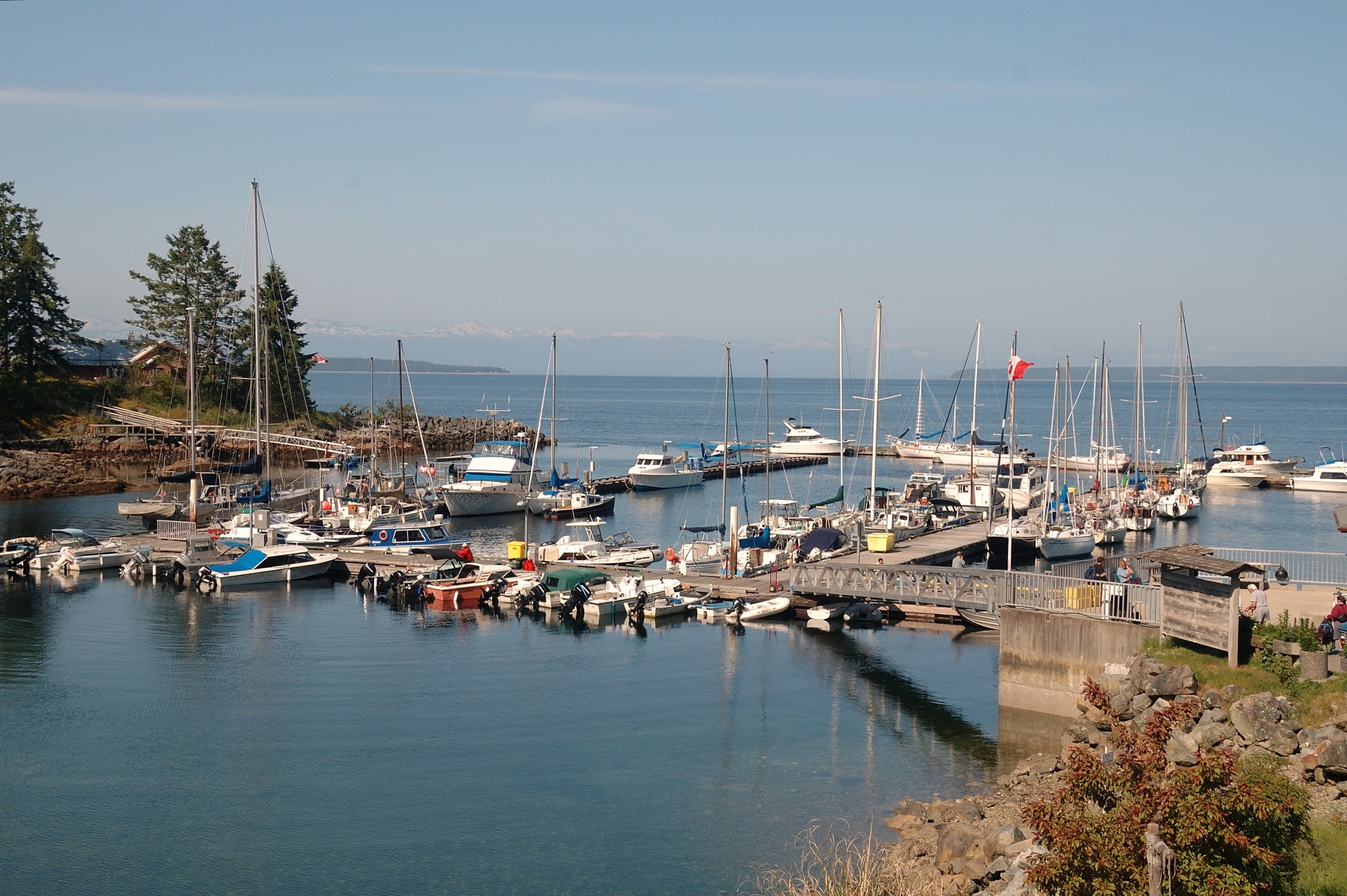 Lund Small Craft Harbour
In the morning, the harbour air is filled with the tantalizing aroma of fresh bakery goods and java. Begin the day with breakfast on the patio of Nancy's Bakery overlooking the marina. The charming village of Lund, located at the northern end of BC's Sunshine Coast, is a popular stop for boaters going and coming from Desolation Sound Marine Provincial Park.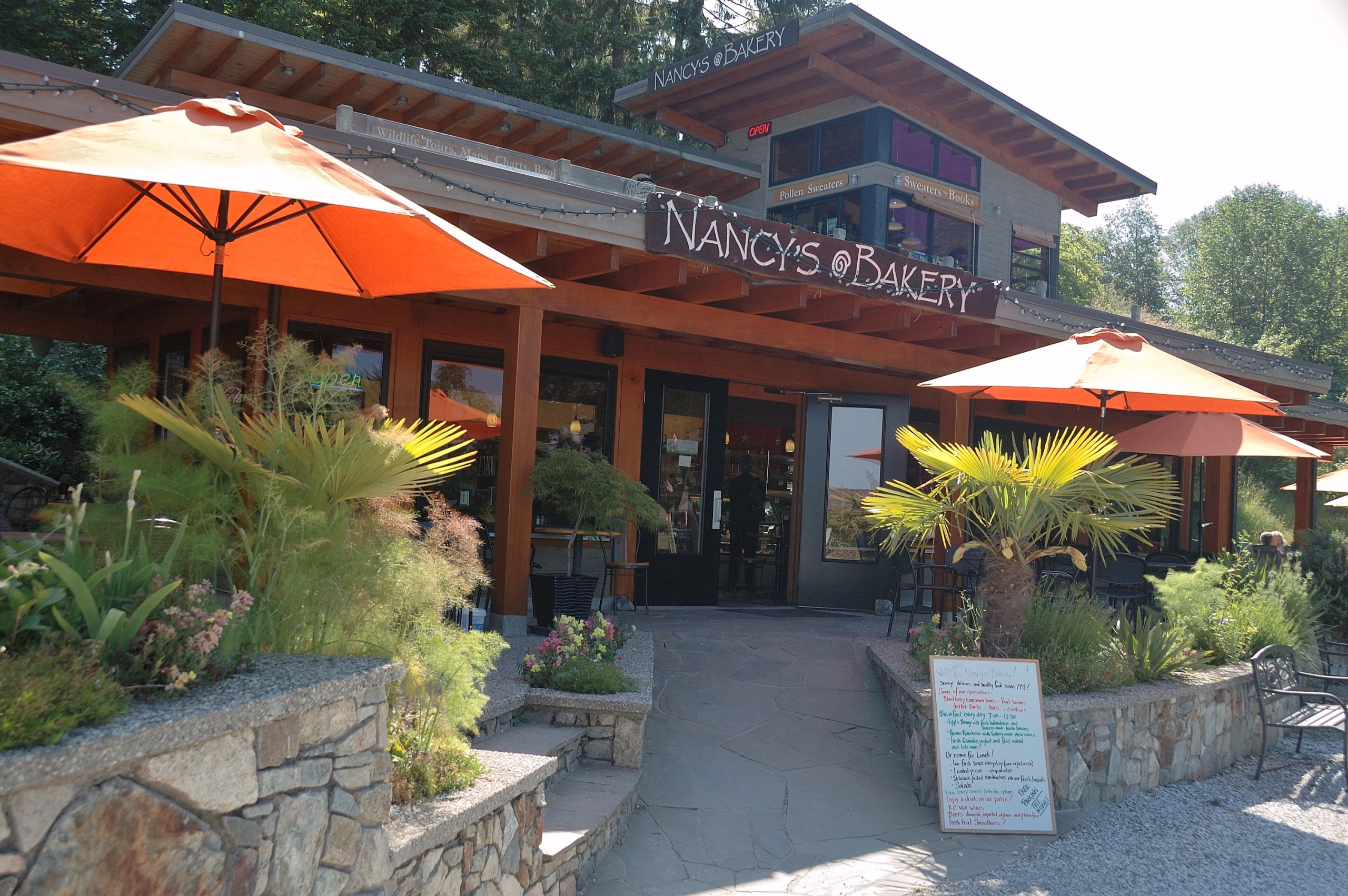 Nancy's Bakery makes a stop at Lund well worth it.
The Mile "O" marker, in the center of the village, celebrates its unique position atop Highway 101. The Pan American highway system begins here and leads 9,446-miles south to Quellon, Porto Monte, Chile.
For centuries, the Tla'amin First Nation people have enjoyed the abundance that the area's land and sea provided. And call the area Kla ah men. In 1889 the Thulin brothers from Sweden settled here, giving the community its name of Lund. Today, a general store, restaurants, marina, hotel, and marine services make-up the community.
Lund Harbour monitors VHF radio channel 73 and offers 1,700 feet of moorage, 20, 30 and 50-amp power, water, washrooms and showers, Wi-Fi, garbage drop, and pumpout stations. During busy summer months, rafting is encouraged.
The small seaside village is walker friendly, and the historic Lund Hotel at its heart with a popular pub, waterfront indoor and outdoor dining, and a kayak rental shop. Originally built in 1895 and rebuilt in 1905 after a fire. In 2016, the Tla'amin Nation took full ownership of the historic hotel.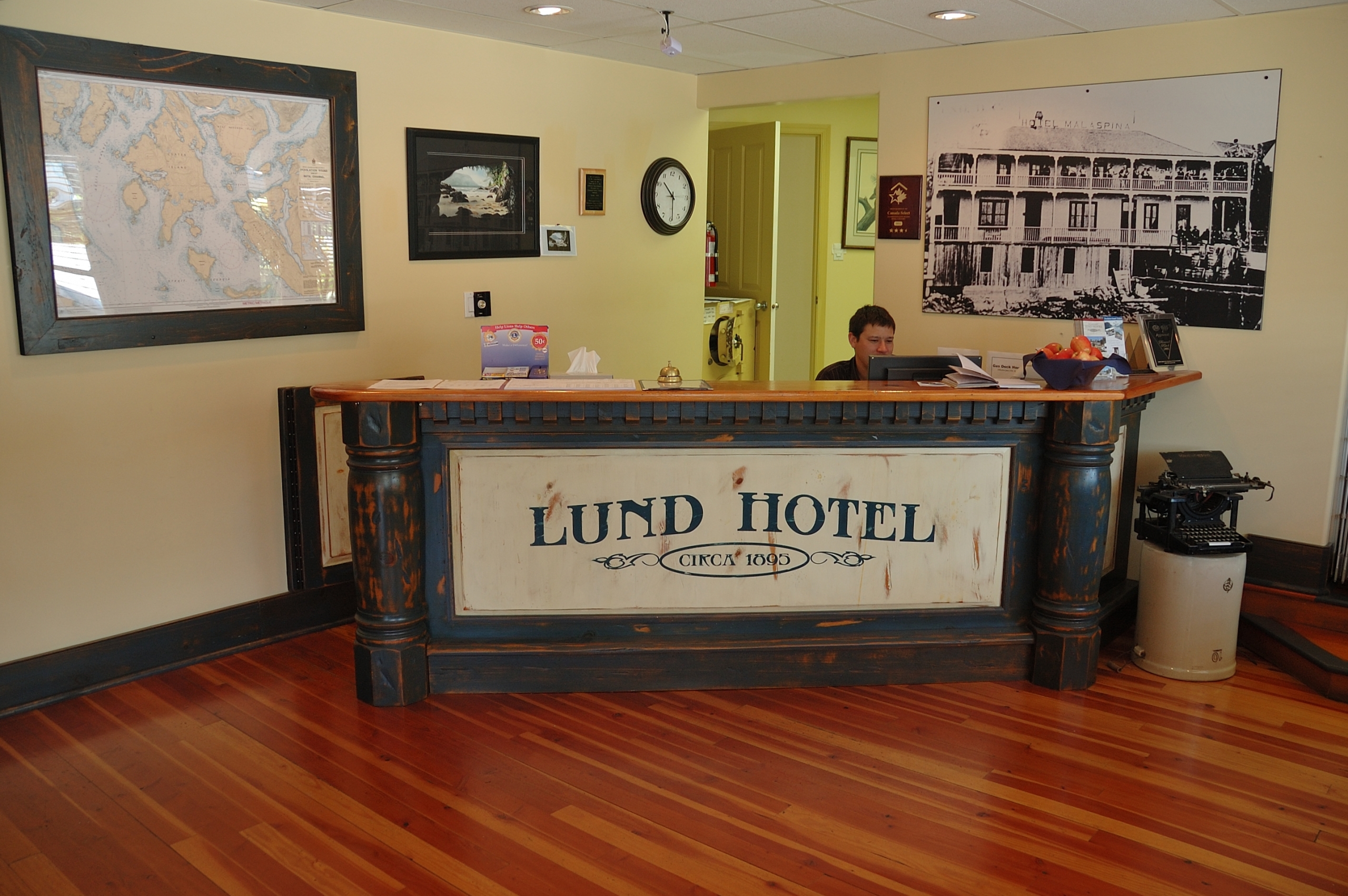 The wall of the Historic Lund Hotel are lined with photos from the past.
According to legend, when John Wayne would visit, he liked a particular room situated above the bar. When he got thirsty, he'd lower a bucket down on a rope for a drink.
The Lund Hotel fuel dock offers diesel, gas, and lubricants. During the summer it's busy with a steady stream of boats topping-off their tanks then heading north, bound for Desolation Sound and points beyond.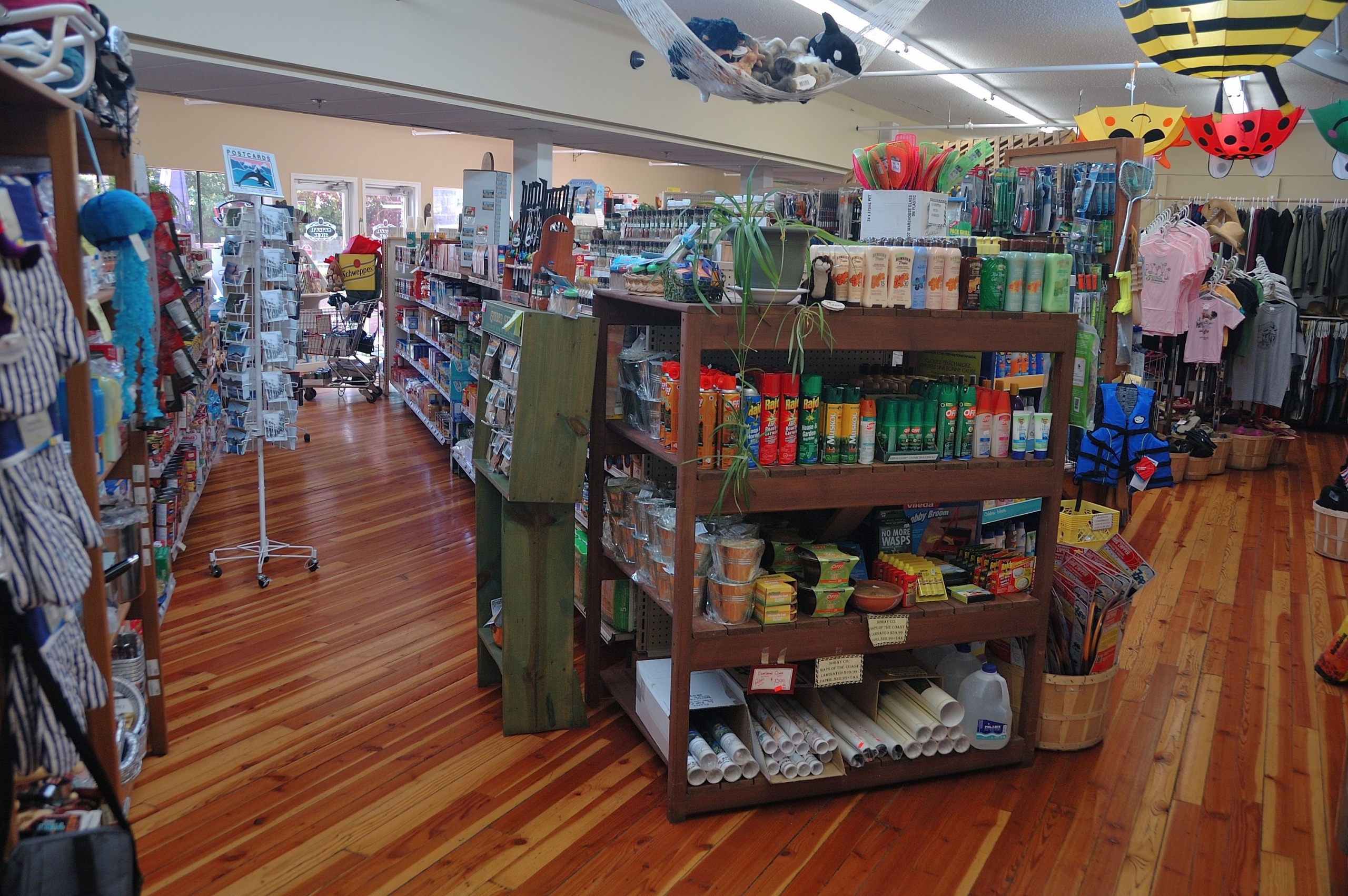 For provisioning, the general store is well stocked.
The hotel also has a general store that features deli selections, ice, fresh produce, meats, and bakery items. A post office and a liquor agency also occupy space in the store.
Located in the lower level of the hotel is the Tug Ghum Gallery & Studio, featuring a collection of local art for sale. This is a working studio and visitors can observe Gallery owner and artist Debra Bevaart working on one of her famous soapstone seal heads.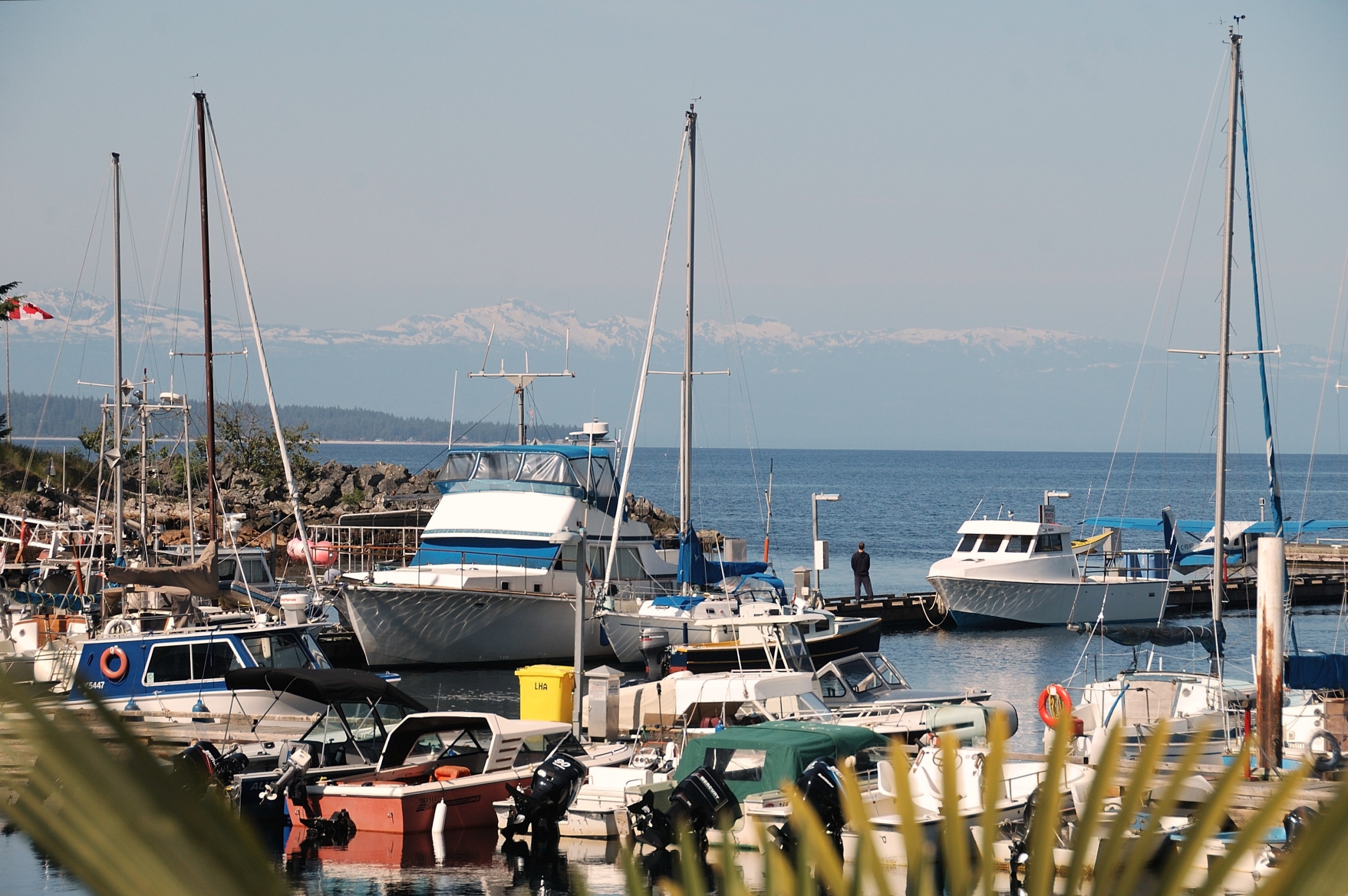 View of the marina from Nancy's Bakery's outdoor seating
Across the road is Nancy's Bakery, a favorite local hangout. There's nothing like a killer bakery in the middle of almost nowhere, where you can get just about any kind of savory or sweet treat to go with your cup of coffee as well as delicious fresh-baked breads. Nancy Bouchard and her bakery have overlooked Lund Harbour since 1991.
Upstairs from Nancy's Bakery is Pollen Sweaters  which sells locally produced high-quality washable wool sweaters.
(Deane Hislop in partnership with Freedom Marine)