Montague, Galiano Island: Three Mooring Options in One Harbour
14th May 2019
For several thousand years, before recreational boaters discovered its nearly landlocked shelter, Galiano Island's Montague Harbour was used regularly by Coastal Salish First Nation people as a fishing encampment.
Today, beautiful Montague Harbour, located in the heart of the Gulf Islands, is one of the most popular cruising destinations.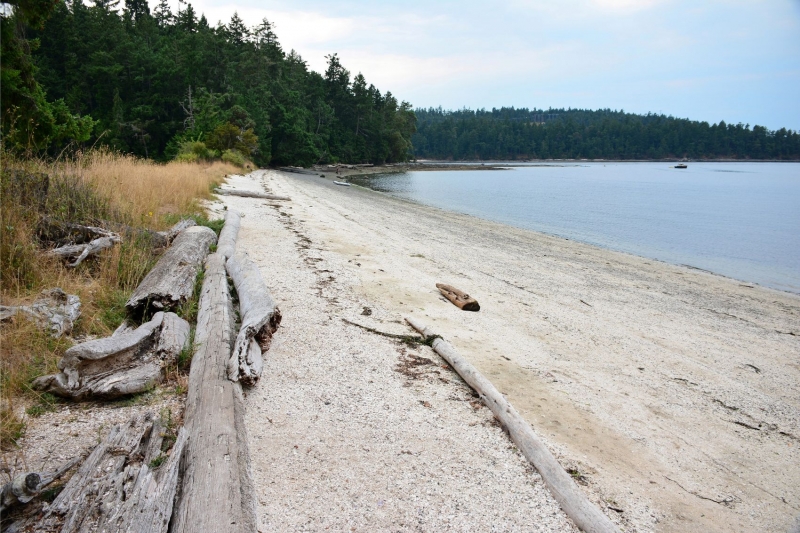 Many centuries worth of discarded shells have been crushed and bleached by countless storms.
Montague Harbour
A white shell beach on the north side of Gray Peninsula, popular for sunbathing, beachcombing and awesome sunsets, is evidence of the area's history. Centuries worth of discarded clam, oyster and abalone shells were crushed and bleached by countless storms, resulting in a glistening beach, characteristic of past First Nation encampments. Montague's shell middens are evidence of native occupation dating back more than three millennia before the arrival of the Spanish explorer Dionisio Galiano in 1791. Archaeological excavations of these protected middens have unearthed arrows, spearheads and stone carvings, helping to unravel the stories of earlier cultures.
Montague Harbour, named after a British naval officer, first appeared on surveying charts around 1859. Gray Peninsula was settled in the late 1890s by Captain Gray, who cultivated an orchard that supplied fruit to residents in Victoria. Remnants of this old orchard can still be found.
Although both the northern and southern approaches will lead you into the harbour, someone goes aground on the reef off the northern entrance to the harbour now and then, so a close eye on the chart is required.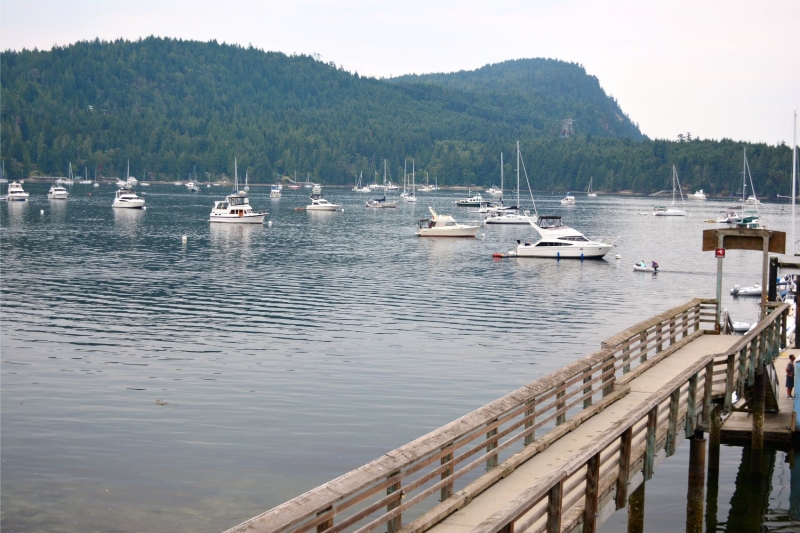 Montague Harbour's excellent anchorage with plenty of room to swing.
Once safely inside, the harbour is neatly divided into two parts within sight of each other: Montague Harbour Provincial Park and privately-owned Montague Harbour Marina. Between the two is a well-protected harbour with excellent holding for anchoring.
Montague can accommodate a large number of boats. Depths range from 25 to 36-feet over a sticky mud and sand bottom.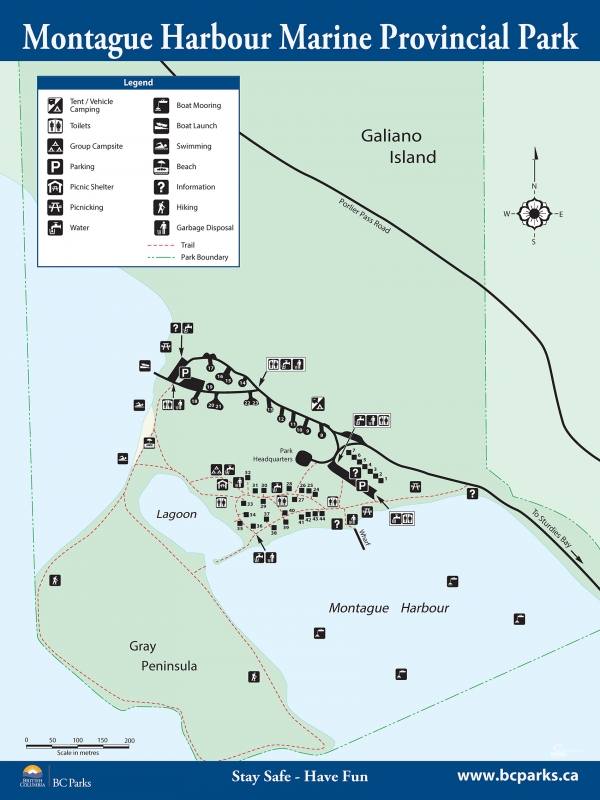 (Map by BC Parks)
Montague Harbour Provincial Park
At the north end of the harbour, open year-round, is British Columbia's first Provincial Marine Park, established March 1959, 102 hectares. The park includes a couple dozen mooring buoys ($14 per vessel/night), and a dock to accommodate boats less than 11 meters or 36-feet for overnight moorage ($2.00 per meter/night) and dinghies.
**Pets/domestic animals must always be on a leash and are not allowed in beach areas or park buildings. For more info – Click Here.
There is a small marine wildlife center on the park dock for the kids and the park has two naturalists that conduct interpretive programs during the summer months at the amphitheatre, as well as interpretive walks, and intertidal explorations on Fridays, Saturdays and Sundays through the summer.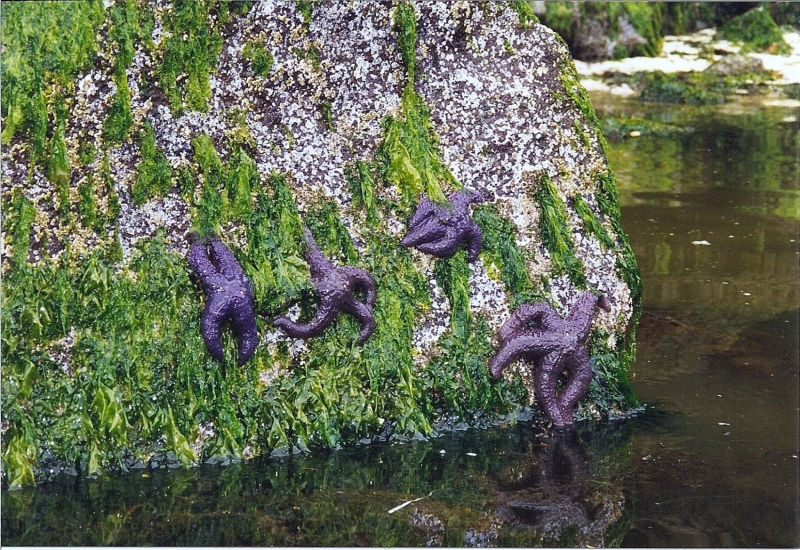 Montague Harbour Park offers plenty of shoreline and sea life.
Galiano Island is a delight in every season, and summer's long warm days make outdoor activities especially pleasant. Park recreational opportunities include picnicking, swimming, and hiking. The park also has a boat launch and its shoreline offers hours of excellent, beachcombing, kayaking and dinghy exploration.
Scenic trails lead through a forest of Douglas-fir, Western Hemlock, Western Red Cedar and Arbutus trees to beautiful sandy beaches. Naturalists and bird watchers enjoy the climate and ecology found nowhere else, making Galiano a home and haven for many rare and protected plants and over 130 species of birds.
Montague Harbour Marina
On the other end of the harbour is Montague Harbour Marina, open May through September, for boaters looking for a few more amenities. The marina offers ethanol-free gas, diesel, 15 and 30-amp power, and washrooms, Due to water constrictions on the island there is no water available on the docks. Wi-Fi and garbage/recycling drop-off is included in overnight moorage. Reservations are strongly recommended.
The marina also has a well-stocked general store, kayaks available to rent and the small marina is dog-friendly.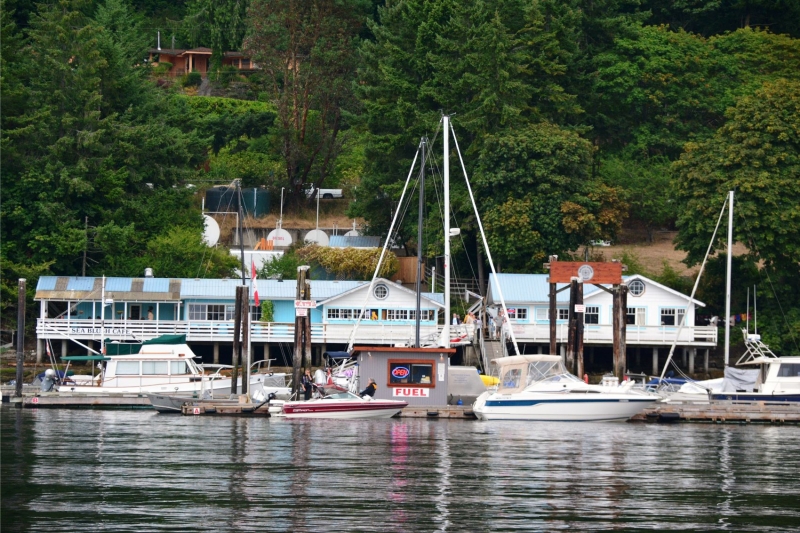 Privately owned Montague Harbour Marina.
Where to eat?
The Crane and Robin Restaurant
During the summer season, located in the marina, The Crane and Robin Restaurant is open from 12 pm to 9 pm and the menu offers a selection of chowders, salads, tacos and sandwiches to choose from. The view from the covered outdoor water-side deck across the harbour is beautiful and relaxing.
There is a large dinghy dock available for any boaters on anchor or mooring buoy who would like to enjoy the marina's shopping and dining.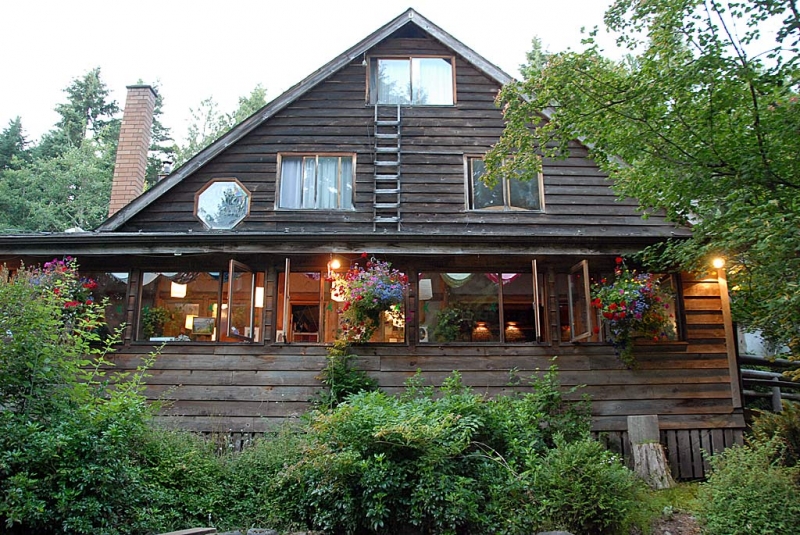 Hummingbird Inn Pub and Restaurant, Galiano (photo by Hummingbird Pub)
A Montague Harbour visit would not be complete without a bus ride to the Hummingbird Pub. The Pub is in a beautiful wooded area with outdoor dining on the deck or indoor in a very pleasant and open setting. Fans of "pub grub" will find appetizers, soups, salads, burgers, pizza, seafood, and vegetarian selections. Patrons must be 19 to enter or drink alcohol at the pub, but there are indoor and outdoor family dining areas available.
The complimentary bus (see the schedule here) ride with engaging driver Tom Tompkins, aka Tommy Transit, is a hilarious and entertaining adventure. To say Tommy is effervescently gregarious is an understatement, and his playful personality is undoubtedly what has made the bus ride a favourite for Montague Harbour visitors.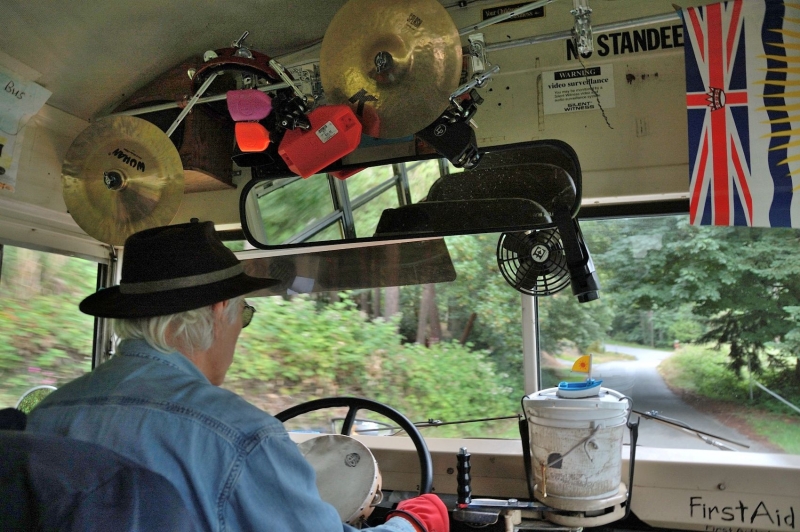 Tommy Transit cranks-up the stereo and plays an assortment of percussion instruments.
If you're looking for an unusual dining experience, we recommend the Pilgrimme, just a 10-minute walk up the road from the marina and 20-minutes from the park. The restaurant is in the style of a lovely island inn tucked into the trees and alongside a seasonal stream. The unusual menu provides a highly creative selection. Ingredients are locally sourced from island farmers, backyard growers and fishermen creating a varied menu that changes with the seasons. The unpretentious staff serves selections family-style to allow for a diverse sampling.
In 2015, Enroute magazine named Pilgrimme one of the top 10 restaurants in Canada.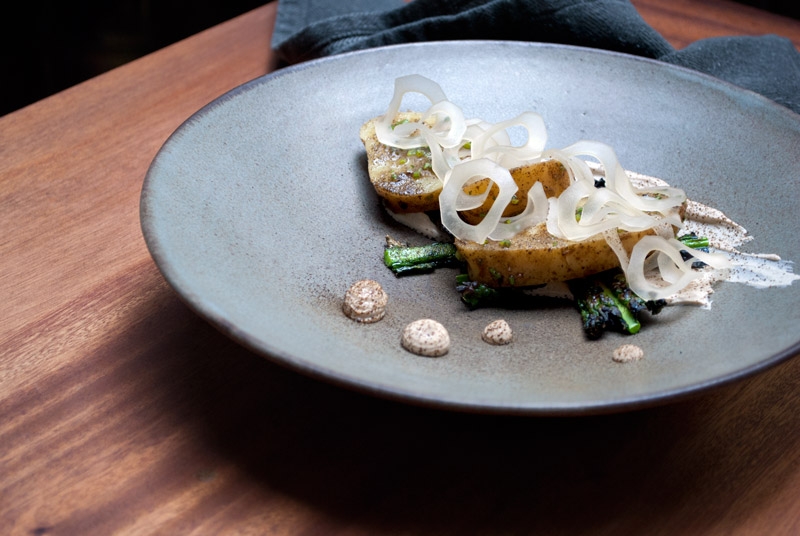 (Photo by Pilgrimme)
What else can you do?
Galiano Saturday Market is held at Galiano Lions Park, on weekends between mid-May and mid-October. The market features products made or grown on the island and live music. It's an opportunity to purchase farm fresh produce or artwork, and to visit with the growers and artisans.
If you feel the need for a round of golf, the marina's friendly staff will be pleased to schedule a shuttle and tee time at Galiano Golf and Country Club.
The harbor is also a convenient location for fly-in guests to join you for a portion of your cruise. Kenmore Air offers daily flights, check their web site for flight schedule.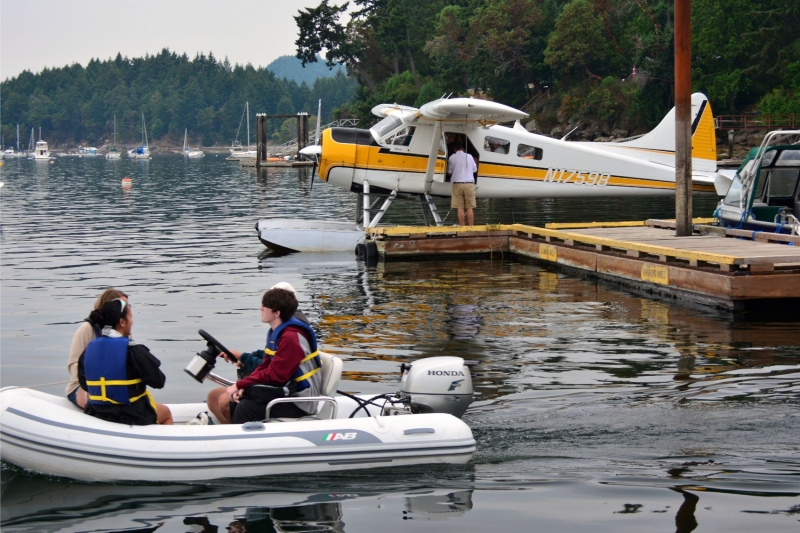 Montague Harbour is a convenient location for fly-in guests to join you.
Montague has something for every crew member. Next time you're out in the Gulf Islands, poke your bow into the harbor and check it out. You'll be glad you did.
(Story and photos by Deane Hislop for Freedom Marine. If you have any experiences you'd like to share, please email us at freedom@boatingfreedom.com)