Mural Town – Chemainus, British Columbia
6th February 2023
Located on Vancouver Island's eastern shore, Chemainus is nestled between the mountains and the sea. Its name comes from the Native shaman, and chief "Tsa-meeun-is" of the Stz'umins First Nation. This beautiful seaside community of 4,000 is more than just a pretty little town with quaint houses and beautiful gardens; it's a year-round destination for boaters drawn to the town's outdoor art gallery – the largest in British Columbia.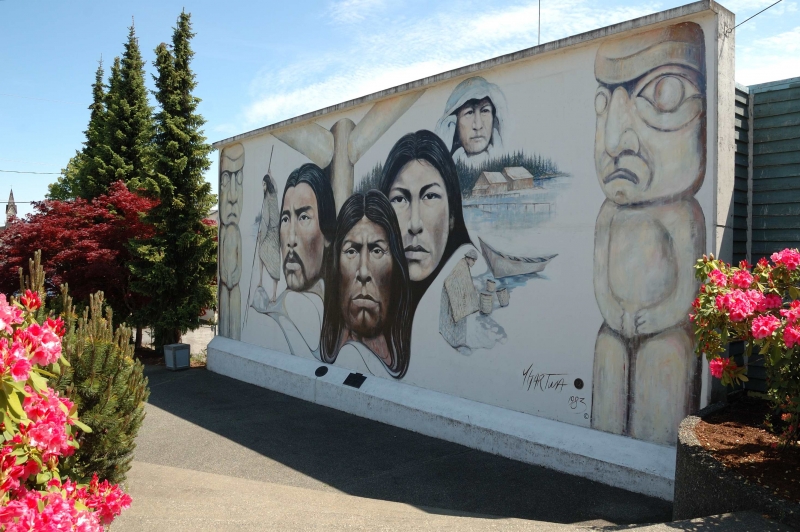 When economic hard times hit the town in the early 1980's, the civic and business leaders gambled that painting larger than life murals on buildings would attract enough tourists to sustain the economy. Five murals were painted in 1982, and civic leaders were encouraged when bus tours began stopping to allow riders to view the paintings. These days, tens of thousands of visitors make their way to Chemainus annually to follow the yellow footprints on the sidewalks or ride a horse drawn carriage through the streets to view 50 murals and 10 sculptures depicting the town's early history.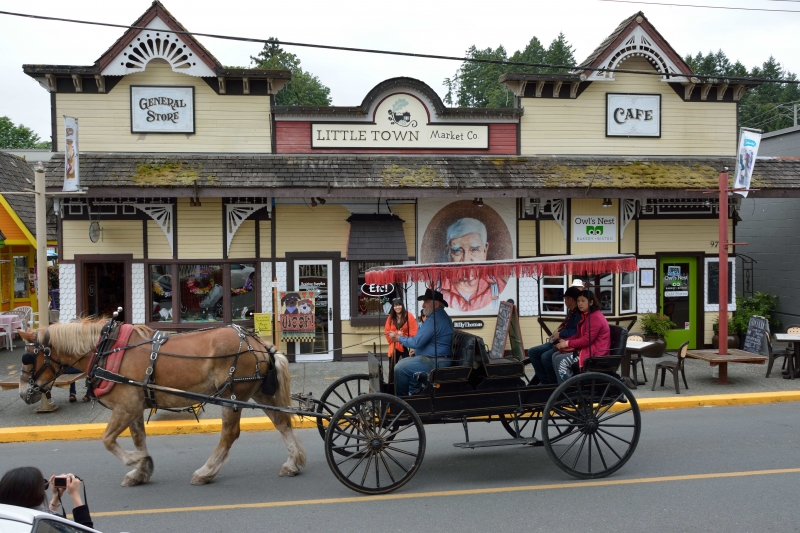 The Chemainus Municipal Dock offers visiting cruisers 175-foot linear concrete float and ten 40-foot slips with 30 & 50-amp power, water, washrooms, showers, pump-out, garbage drop and Wi-Fi. Reservations are recommended. 
Making the short walk up to town center, visitors will first discover Waterwheel Park, Chemainus Museum, Visitor Centre, and Chamber of Commerce.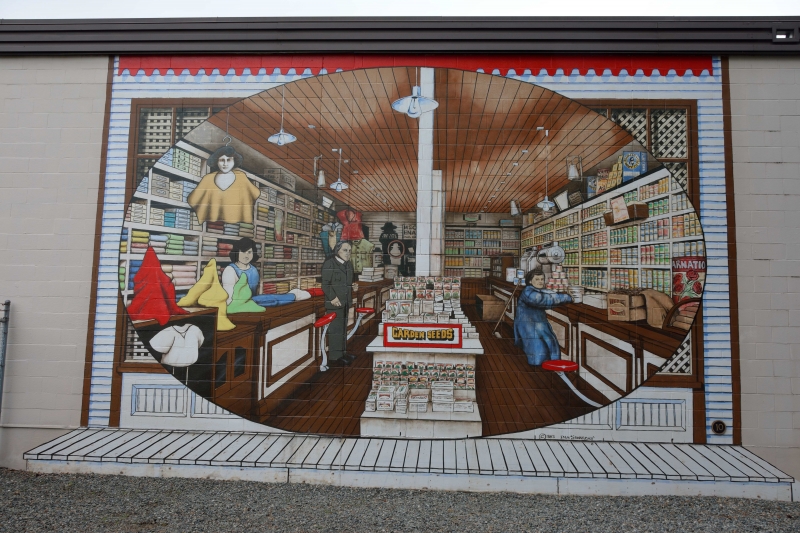 Live music is always in abundance in Chemainus. Starting in early summer Music in the Park begins to run its course. If you stop by Waterwheel Park, you are sure to find a musician playing at the bandshell adding to the ambience.  
The most northerly block of Willow Street offers the 62,000 sq./ft. Village Square housing a 49th Parallel Grocery, pharmacy, bank, liquor store and computer store.  
The Chemainus Theatre Festival is one of the crown jewels of the town. For more than three decades, Vancouver Island's largest independent professional theatre company has called Chemainus home, presenting performances year-round. Enjoy pre-show dining in the Playbill Dining Room and then watch an exciting play in the theater. Afterwards immerse yourself in The Gallery, displaying British Columbia artists and artisans. The theatre is a big hit with visiting boaters and especially yacht club rendezvous.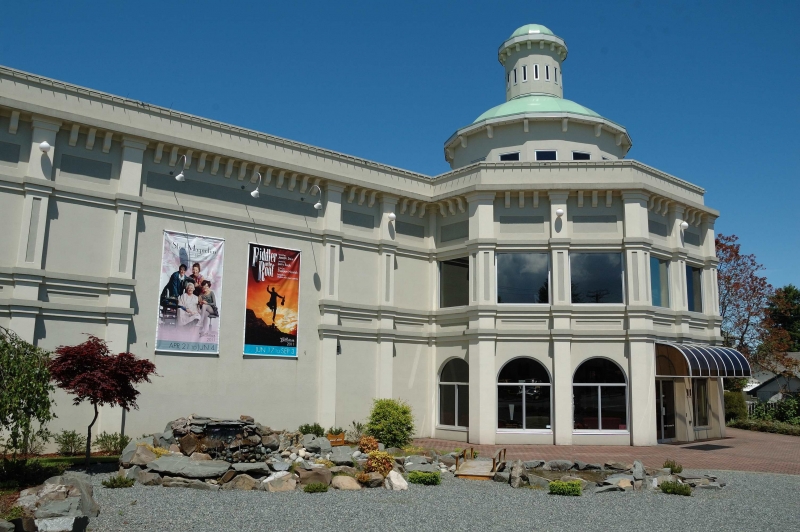 Golf enthusiasts can enjoy a round of golf at challenging Mount Brenton Golf Course. The par 71, 18-hole course is surrounded by creeks, ponds, and towering trees with cart paths throughout.  
Scuba divers are drawn to Chemainus to explore a unique dive site. A sunken Boeing 737 jetliner is perched on a stand fifteen feet above the sea floor and 100-feet below the surface just a few yards of Kin Beach, a popular place for family gathering and picnics. 
A wide variety of eateries populates Chemainus, ranging from funky sidewalk cafes, tearooms, bakeries to formal restaurants. A couple of favorites are the Willow Street Cafe with a selection of wraps, sandwiches, pizza, and salads. Wonderful meals can also be enjoyed at Sushi Kuni, Bonnie Martin Restaurant, Owl's Nest Bakery Bistro and Sawmill TapHouse and Grill. 
Chemainus is home to a year-round indoor Public Market. It's full of food establishments, vintage shops, art and other creations, massage therapy and other services, and even an arcade! This is not a flea market but rather a high-class collection of local shops and businesses.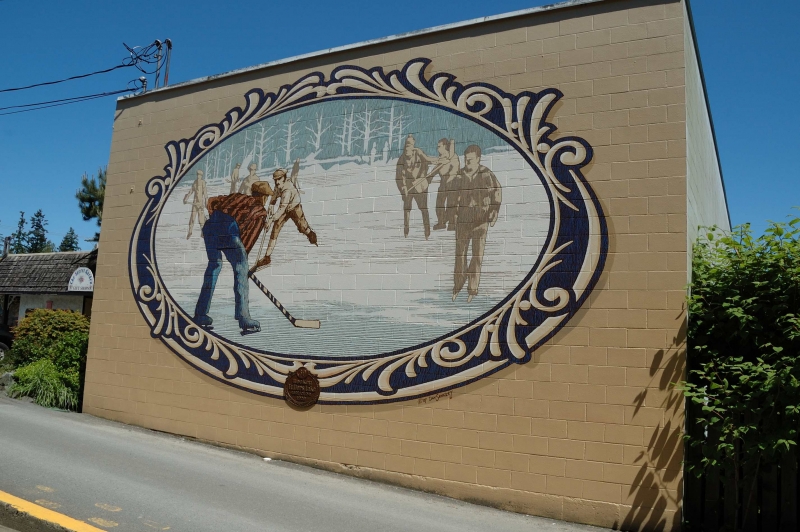 Not only does Chemainus have the Public Market but there is also a seasonal Wednesday market sponsored by the Chamber of Commerce offering lots of make-it, bake-it, and grow-it items. You might find jewelry, accessories, fresh produce, trinkets, clothing, and a plethora of other items. The Wednesday Market runs seasonally from early summer to early fall. 
If you've never visited Chemainus or it has been a while since your last visit, suggest stopping by, you won't be disappointed!