Hanse 410
Design for future. The Hanse 410.

Step into the future with the Hanse 410, where fashionable sailing harmonizes with eco-conscious values. The optimized hull design of this 41-foot yacht, featuring chines at the bow and stern, ensures a sleek waterline, providing the Hanse-typical uncompromising performance and ease while sailing. For the first time, the Hanse 410 introduces an optional electric propulsion system, boasting a remarkable range of up to 55 nautical miles. For even greater independence, a fuel cell delivers emission-free energy. Or, turn to the proven power of solar technology to keep essential appliances running on board without burning any fuel. The exclusive Sustainable Performance Sail (SPS) by Elvstrøm Sails is even made from recycled polyester, not only environmentally friendly but also fast on the water. Up to three expansive cabins and a welcoming salon, offer a genuine sanctuary with abundant space for relaxation. Cook in style on the waves! Experience a splash of gourmet in our galley, featuring ample storage, roomy workspace, and superior refrigeration. The Hanse 410 redefines elegance on the seas. With its class-first dual cockpit tables, there's an abundance of space and luxury seating, amplifying the sheer joy of a wind-driven journey.
Download Brochure
Plans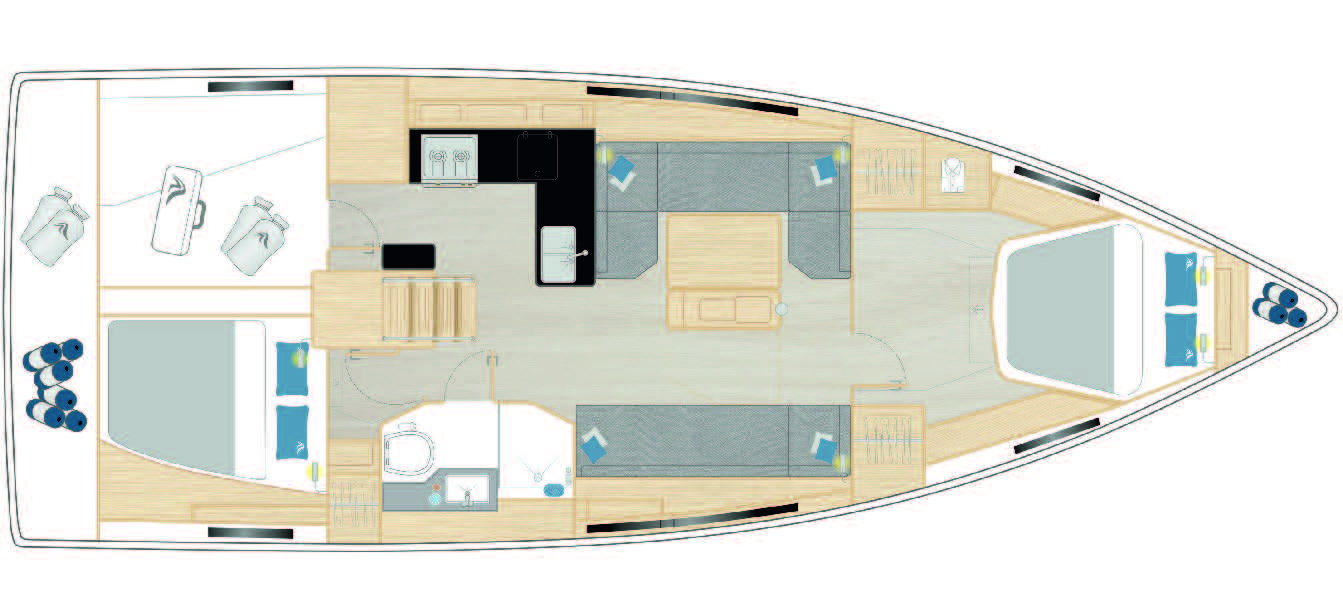 Specification
About
Extra space for your demands. The new Hanse 410.
Choose from 18 different layout combinations. With a spacious owner's cabin, two comfortable aft cabins and a spacious saloon that can accommodate up to ten people, she meets a wide range of needs. The yacht features a well-equipped L-pantry and optional highlights such as a fully equipped navigation area.
PRINCIPAL DIMENSIONS
Length Overall
12.55m / 41.2ft
Beam
4.29m / 14.1ft
Draft
2.1m / 6.9ft (L-keel, medium)
1.7m / 5.6ft (shallow keel)
Displacement approx.
9.68t / 21,341lbs
Fuel Capacity
160L / 42gal
Water Capacity
295L / 78gal
Total sail area
84 sqm / 904 sq ft
Main sail standard
49 sqm / 527 sq ft
Main sail furling
46 sqm / 495 sq ft
Self-tacking Jib
35 sqm / 376 sq ft
Genoa
43 sqm / 462 sq ft
Crossover
74 sqm / 796 sq ft
ENGINES
| | |
| --- | --- |
| Engine Diesel Standard | 29 hp |
| Engine Diesel Option | 41 hp |