Princess factory tour with new 52 Flybridge owners
10th March 2017
The Princess Fun Factor-y: A Study of Yacht Anatomy
Freedom Marine's newest 52 Flybridge owners take a tour of the Princess Factory in Plymouth, England.
Imagine. You've ordered your dream yacht. A new Princess with all the trimmings. How do you feel? Elated? Absolutely. Anxious? Maybe a little. After all, a yacht is a mighty acquisition, and if you've purchased a brand new yacht from Princess, it's likely a custom order and you'll need to sit on your hands for a few months while your dream boat is being crafted.
We have several customers currently in that state of anticipation, with custom Princess yachts ordered and currently on the production line in Plymouth, England. It's a time of intense anticipation, certainly, and also contemplation, with swatches of fine leather, decadent fabrics and woolen carpets to caress and hardwoods, countertops and berth arrangements to consider.
For one of our newest owners, however, a Calgarian couple who recently ordered a 52 Flybridge, perusing the catalogs and sample books just wouldn't suffice. They decided a trip to England was in order; a journey to the Princess factory to see exactly where their new boat was in the process of being borne.Without a second thought, their salesman joined them in this adventure.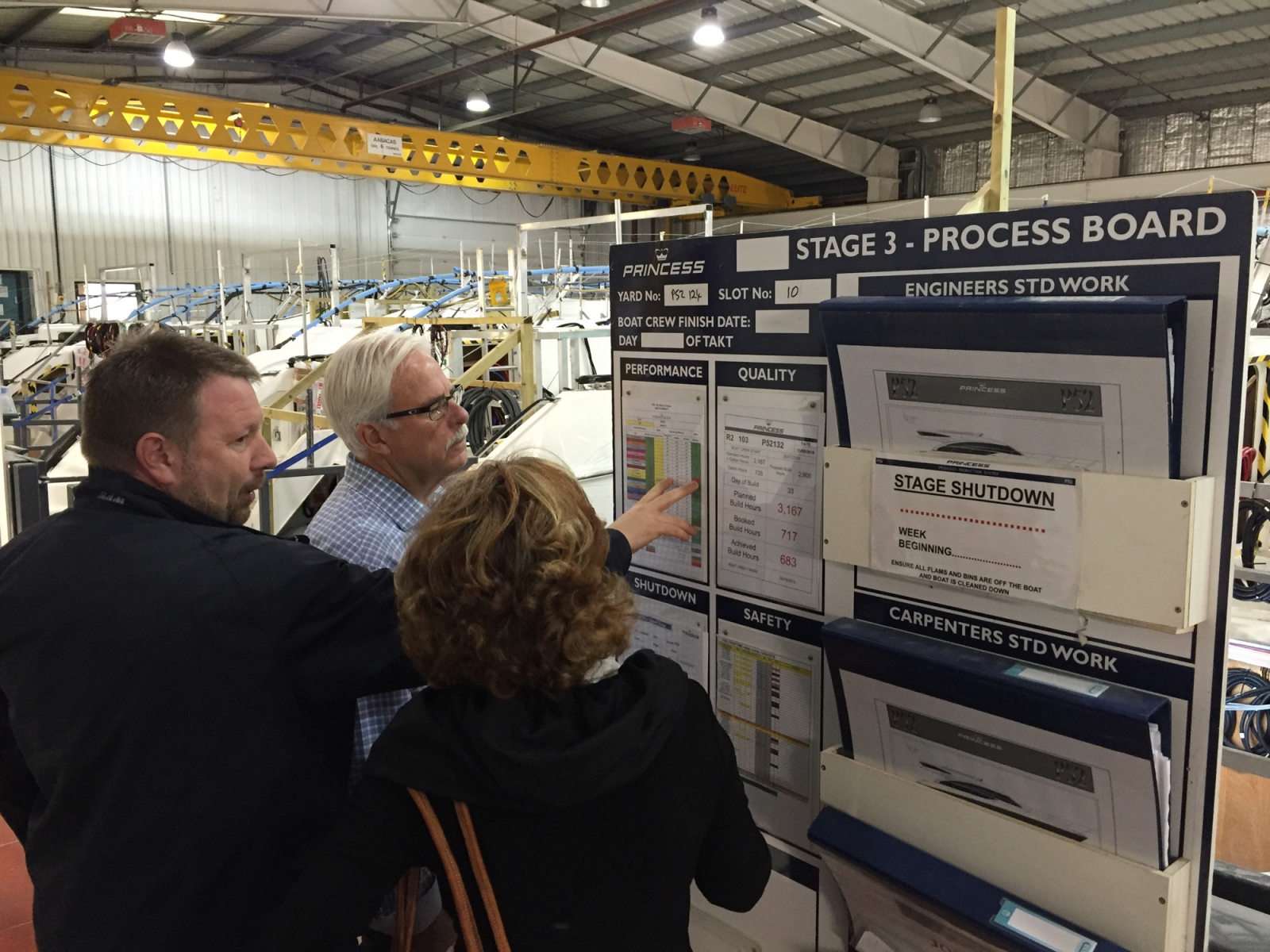 The history of Plymouth England dates back to the Bronze Age, and its port is one of the most famous in world history.
The first stop out of London was Plymouth in Southwest England. The town itself dates back to the 13th Century, and has been a famous port in world history, receiving Sir Francis Drake's Golden Hind in 1580 after it became the first ship to successfully circumnavigated the globe. The ports of Plymouth launched the ships that would defeat the Spanish Armada, the first voyage of Captain James Cook and the second expedition of the HMS Beagle with Charles Darwin aboard. A defeated Napoleon was exiled briefly in the waters just offshore and the Royal Navy still uses Plymouth's dockyard as Her Majesty's Naval Base HMNB Devonport.
Let's just say it's a perfect location for Princess Yachts to have founded its own ship-building business back in 1965. Today Princess utilizes 1.1 million square feet of floor space at its 7 build facilities and employs over 2000 tradesmen.
On the morning of their factory tour the group was picked up by a Princess Yachts representative, an engineer who started with the company 26 years ago. He took the group directly to the Langage Site where the 52 and 56 Flybridge models go through their middle stages of assembly. Each Princess yacht requires thousands of hands-on procedures and applications along its trajectory and each task is diligently executed, inspected and finally checked off on a prominently-displayed boat build board, which follows each vessel.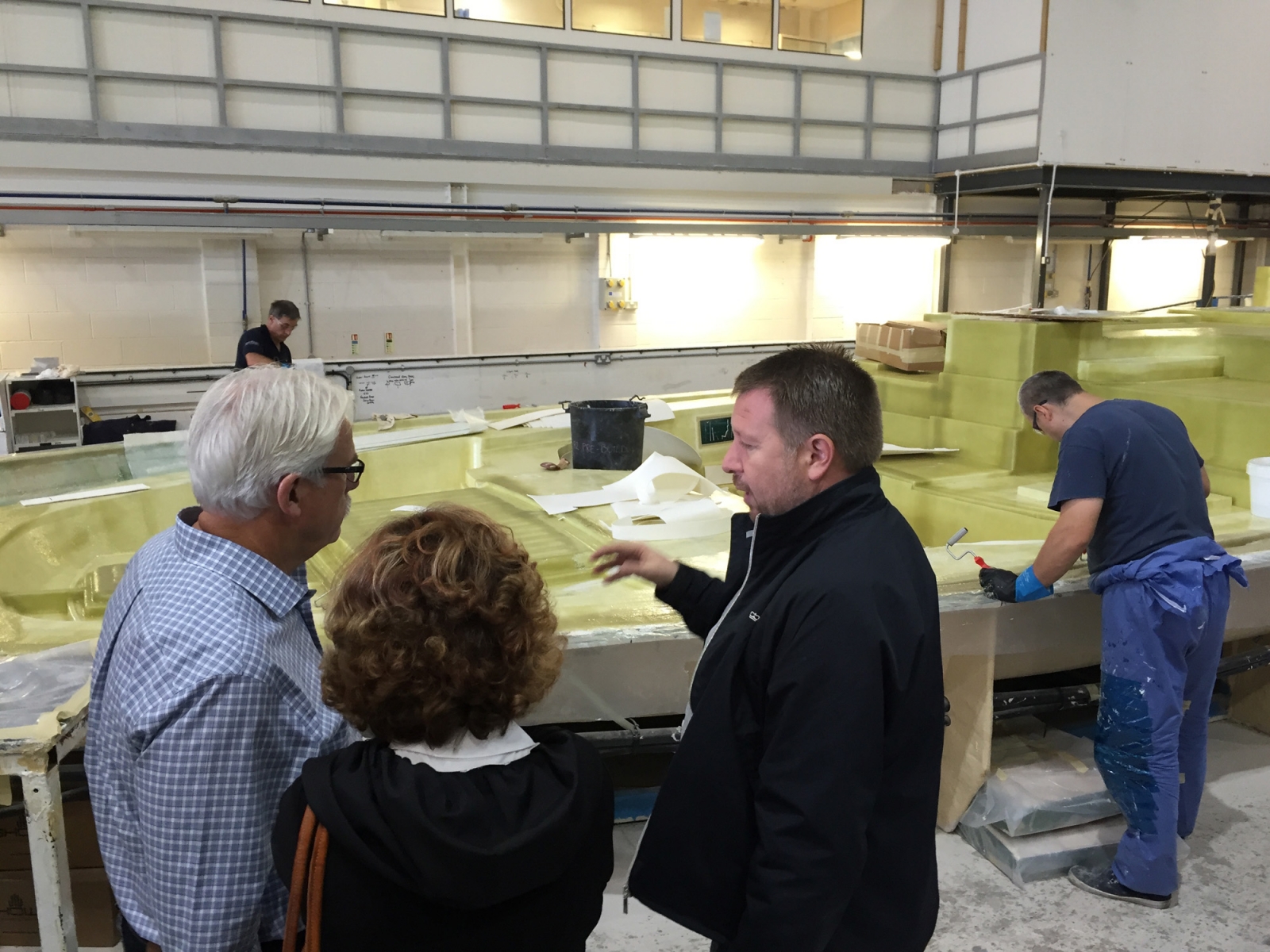 All of the thousands of procedures and applications required for each build are meticulously documented as a vessel moves through its various stages.
At this site the new owners were able to walk through their future 52 Flybridge in various states of construction, witnessing every layer of its anatomy. To say they were impressed is an understatement. They were completely wowed. And this is a manufacturing savvy couple, with plenty of complex questions about the process, all of which were satisfied, down to the most minute detail.
But the tour didn't stop there. After a stop at Princess's Coypool site, which houses parts assembly, paint, metal and loom shops the rep drove the group to a vast building in the Newport Street facility so that they could witness the miraculous task of hull manufacturing – the creation, literally, of something from nothing. As they toured through the facility the engineer explained in detail the benefits and complexities of the resin-infusion process, a cornerstone of each Princess yacht's merit.
It was interesting to see just how much precision work goes into every element of a yacht-to-be, from swim platform infusion to hand-machined stainless steel cleats.
In addition to viewing the moulds being infused, the group was able to watch as workers hand-finished the hulls. Pretty amazing when you consider the size of human hands vs the size of a 130-foot hull. Such painstaking detail goes into building these yachts – to witness it in person is to understand the weight of Princess's adage: "Crafted in Plymouth England since 1965." This is definitely crafting, and not manufacturing. It's like being the workshop of a master, only there are hundreds of masters at work and each workshop is the size of a football field.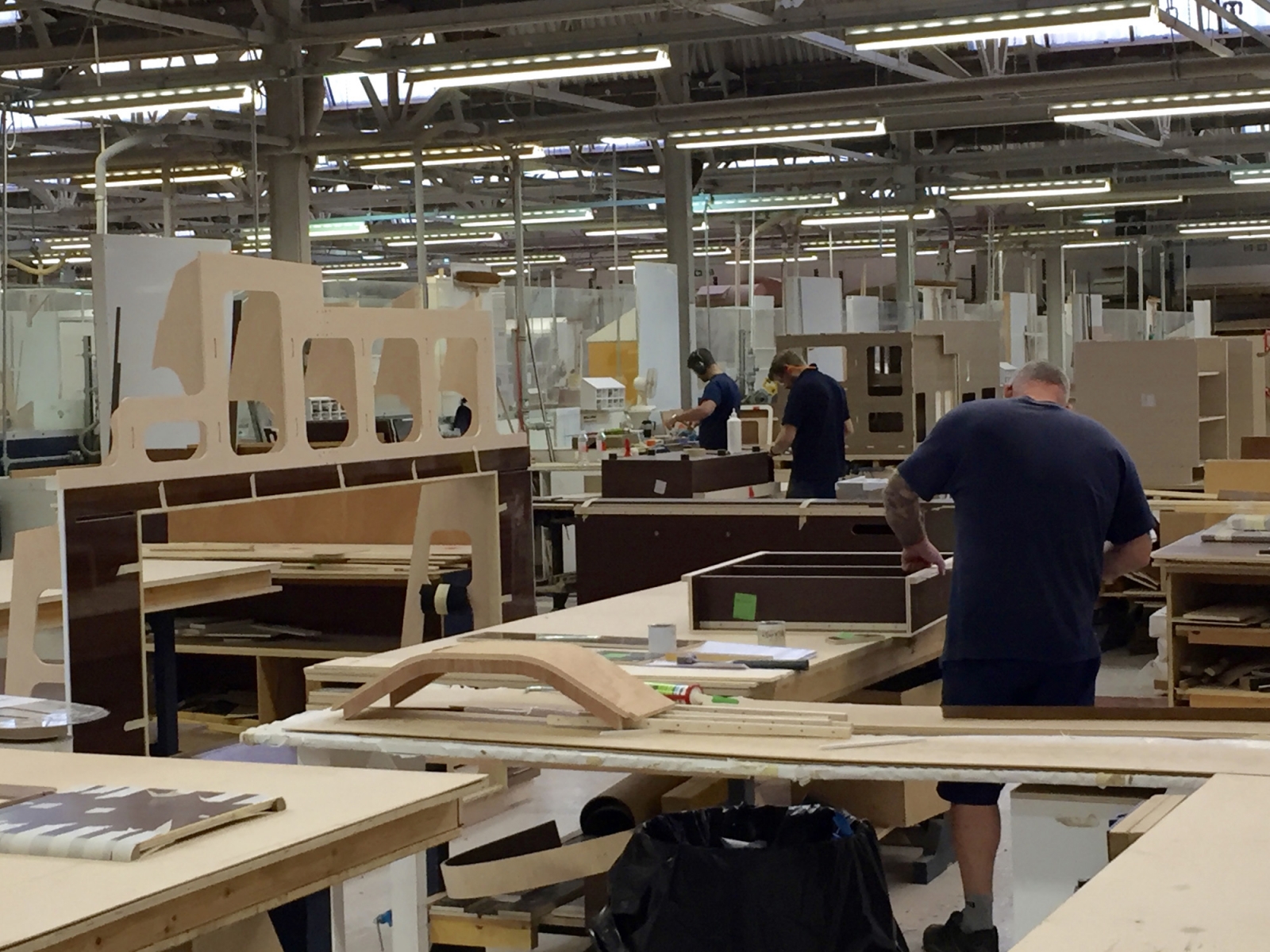 Each vessel – whether it's a 43 Flybridge or a 131′ 40M – is literally handcrafted at the build facilities in Plymouth.
One of the most impressive stops during the daylong tour was the wood shop, where beautiful raw woods are hand hewn into the furniture and floor and wall finishes that grace the range of Princess yachts. To feel and smell the rough, raw lumber waiting for the skillful hands of Princess tradesmen is to fully realize how much painstaking detail work goes into each build.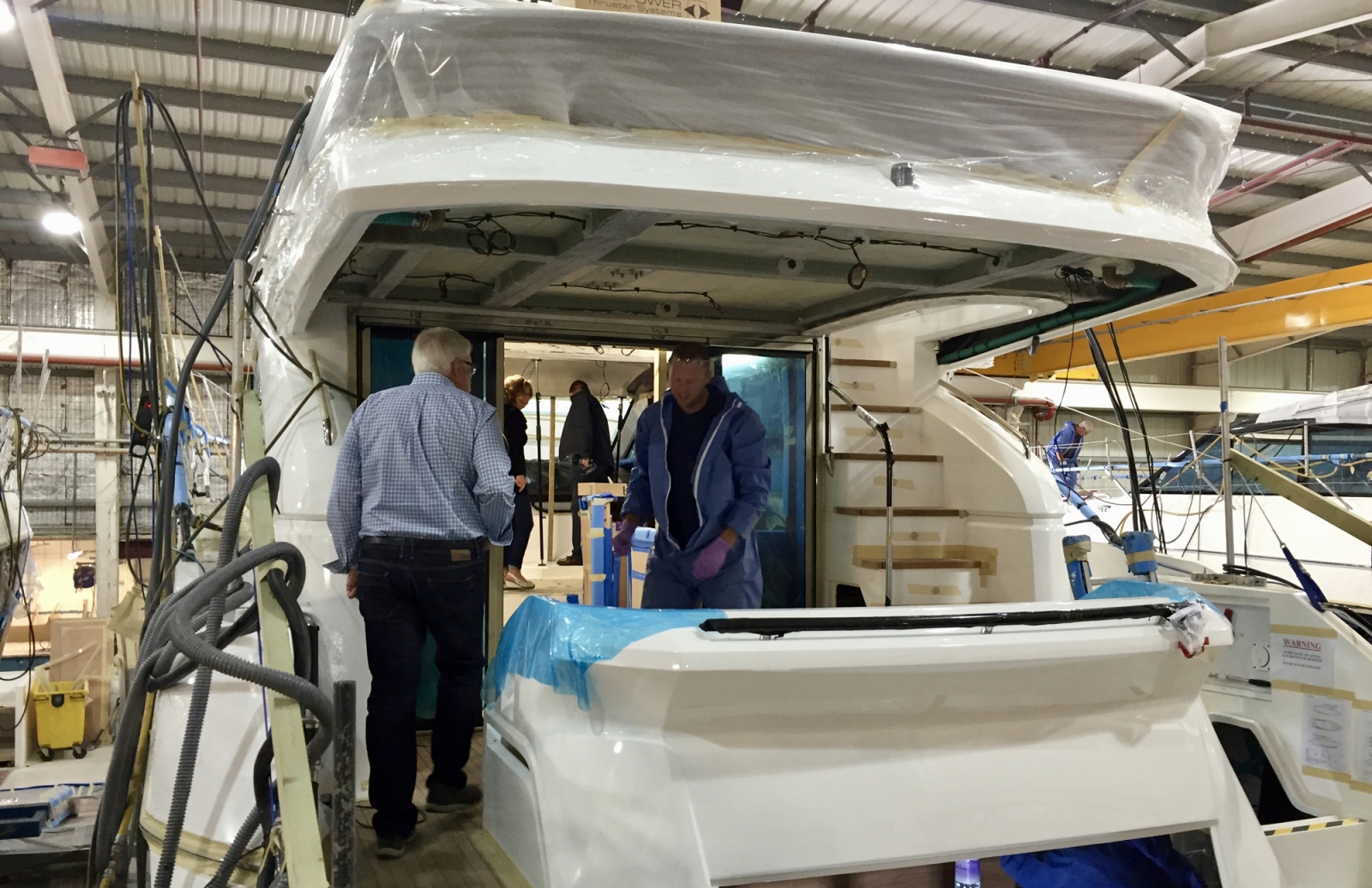 Gorgeous cuts of exotic wood are soon shaped and polished into impossibly beautiful furniture, flooring and wall finishes.
Instead of feeling overwhelmed by the amount of information and sensory input, the group is inspired. It's such a great feeling to know there is still true art in manufacturing, and when it's your own yacht being built in this environment, this factory tour experience also instills a sense of satisfaction. Because buying a luxury yacht is not simply about upgrading your lifestyle, it's a major financial investment as well, and seeing firsthand how excellently a boat is being constructed also reassures that the vessel will age beautifully and retain value throughout its lifetime.
To top off the experience, the guide takes the group to Princess Yacht's most famous build facility, the South Yard, which is located inside the grounds of the historic Devonport Royal Dockyard in Plymouth, a naval yard dating back to the 17th Century. This is where the Princess's M Class Superyachts are constructed.
Much has changed during centuries the South Yard has been a working shipyard, and everywhere you look, history stands to tell those tales. The group passes by the spookily-quiet Hangman's Cell, a once well-used executioner's chamber left over from the Royal Navy more brutish days. The Ropery, a crazily long, spindly building used in the 1800s to hand twine ropes still smells like tar. Near the water's edge is the wooden Slip No. 1, which is was built more than 250 years ago and is now the oldest covered slipway in the world. Fittingly, Slip No. 1 now houses a classic wooden yacht restoration business.
Countless wooden ships and frigates were built in the South Yard, and between 1714 and 1968, a total of 230 warships as well. Today what stands out most in the South Yard is the massive, modern, white Princess M-Class hangar. Tucked inside are the most impressive Superyachts you are ever likely to see, each receiving final, custom finish work before making their awe-inspiring debuts on the sea. It is uncanny to see these powerful vessels out of the water, like great sleeping kings awaiting their rule.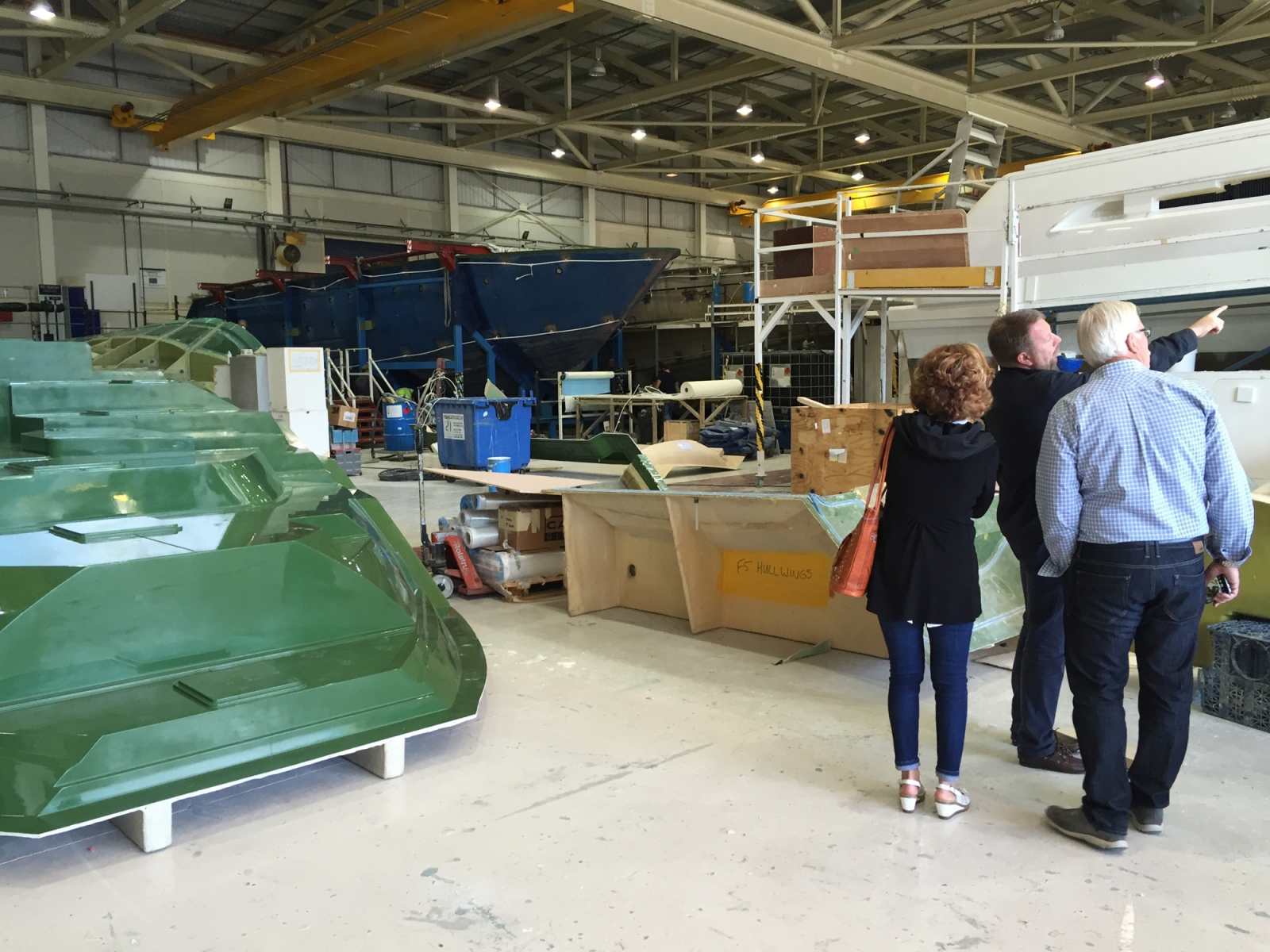 Now that is one big fish out of water. A Princess 40M being finished in Plymouth, England.
Is our 52 Flybridge customer contemplating an upgrade? It's hard not to fantasize about the lifestyle this incredible M40 would support.
After their extraordinary Princess factory tour the group retreated into Plymouth's historic waterfront district to explore the maze of limestone-edged history and contemplate their good fortune. To own a yacht is a grand achievement, but to own a yacht so exquisitely crafted, and to actually see the skilled hands at work during its creation, is an exquisite joy.
It's the ultimate in Princess owner experiences, watching greatness given life.
As they spend future seasons enjoying their new 52 Flybridge these owners will always remember that beauty, at least in the case of Princess Yachts, is indeed more than skin deep. And that true craftsmanship is alive and well in Plymouth, England.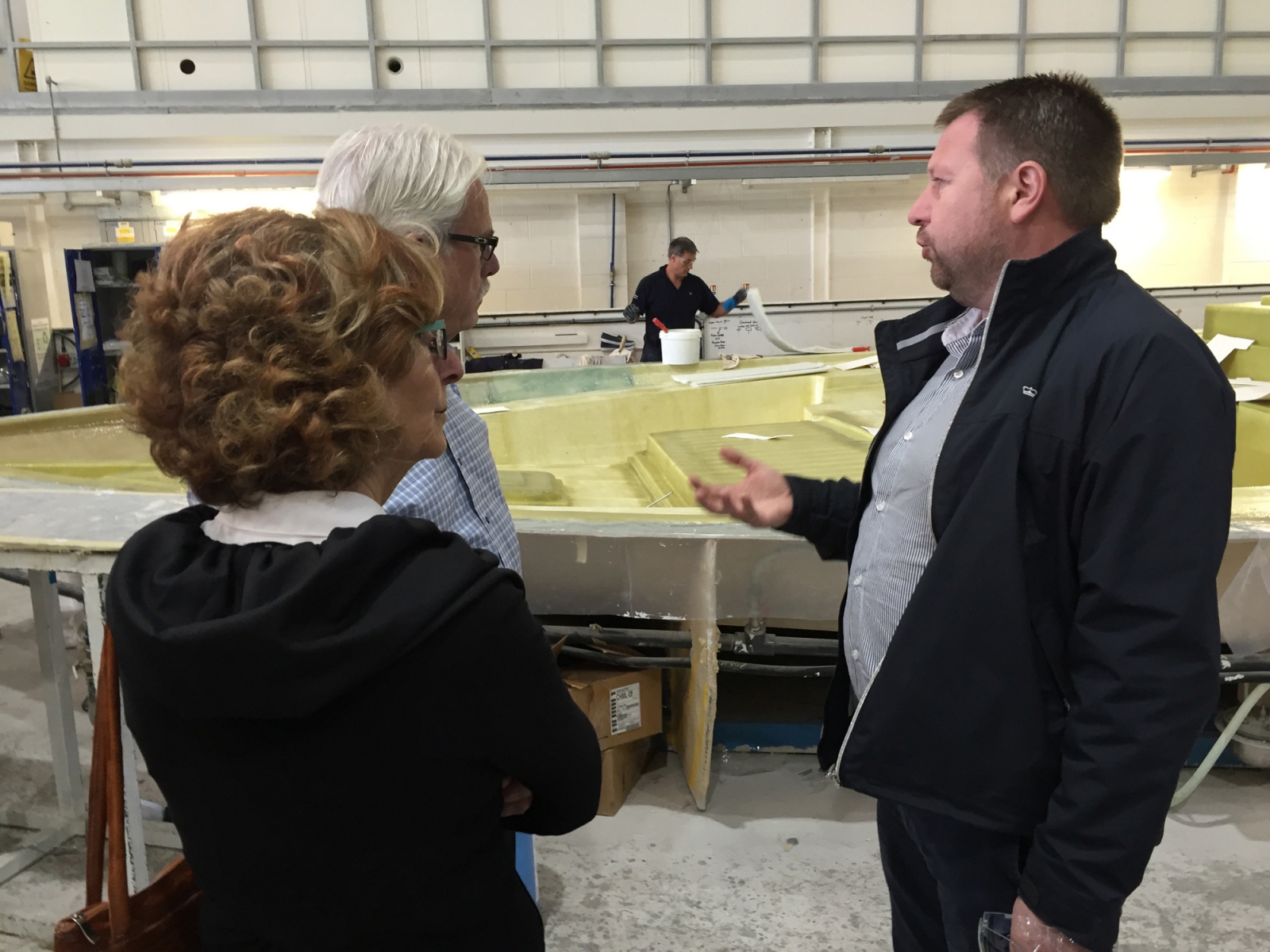 For more information about Princess Yachts email us at freedom@boatingfreedom.com or phone 604.609.0985. For a Manderin/Cantonese-speaking sales assistant: 中文或粤语 604.235.1000