Provisioning for Extended Cruising – Eating Well Requires Planning
28th March 2022
One of the pleasures of taking an extended cruising holiday for a week or longer, is to anchor in one of British Columbia's many secluded coves, miles from the nearest dock. Provisioning for extended cruising requires some planning and in this blog we're going to share some tips on how to plan and cook nourishing meals so that you eat well while on board.
Buying, hauling, and stowing provisions for a two-to twelve-week cruise can be a chore, but the sensual pleasure of eating delicious meals at anchor in a picturesque cove is the reward. What provisions you stow onboard can have a major impact on the quality of your trip.
The keys to provisioning for extended cruising are organization, preparation, food preservation and storage.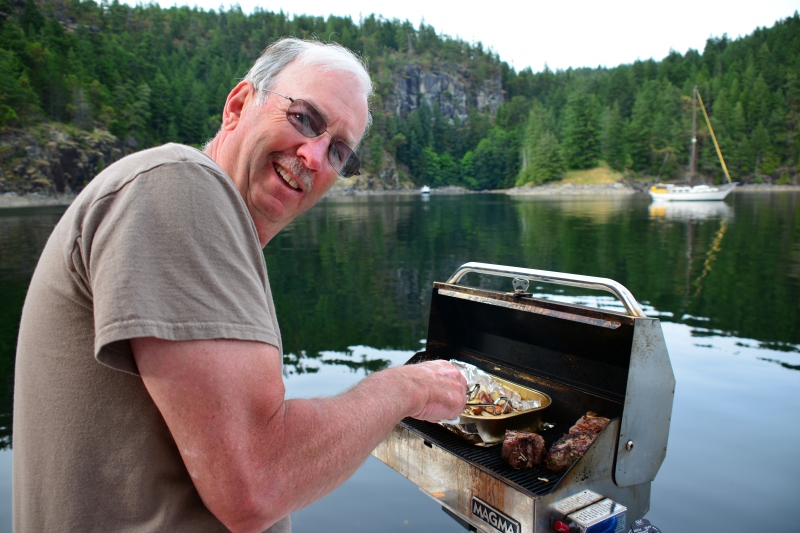 Delicious meals can be prepared easily with a little planning.
Planning and provisioning starts weeks in advance. Start by drafting a two-week menu of a variety of easy-to-prepare meals and appetizers. In that plan be sure to account for meals where you invite fellow boaters onboard for a beverage and hors d' oeuvres.
Regardless of the size of your boat, space for food is usually at a premium and often inadequate. To help alleviate the problem many turn a spare stateroom into a commissary by removing the birth and adding plastic stackable draws.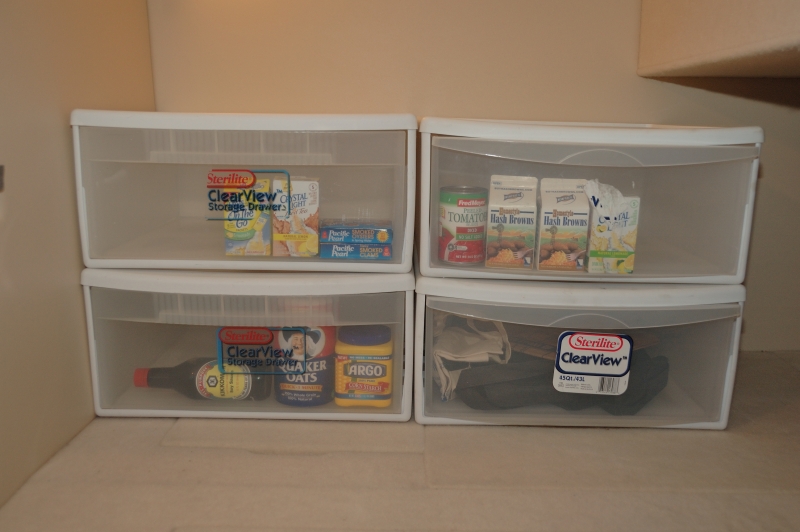 Spare state room is converted into a Commissary
Products in plastic rather than glass containers are preferred, limit can goods due to disposal issues, and purchase beer in cans as it will be easier to store and later recycle them.
Dried, dehydrated, or freeze-dried foods stow well. Tortillas make a good substitute for bread, they last longer and consume less space. Many dry salamis and hard cheeses last without refrigeration if stored in a cool, dry location.
Alternate products – for example, powdered drinks – can replace those that occupy refrigerator space. Purchase ultra-pasteurized milk that requires no refrigeration until open. Un-popped popcorn and Pringles snacks use space more efficiently than bags of chips. Start thinking in these terms and you'll be amazed at what you can carry onboard without changing your waterline.
Remove meats from their original packing and vacuum seal them in flat serving size portions, along with the label showing the origin of the product. Vacuum-sealing not only reduces trash on board, but also extends the life of foods.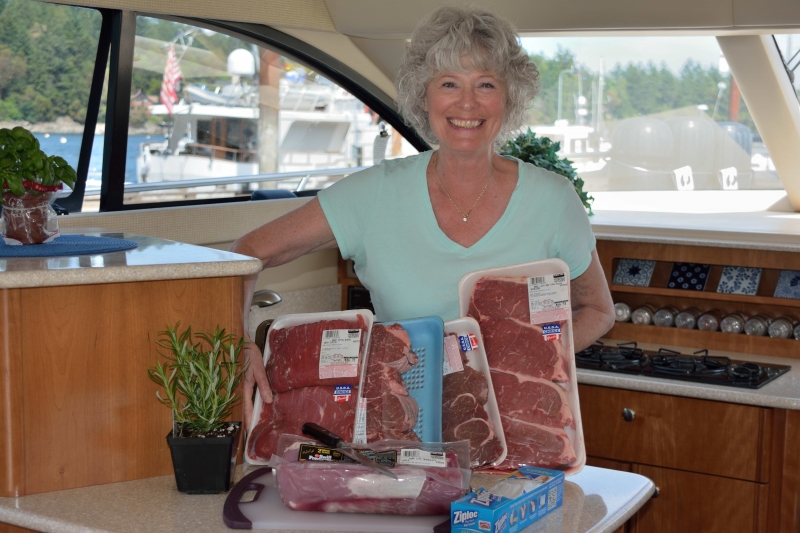 Vacuum seal the meats before leaving the dock to better preserve them.
Store rice, flour, sugar, coffee, tea, pancake mix, etc., in airtight plastic containers. They come in a variety of shapes and sizes. Beyond stackabilty, the containers are airtight, leak-proof and have secure tabs that latch on each side, keeping them sealed.
Keeping fruits and vegetables from going bad early in an extended cruise can pose a problem as they release some amount of ethylene gas as they ripen. Special storage bags, such as Debbie Myer's Green Bags, increase storage life for fruits and vegetables. These bags contain natural minerals that absorb the ethylene gas, as well as harmful carbon and ammonia gases.
Some fruits and vegetables respond better to refrigeration than others. Items such as apples and lettuce will last for weeks when placed in one of these bags and stored in the refrigerator. Cabbages, thick-skinned citrus fruits, potatoes, yams, onions, garlic, gingerroot, acorn squash and carrots all do well when stored in a cool location onboard.
Now that you are organized, prepared, and have found that special cove, kick back and enjoy the sunset!
If storing and preserving food isn't your thing, here's some extended reading on foraging for your meals while on board.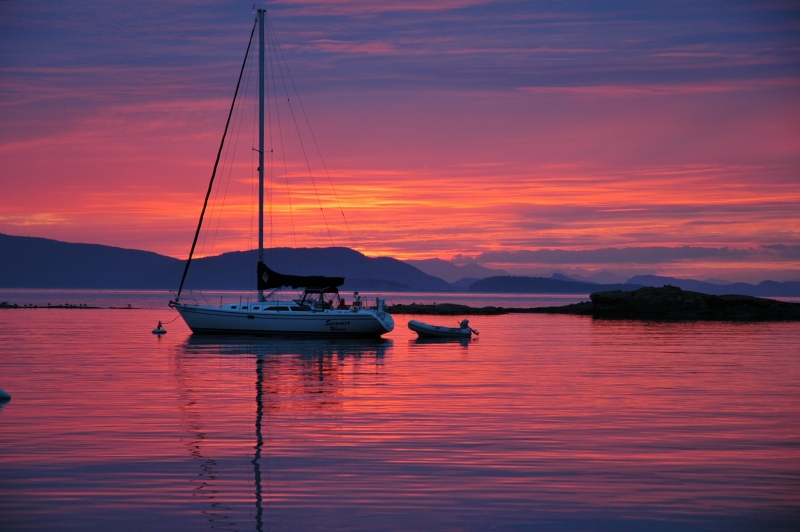 With the preparation complete, it's time to enjoy a meal and spectacular sunset.
(Deane Hislop – In Partnership with Freedom Marine)