Refuge Cove, West Redonda Island – Refuel, Replenish and Refresh
30th June 2021
Refuge Cove is a tiny year-round community nestled in the heart of Desolation Sound. It serves as a centrally located supply stop for boaters cruising in or near the Sound. It's known for its rustic charm and protected beauty. Ashore, the community looks like a Lincoln Log village with old-fashion wooden walkways connecting the small buildings and homes.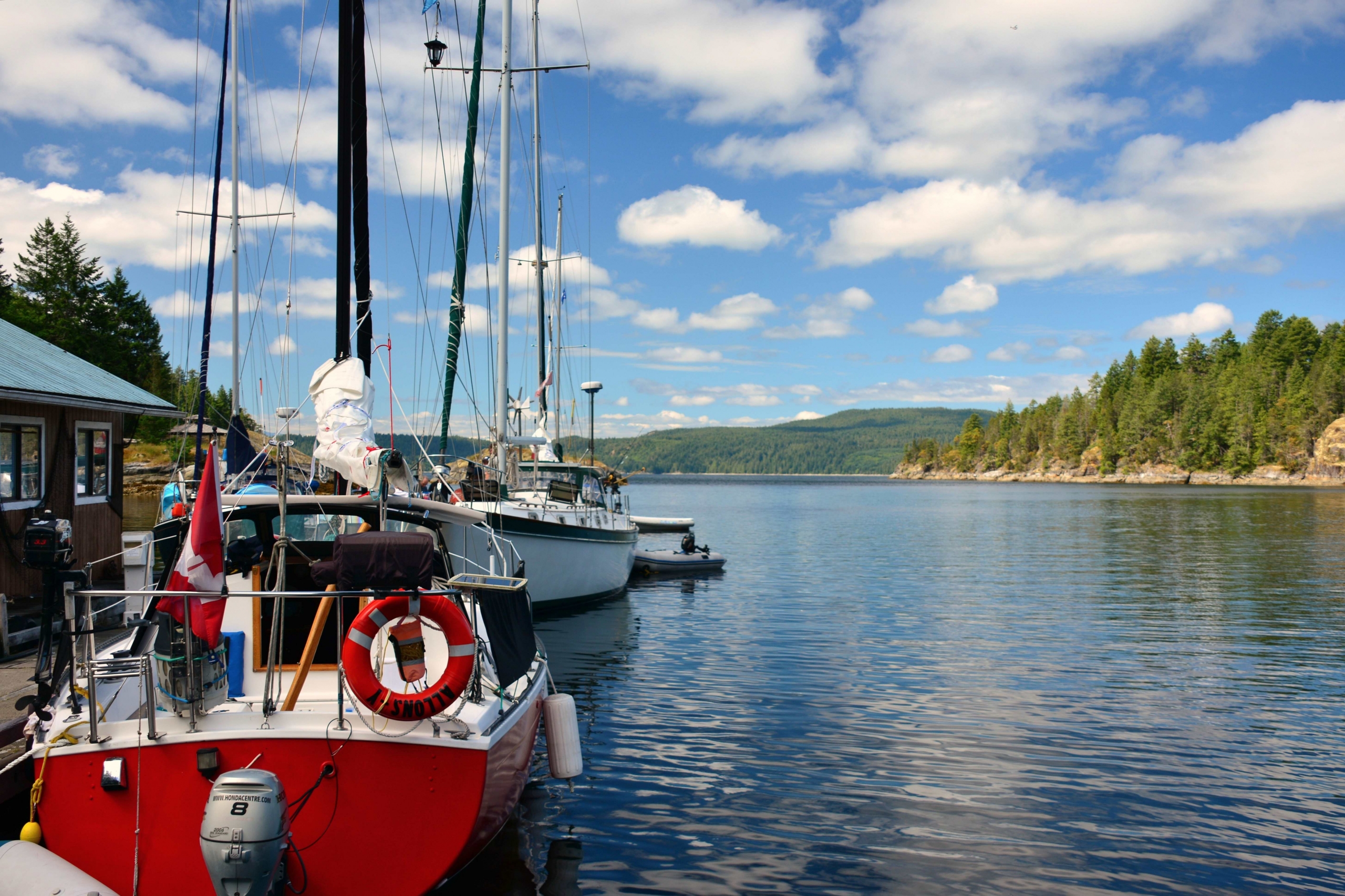 Refuge Cove is located in a beautiful setting
The quaint hillside neighborhood has a rich history. Before 1930 there were over 200 residents. At the time logging, fur farming and agriculture were the major economic pursuits. When someone wanted to build a home, their lot was carved out of rock with dynamite and a boardwalk was extended to the home site.
Nowadays, the community is run like a commune, with the residents operating the shops and services. During the cooler months of the year, the cove is home for about a dozen year-round residents. In the warmer months, the population swells to about 20 families and hundreds of boaters stopping by daily to relax and re-provision for their Desolation Sound adventures.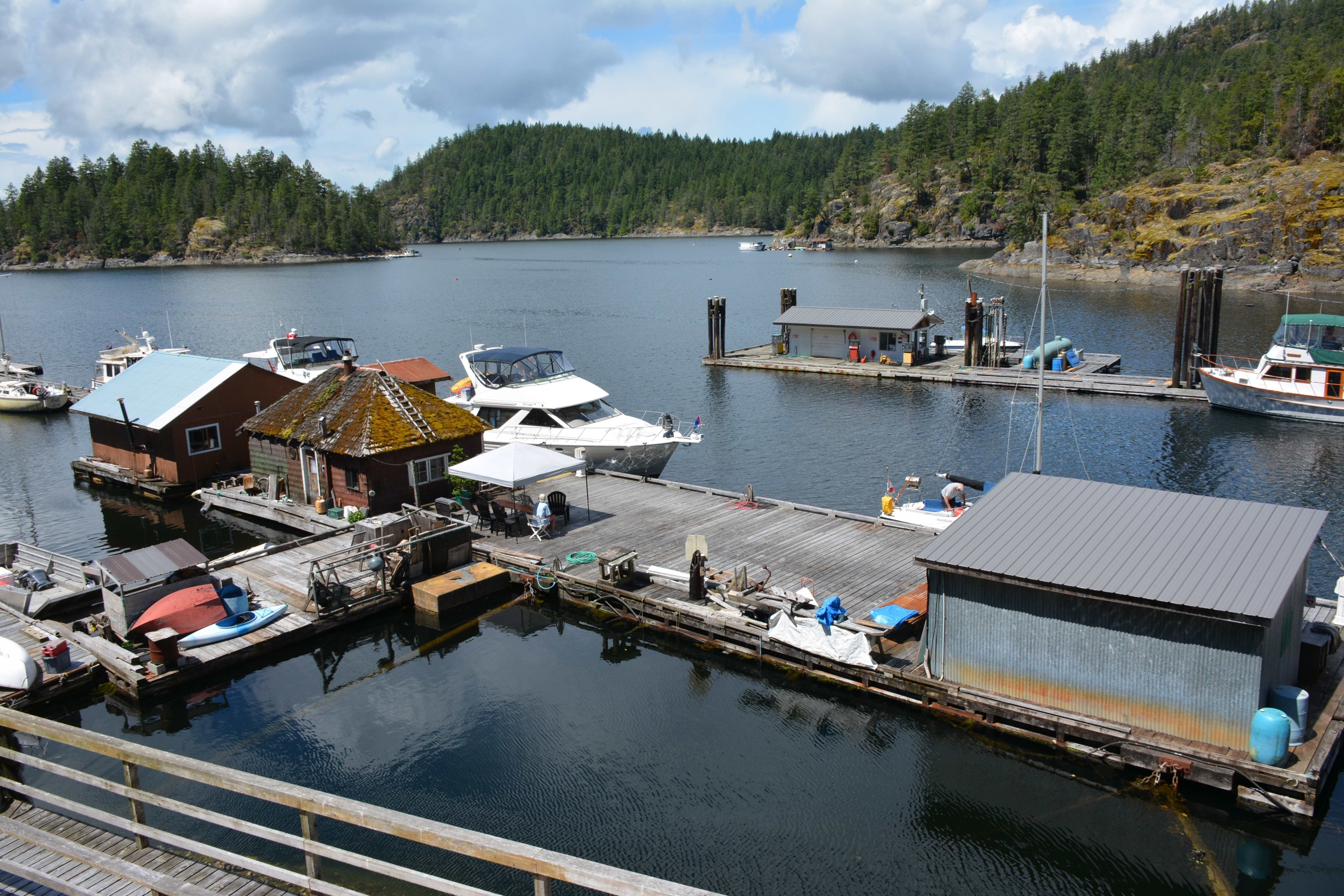 Rustic Refuge Cove
Refuge Cove offers 2,000-feet of side-tie to wide stable floats with water and 15-amp power at a reasonable price. Moorage is collected up the ramp at the general store.
Visiting boaters will discover a wide range of services including a year-round fuel dock, propane, general store, showers, laundry, post office and Wi-Fi. Most of the services are seasonal, operating from June through September.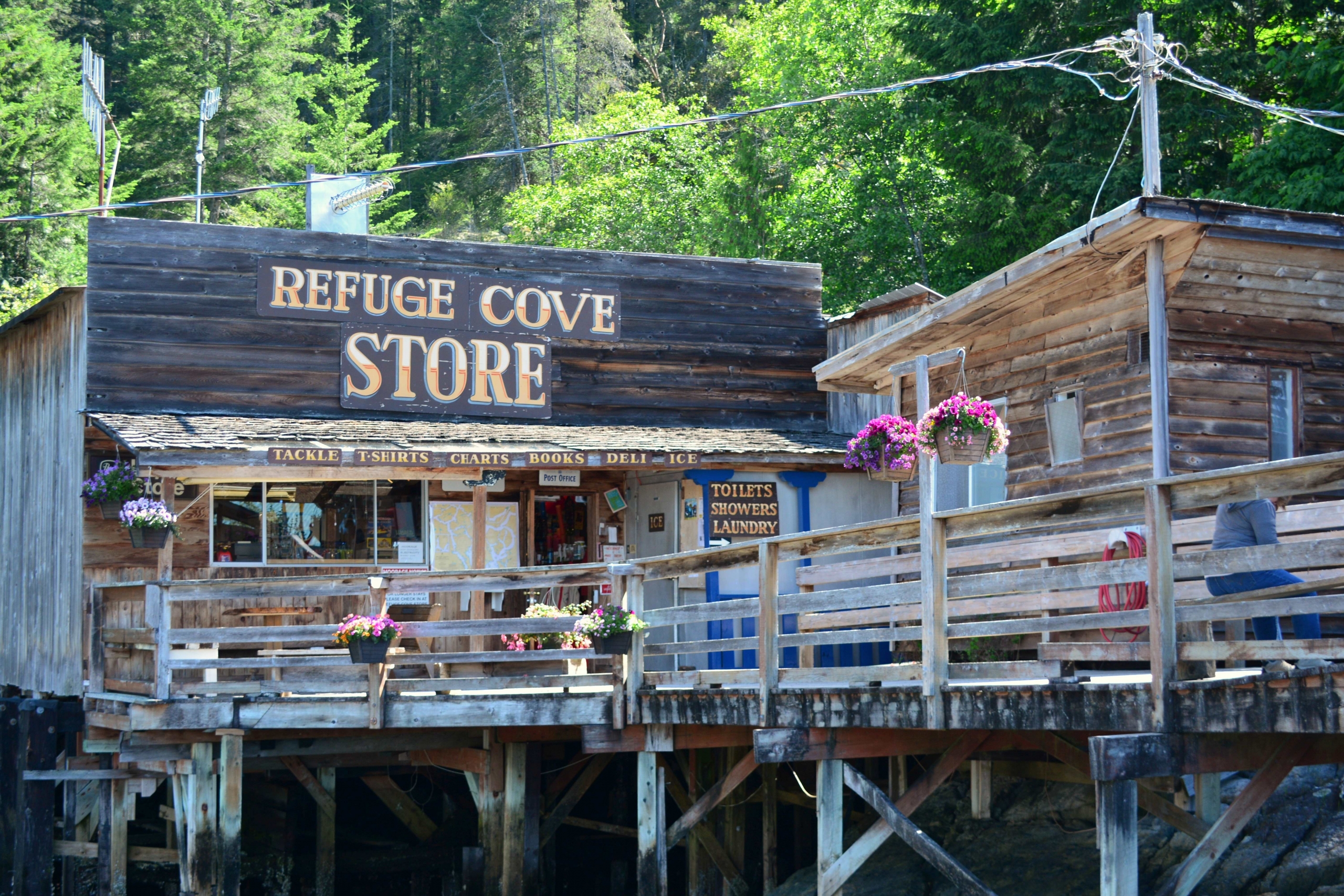 Refuge Cove General Store stands on barnacle covered pilings. Well stocked General Store includes a Post Office and BC Liquor Store outlet.
The well-stocked general store, which includes a post office and BC liquor store outlet, stands over the water on top of ancient, barnacle-covered pilings. First time visitors are surprised to find a good selection provisions, including produce and dairy products. You will also find some marine supplies, books, magazines, and ice, all adding to its popularity with boaters. Refuge Cove also offers a laundry, shower facility, restroom, a used bookstore which also sells local honey.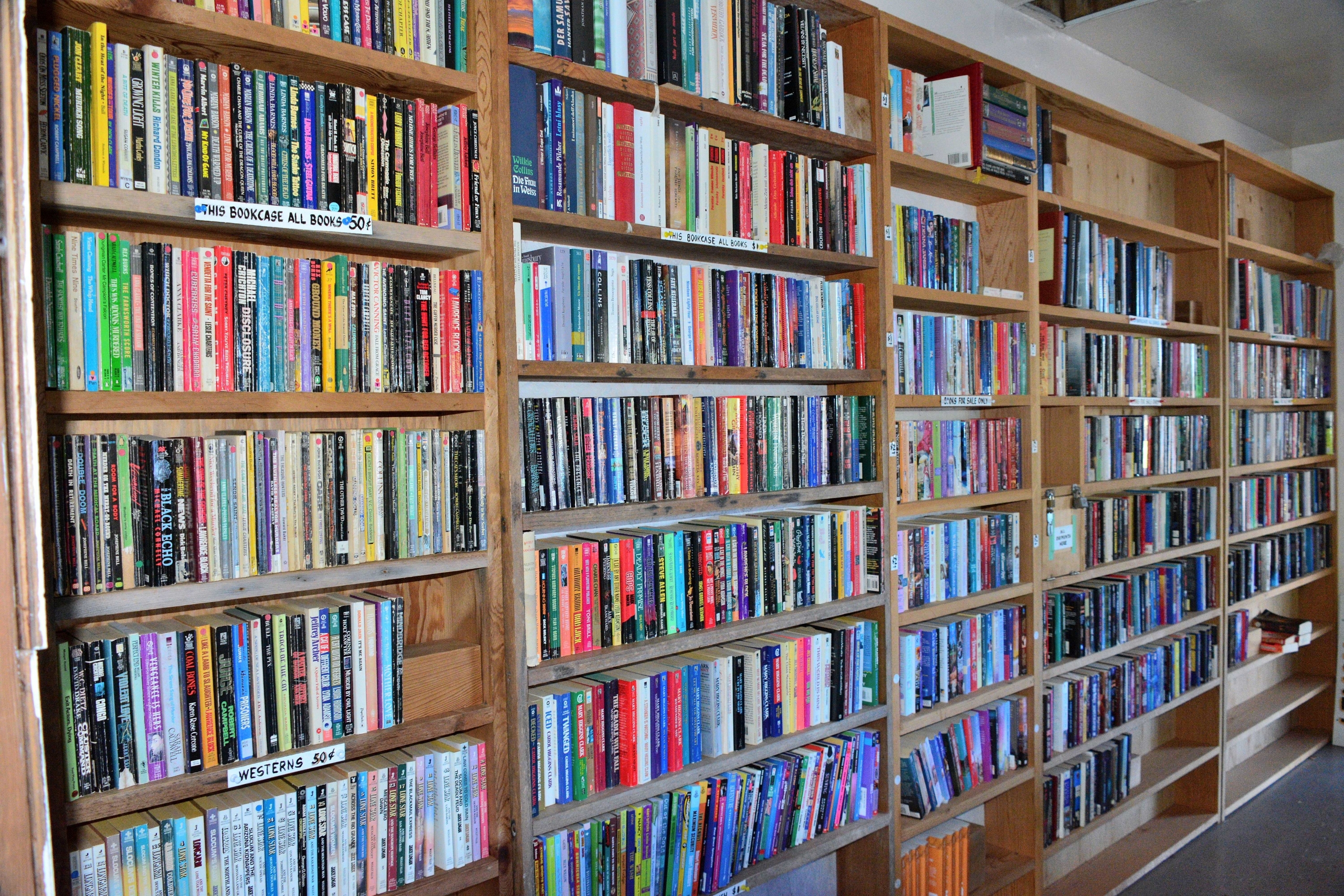 Wide variety of used books for sale.
For those that need a break from cooking onboard, perched on the side of the hill is the Refuge Cove Café. In the morning there's fresh coffee, egg sandwiches and trademark cinnamon buns. The balance of the day, pizza made from scratch, salmon burgers, home fries baked in the oven and other delectable are available.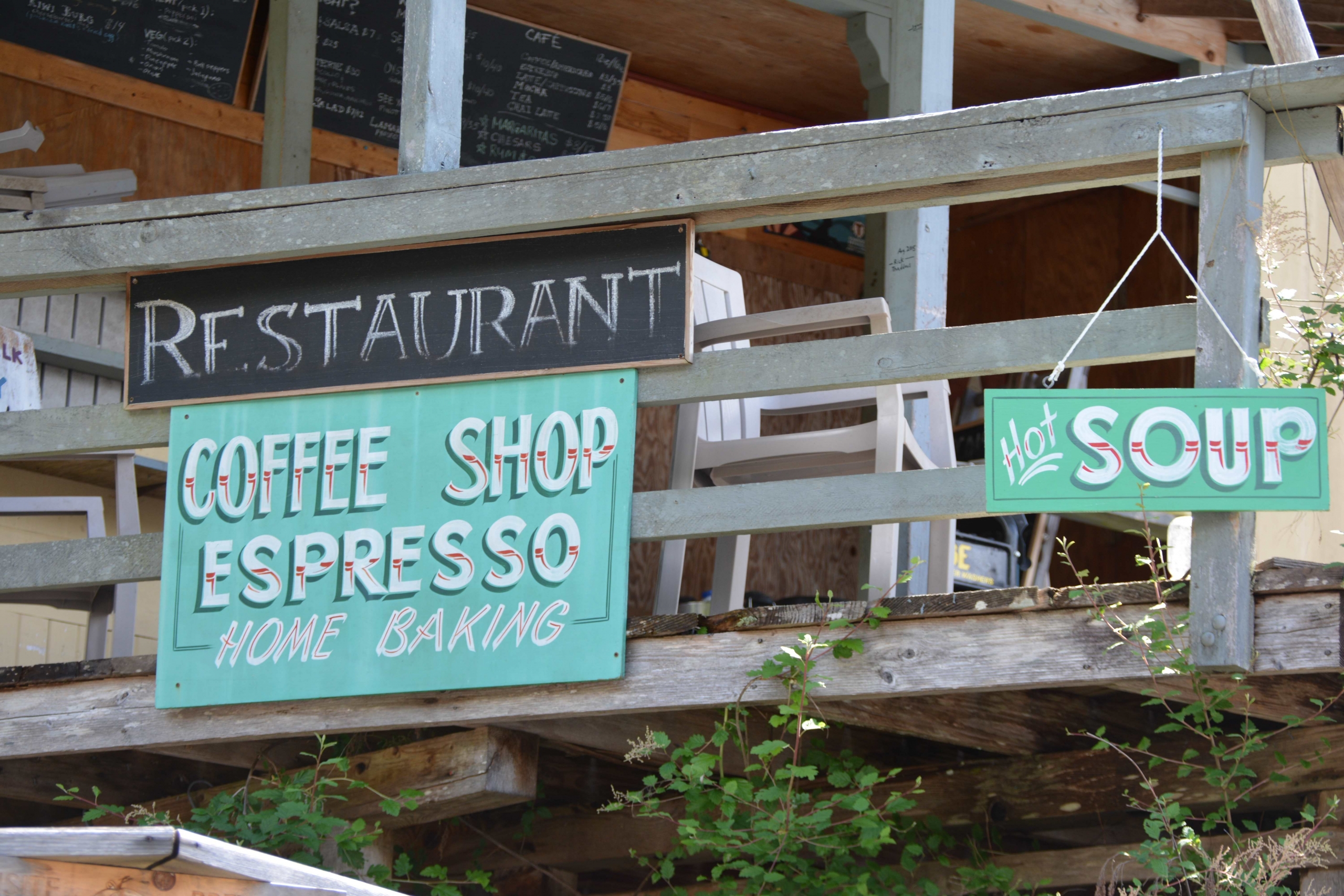 Let someone else do the cooking
The boardwalk just past the café leads to a gallery offering a large assortment of local crafts, prints, cards, pottery, and shoes, spilling out on onto the deck.
Among the cove residents is an enterprising entrepreneur named Dave Cartwright, who owns and operates a garbage barge located in the middle of the cove. Dave lives onboard and greets boaters warmly from mid-June to September accepting their trash for a minimal charge. This is one of only a few places in Desolation Sound for boaters to dispose of their trash. When his barge is full, it is taken to Campbell River on Vancouver Island and offloaded.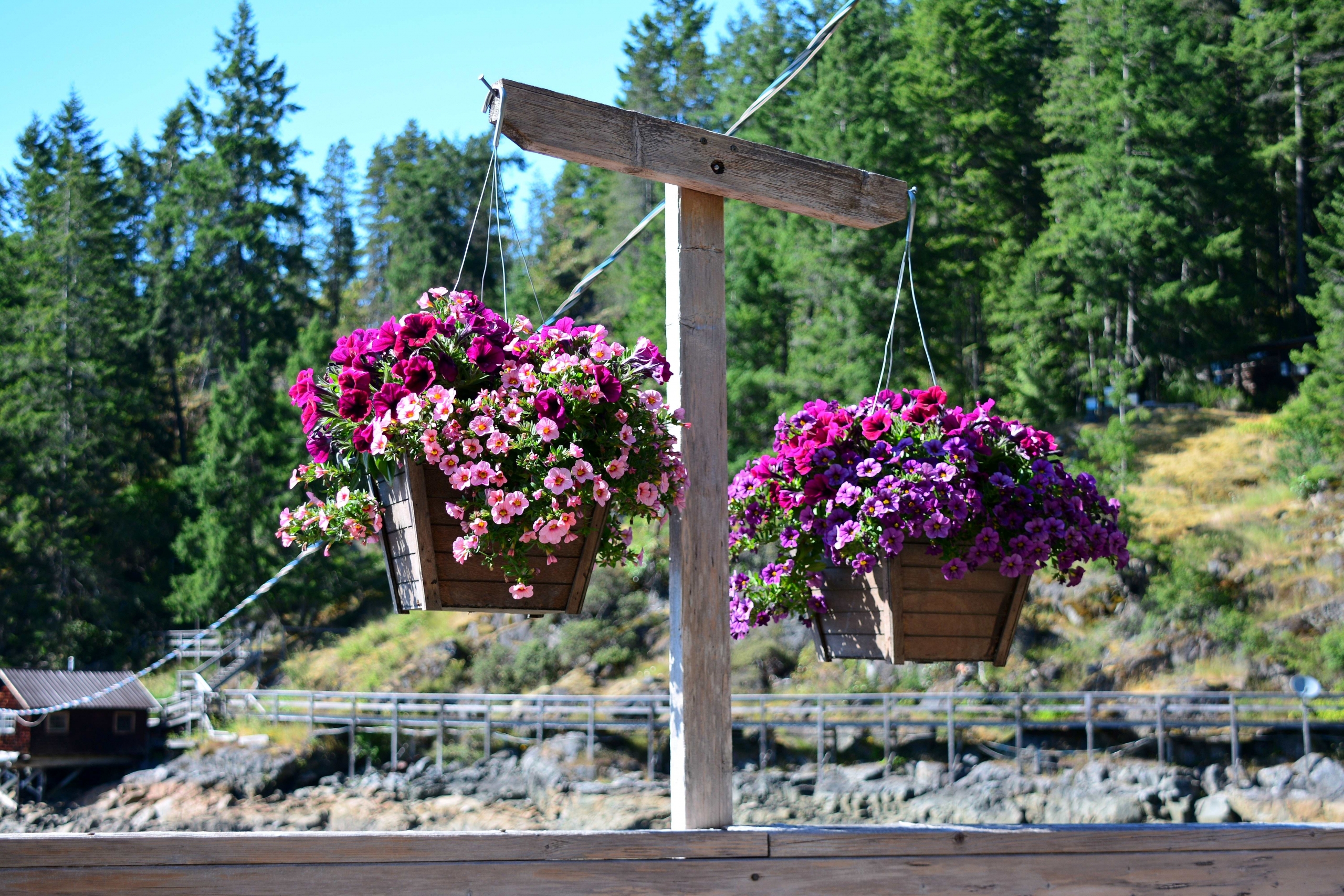 Hanging flower baskets add color to Refuge Cove
Refuge Cove is a delightful Desolation Sound outpost.
(Deane Hislop in partnership with Freedom Marine)