Seven Tips for Safe and Fun Winter Cruising
2nd November 2022
Winter cruising means enjoying familiar anchorages and harbors without the crowds! It's not that unusual to be the only transient boat in the anchorage or harbor. The folks who go out cruising during the winter are hardy, relaxed and often very friendly. If you decide to go winter cruising, below are seven tips for safe and fun winter cruising:
Let the Weather Rule
For off-season cruising it's important to be flexible, monitor the weather channel and review the detailed Environment Canada weather maps in advance. If you plan to cruise in a remote location, out of radio range, carrying a barometer is a good idea so you can monitor conditions. Whatever the itinerary, do include extra time for weather changes.
Even though the rain may pick up throughout the cooler months, there's also plenty of crisp sunny days that are worth cherishing on the water.
Safety First
Poor visibility due to rain or fog can be common this time of the year, therefore Radar and GPS are invaluable. Along with checking that navigation lights are in working order. Secure any loose equipment on deck before getting underway. In case conditions turn for the worse, you don't want to be on deck wrestling to tie something down. Securing everything inside the boat is also important.
As temperatures drop, pay attention to slippery boat decks and docks. Wearing a PDF is necessary anytime anyone is on the deck or dock, as well as good deck shoes and boots with non-skid soles.
Flexibility is Key
Many boaters are on a schedule. Always have a Plan A and Plan B when cruising during the winter. Plan B includes several good spots to ride out a storm and your float plan should include a couple extra days to accommodate unexpected weather.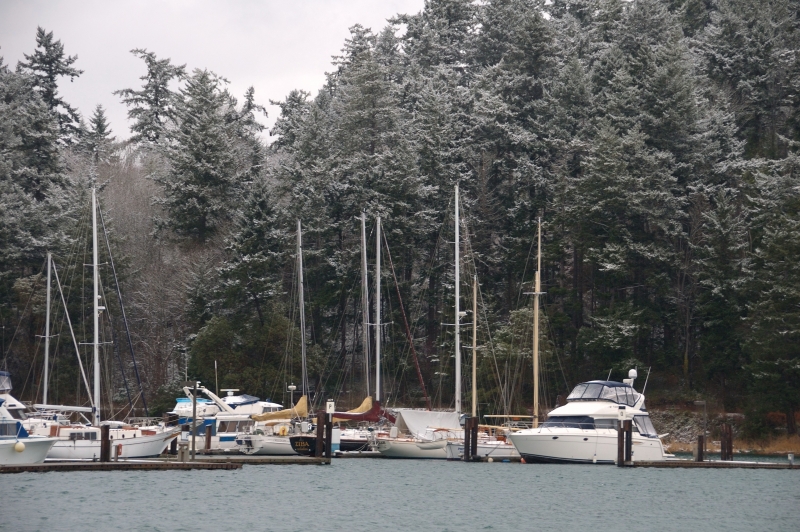 Not all marinas operate in the off-season
Self-Sufficiency
A source of heat is number one necessity. They keep the cabin toasty and dry. Outdoor activities are more appealing if we can easily warm up inside afterward.
If your only means of heat overnight is via shore power, plan ahead to ensure you will have access to shore power. Unless you are near a major center, many marinas, fuel docks, stores and on-shore amenities may be closed or only open on an abbreviated schedule. So do call ahead, to be on the safe side.
Before leaving the dock, ensure all scheduled/required maintenance and inspections are completed. Breaking down is never any fun but during inclement winter weather it could be a dangerous situation. Carry spare filters, belts, pumps, hoses, and hose clamps for minor repairs if required.
Staying Dry
Layering is the way to go for staying warm and dry. Both fleece and wool retain their warmth in damp conditions. Toss in a couple of pairs of long underwear (polypro), all-weather nylon pants, lightweight waterproof pants, jackets that fit over the fleece and wool hats. For footwear, choose wool socks (warm, absorbent, and fast drying SmartWool is an excellent choice), deck shoes, rubber boots, and for hiking lug sole boots work well. For the hands, Manzella Polartec gloves with their rubber grip palms and fingers work well.
Dealing With Humidity
During the winter cruising months, adequate ventilation is necessary as humidity is higher, and you'll bring moisture inside with wet clothing. Indoor cooking also adds moisture to the cabin air. High humidity steams up the windows, encourages mold and impedes wet items from drying. Crack open a couple of hatches on opposite sides of the boat to facilitate ventilation, and with the furnace, you'll stay warm and dry.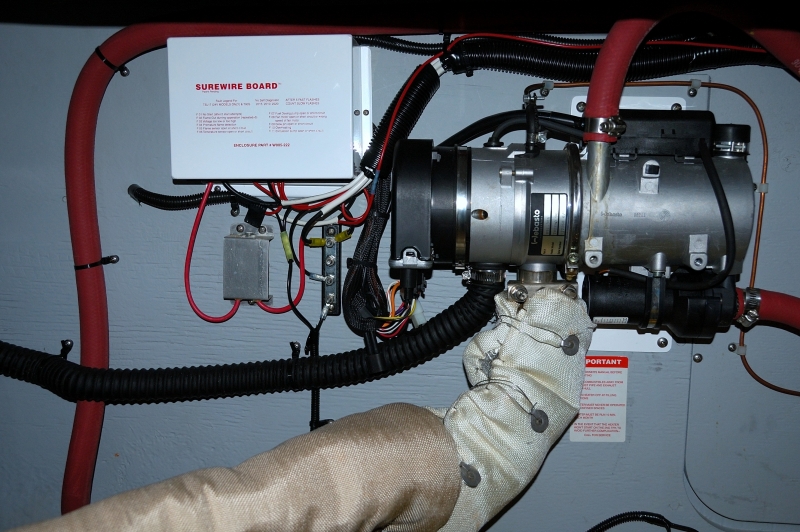 A furnace will help extend your cruising season
New Acquaintances
Be prepared to meet new friends. Take some extra food to make appetizers for happy hour. With early sunsets, it's common to want to head inside in the late afternoon, but you might still want to spend another hour or so trading stories with other hardy boaters. You never know when a spontaneous party will breakout!
Hope you found these seven tips for safe and fun winter cruising helpful. And remember, winter cruising isn't simply good for the spirit it's good for your boat. Unused engines and pumps forget how to work. Condensation collects in the tanks and fuel lines. Everything gets cold and vaguely damp. Keep your boat running through the winter months and it's more likely to be running smoothly right into spring.
(Deane Hislop – In Partnership with Freedom Marine)