The Art of Rafting – Lots of fun but starts with serious business
26th July 2021
Rafting is a wonderful way to socialize while at anchor, hanging on a mooring buoy or even at a dock. What could be better than creating your own little community and spending a beautiful day and evening on the water with friends? Rafting is fun and safe when you know a few simple tips and techniques.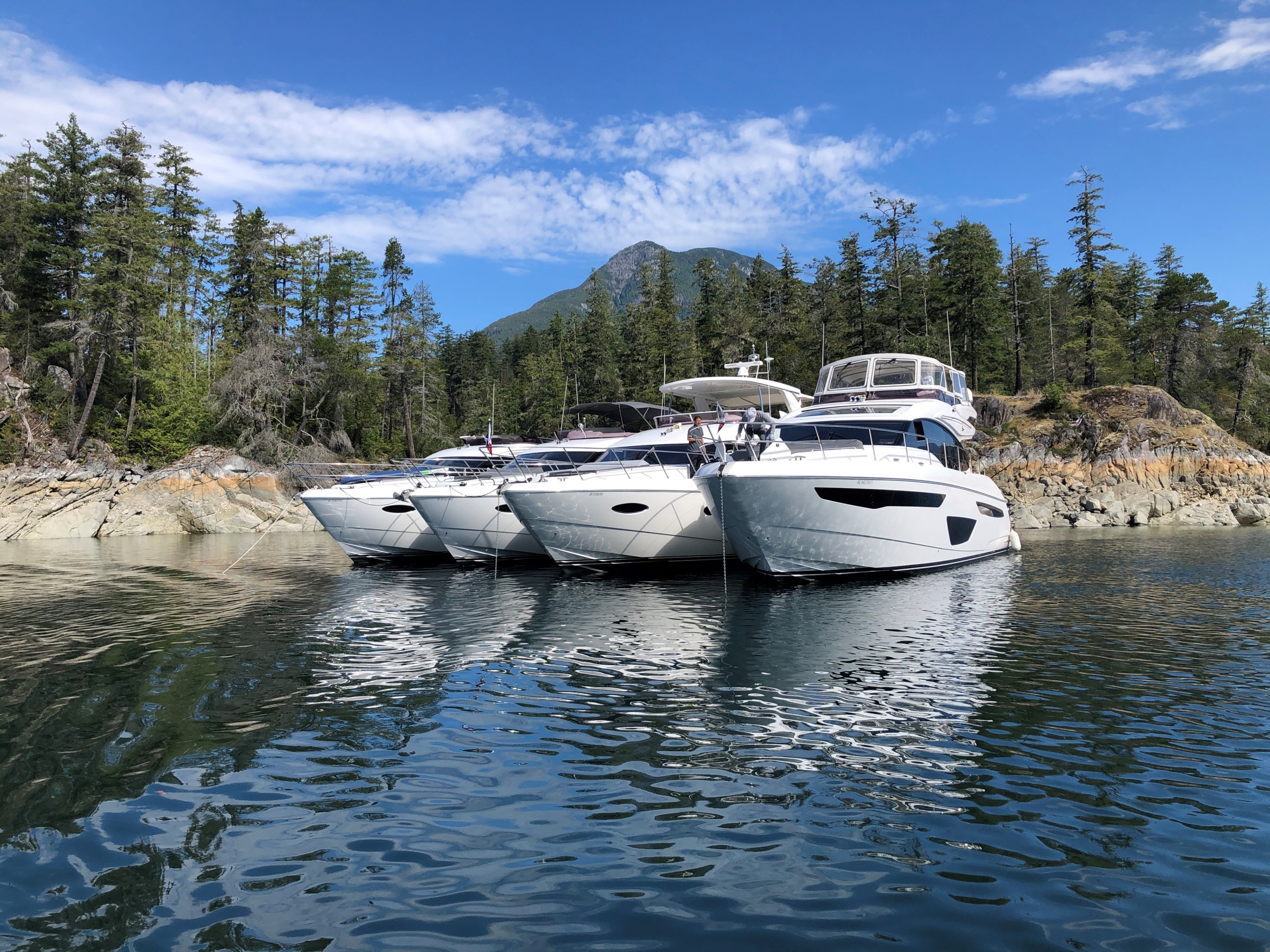 Princess Yachts rafted up in Desolation Sound
For boaters, perhaps no other close quarter situation requires more boat handling, fendering and docking, and knot-tying expertise, with tactful, creative thinking than rafting up. The whole objective is to ensure that no one's gel coat will bear unsightly mementos after untying the lines and parted ways.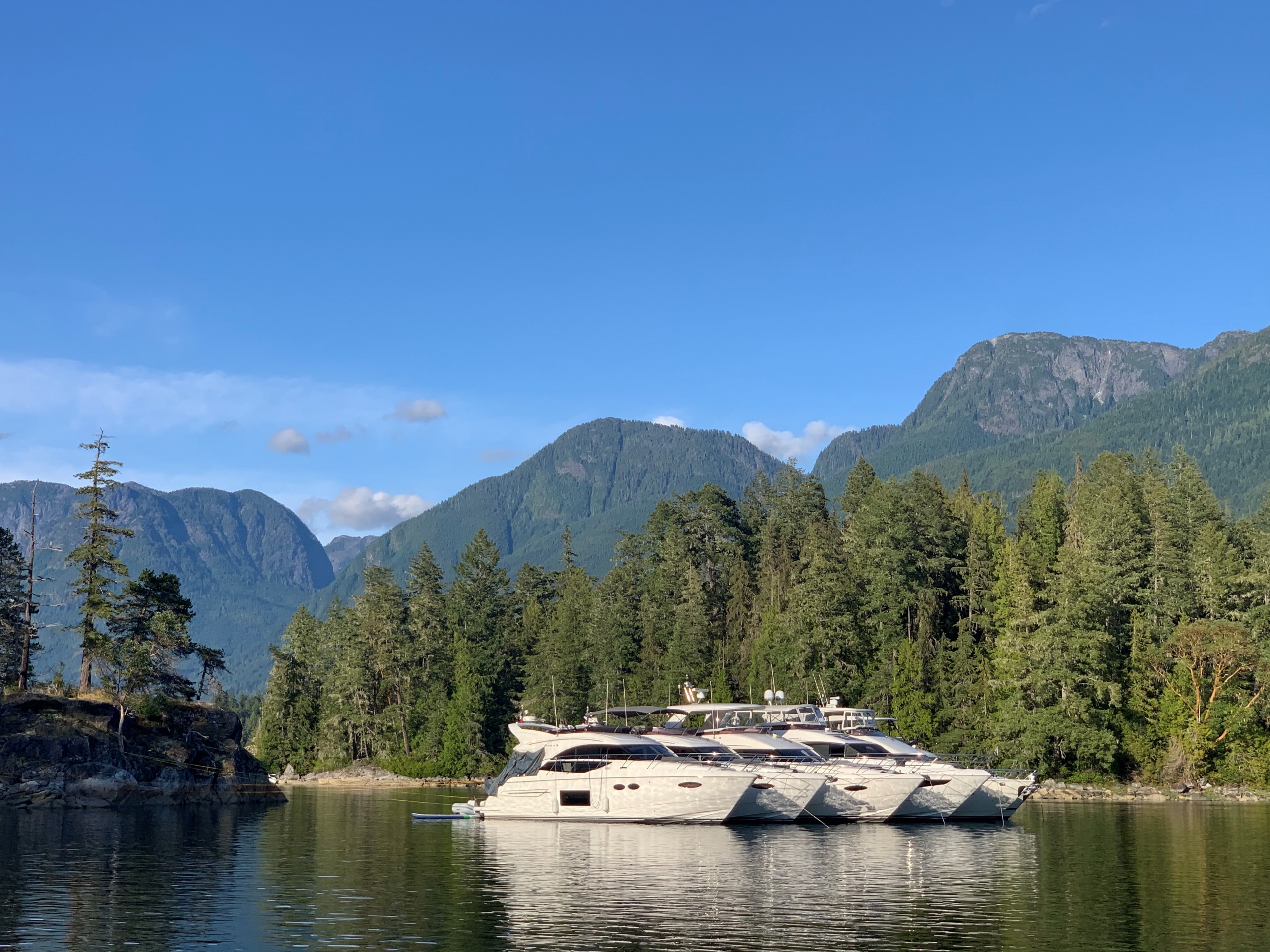 Rafting is best done in sheltered waters, out of the prevailing wind, and out of the way of harmful boat wakes
As a rule, it's better to have the smaller boat raft up to a larger one that is already anchored. A smaller boat is likely to be more maneuverable than a larger boat and easier to pull alongside and the larger boat (as a rule) will have the larger ground tackle. The larger boat should set its ground tackle with more scope than normal to accommodate the additional drag.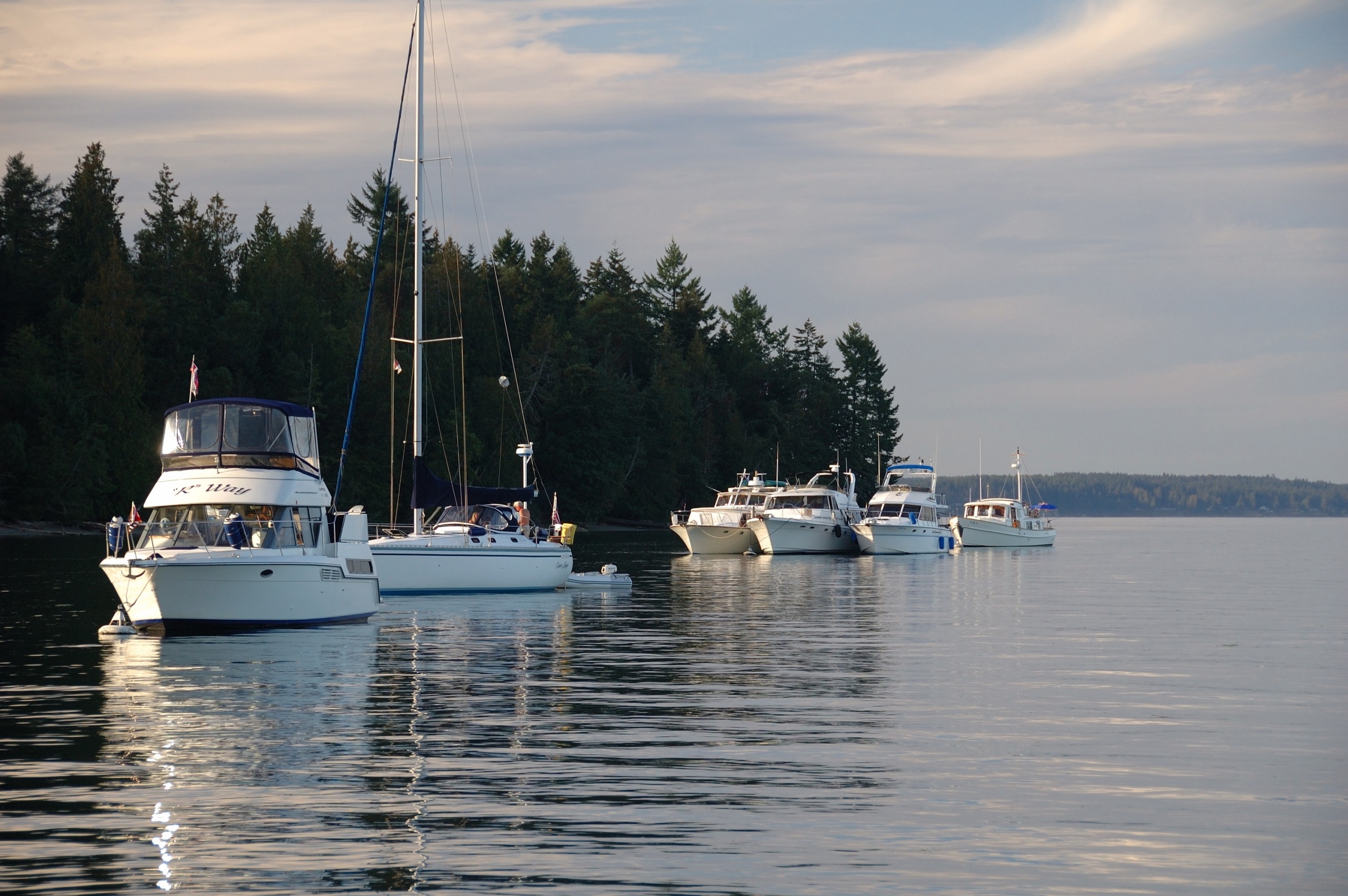 What could be better than creating your own floating community
Be aware of the swing room your raft will need should wind or current direction change.
Success is in the preparation. Prior to attempting to raft, stand off until you have your fenders in position and ready four lines – bow, stern and two spring lines with each tied on a cleat and the line coiled for heaving.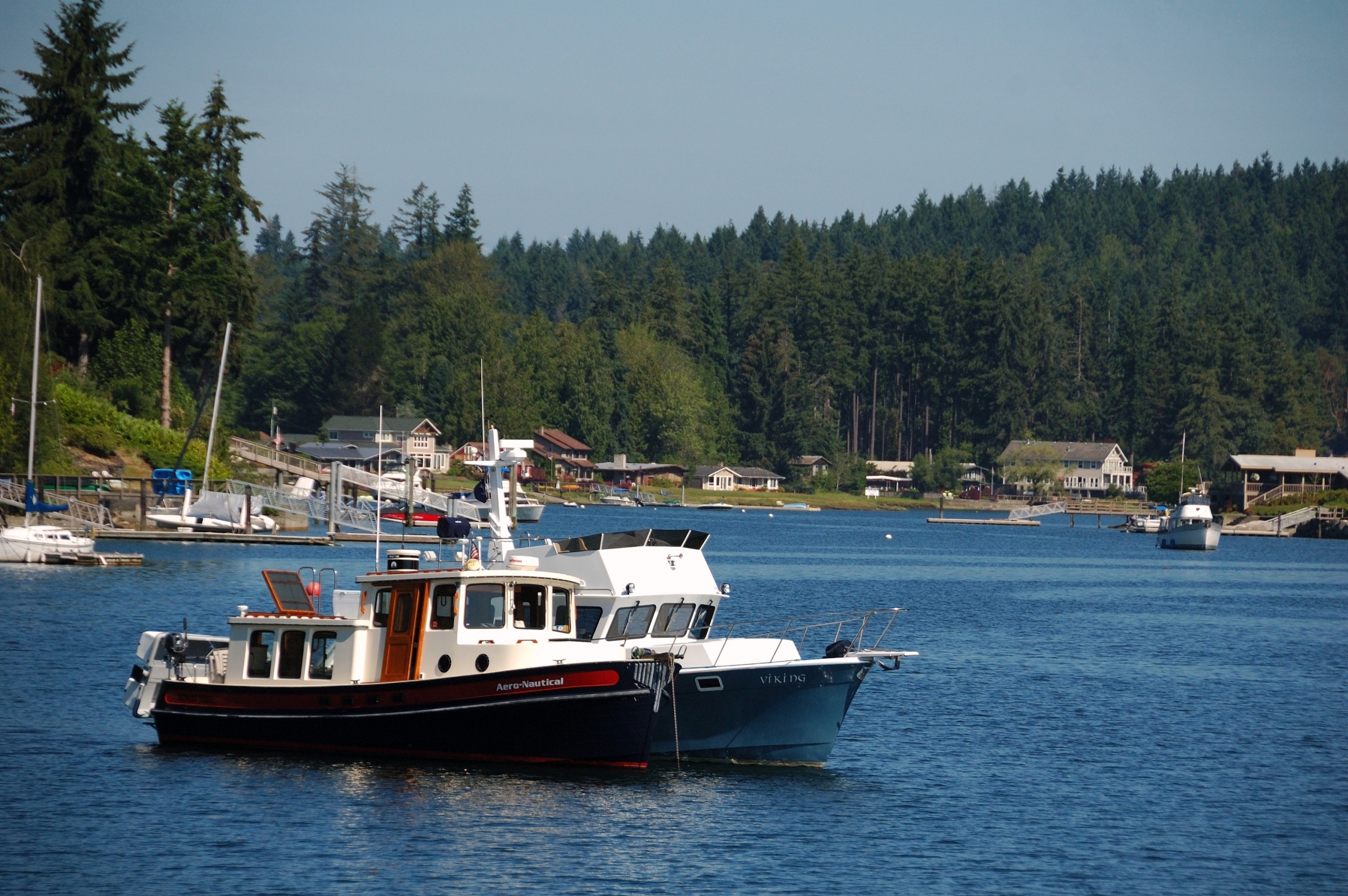 Successful rafting is in the preparation
In any rafting, fenders are likely to get a good workout. Three or four will be required and the more protection each party can put over the side, the better. Of course, placement is critical.
Rafting is accomplished at a dead slow speed from a position astern of the host. If you have twin screws, be ready to give a quick tug on either engine, forward or reverse, to crab a little towards the boat you're trying to. Once you're within 10-feet the mate tosses the bow line first and then the stern. Once bow and stern lines are secured, add the spring lines
Before the lines are secured there are a couple things to consider. First, if the two boats are sailboats, be sure the masts are not lined up. This prevents a large wake from rocking the masts into each other. Second, think about how you are going to get from one boat to another and position the gates accordingly.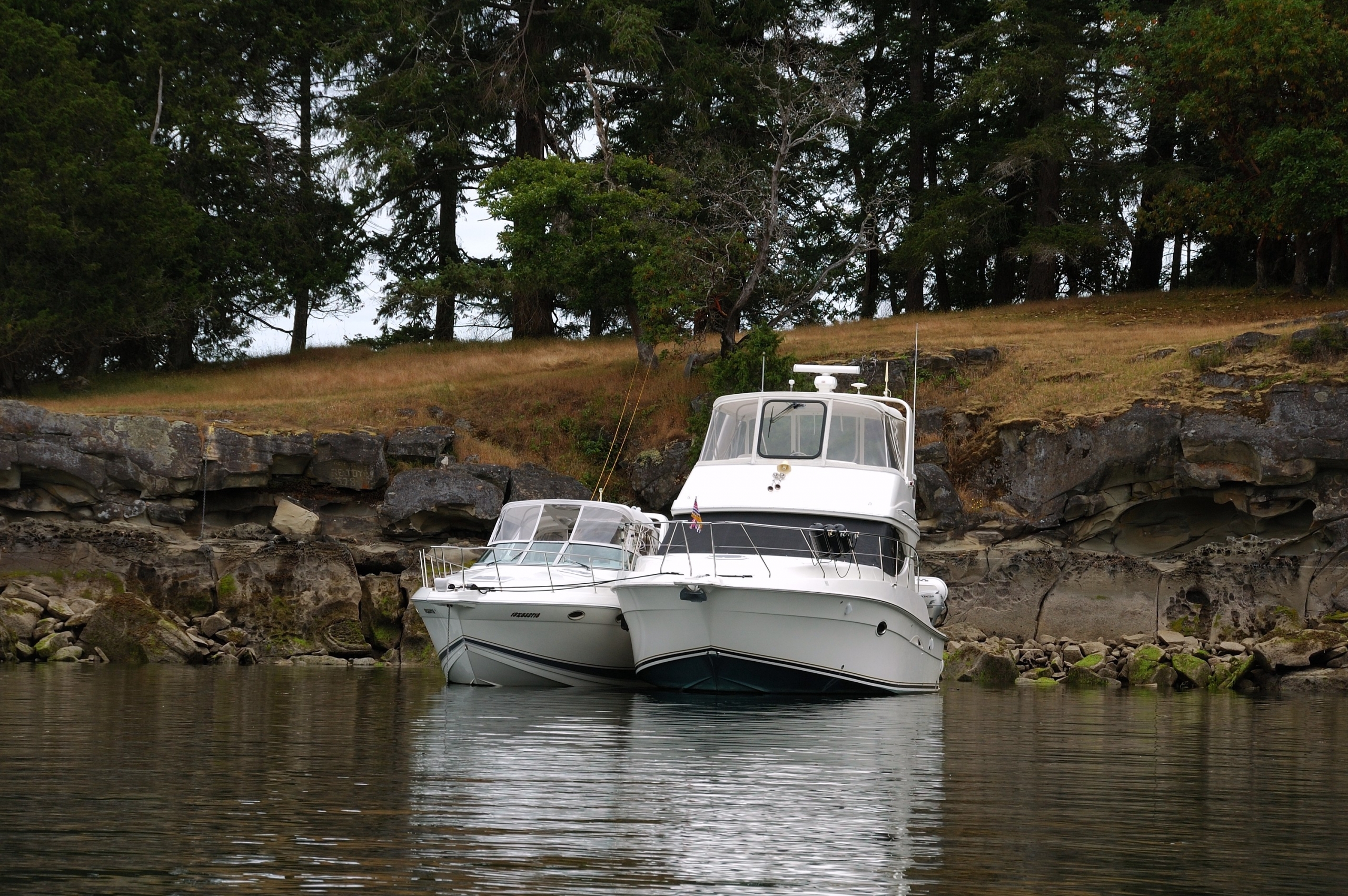 For power boats, when possible, try to get the sterns of the boats to line up so people can pass from vessel to vessel on the swim platforms. This is safer and more practical than climbing across gunwales or over bow rails. Use the spring lines to adjust fore and aft position relative to the host vessel.
Once the boat is secured to the host vessel the engine(s) are turned off.
Rafting takes some additional boat handling skills and provides a chance to relax with friends and possibly meet new ones. Give it a try!
(Deane Hislop in partnership with Freedom Marine)