Autumn Boating on the Salish Sea
25th September 2023
The rewards of autumn cruising include a slower pace, quieter destinations, and surprisingly good weather. For some coastal cruisers this is their favorite time of the year.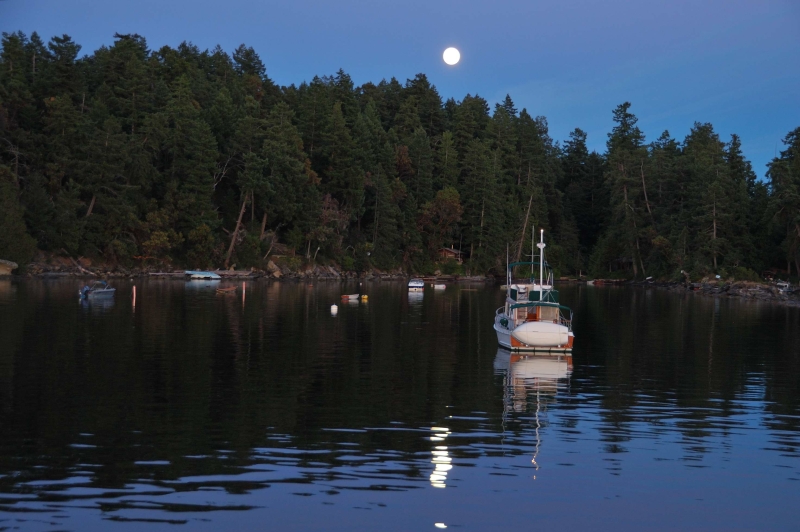 After a treasured sunny, almost warm late-autumn day a harvest moon rises big and bright in a cloudless sky, its track shimmering across the water into the anchorage. Golden lights winked on one by one in the cottages around the anchorage, making for a fitting end to an already glorious day.
Balmy late summer weather often continues into September and October, long after the crowds have gone home. Anchorages and marinas are usually quiet on all but the warmest autumn weekends, and pretty much empty on weekdays.
Foliage at water's edge begins to pop this time of year. The sparking water reflects a kaleidoscope of autumn leaves in their shimmering crimson, gold, and orange. It's truly a photographer's dream.
Just be mindful of the weather forecast. Coastal weather can become unsettled but if you're prepared for the challenges, you may enjoy some of your most memorable days on the water and experiences familiar destinations in an entirely new way.
For your boating comfort, have sweatshirts, sweaters, or jackets handy, even hats and gloves. Evening on the water cools off, making for great sleeping aboard. Snuggle under covers and wake to fresh air and hot coffee on deck that never tasted so good in another season.
If you're new to fall and winter boating, suggest reading: Falling In Love With Fall Cruising, and Seven Tips for Safe and Fun Winter Cruising.
A real pleasure of fall boating is how quiet even the most popular anchorages and marine parks can be. This is partly because potential unsettled weather keeps less intrepid boaters at home. But it's also because some anchorages that draw crowds in the summer become uncomfortable or untenable when the weather turns rough.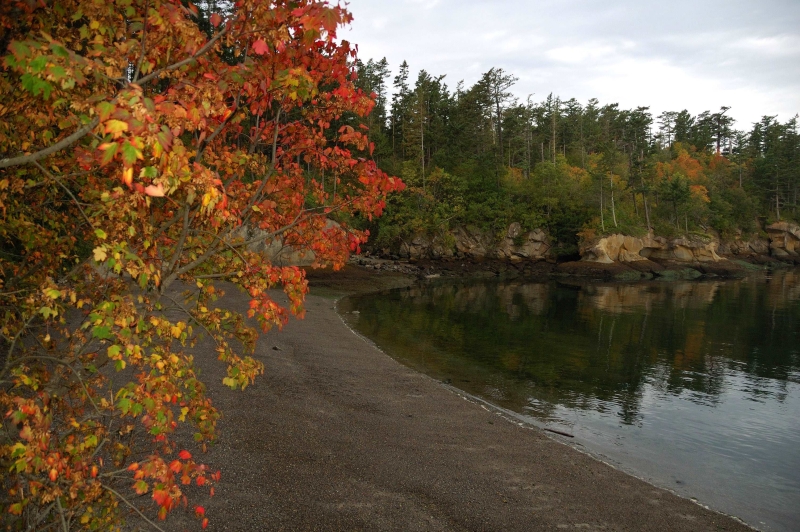 In the Gulf Islands, poor shelter or poor holding may make spots like Montague, Sidney Spit, Portland Island, Wallace Island's Princess, Cove Pirates Cove even Ganges Harbour less than ideal anchorages in strong winds or unsettled weather. Look elsewhere for good shelter from the north or south, depending on the forecast, and reliable holding. Some good fall anchorages in the Gulf Islands include: Glenthorne Passage, Prevost Island; Long Harbour, Salt Springs Island; and Herring Bay, Ruxton Island. A few good fall marinas in the islands are: Port Sidney, Maple Bay Marina, Thetis Island Resort, and Telegraph Harbour Marina just to name a few.
In Howe Sound southerly inflow winds that blow routinely on summer days may be non-existent, but strong northerly outflows will dictate your choice of anchorages. Or head for a friendly marina, such as Union SteamShip Company Marina – Bowen Island, Gibsons Marina, Gibsons, or Gibsons Landing Harbour Authority.
In autumn, our islands and waters are returned to their rightful inhabitants, the wildlife. If you enjoy the natural world places like the Gulf Islands can be exciting places as summer fades. Migratory birds stop or winter here, while year-round residents re-emerge when the crowds disappear. You may see loons, grebes, oystercatchers, murrelets, guillemots, herons, geese, eagles, and other species here in profusion. Shoreside denizens such as otter and mink become less shy. Sightings of whales or porpoises are more common. Pull on a sweater or fleece, grab the binoculars and settle down to be entertained.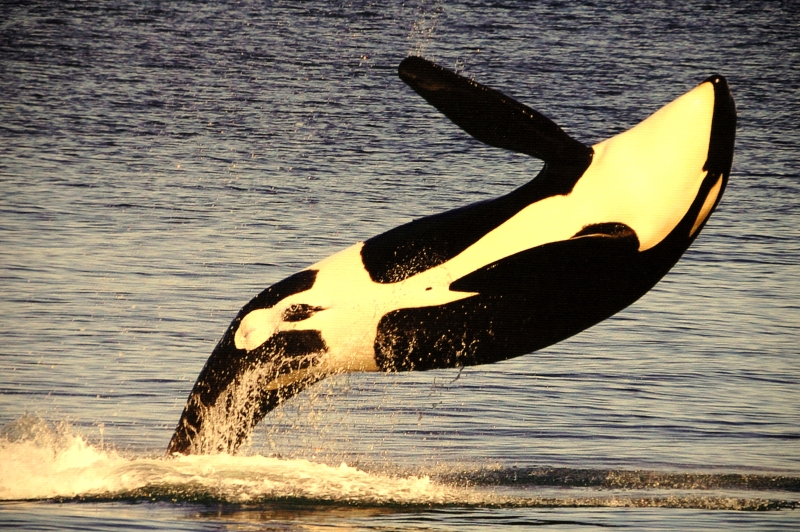 If regulations permit, this is a good time to set a crab trap or shrimp pot. Popular crabbing and prawning areas are void of competition from competing pots and populations are replenishing. If you like to fish then fall is your wish, Coho salmon are migrating back to their nursery river. Dropping a line may provide fresh salmon for the barbeque.
We have always loved how friendly boaters can be, and how an impromptu sharing of dock-side drinks aboard yours or their top deck can quickly transpire into an evening talking about boating experiences with your nautical neighbors.
When the weather cools and the days get shorter, don't despair thinking that your boat season is ending, just exchange your shorts and tank tops with flannel shirts and comfy jeans. Now, fill your travel cup with hot cocoa, buckle on your life jacket and enjoy some fall fun.